23 rd August 2018
County Armagh Golf Club's 125 th anniversary's celebrations continued with competitions for both the Men's and Ladies' sections played during the week. On Thursday 23 rd , the Ladies competed for the Trophy which was donated to the club in 1993 for the Centenary celebrations in that year. Sourced by Bee Gordon on behalf of the then Lady Captain, Eileen Steenson, the trophy is a vase produced by Tyrone Crystal, and has been played for every year since then.
The Lady Captain, Elizabeth Mawhinney referred to the donor of the Trophy, Mr. John Lowe, who had joined the Armagh Club in that year and who has been an active member since.
This year the Trophy competition was again generously sponsored by Sterling House Financial Services who were represented by former Lady Captain and current Secretary of the Ladies Branch, Paula McCrory.
In a break with tradition the prizegiving for both the Ladies' and Men's competitions was held in the clubhouse on Saturday 25 th August and was followed by entertainment by the excellent Preacher Caseys.
Lady Captain Elizabeth, accompanied by Paula McCrory presented the successful Ladies with generous vouchers while the Trophy itself was presented to Alexandra Mawhinney whose par breaking net 70 was the lowest score on the day . Three birdies on her opening 9 holes laid the basis for her excellent score.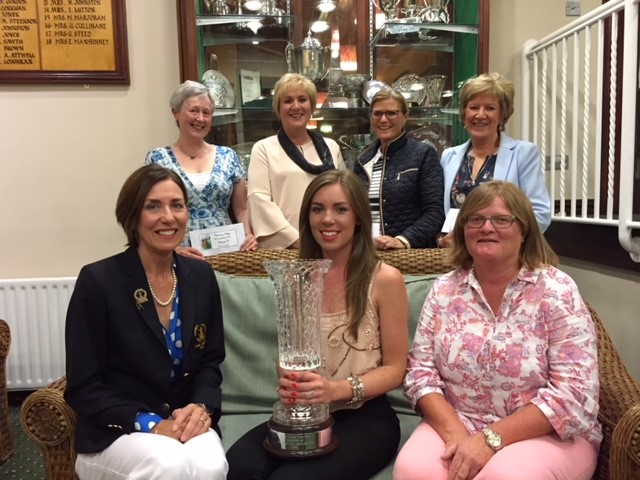 Lady Captain Elizabeth Mawhinney, winner of Centenary Trophy Alexandra Mawhinney pictured with sponsor Paula McCrory and other prize winners.
On a night when family associations were prominent, Alexandra accepted the trophy from her mother, the Lady Captain, and made a gracious speech in which she thanked both her playing partners and Paula for her continued generous sponsorship.
In a further family connection Jacqueline Kelly secured second place on break of a tie, while her son Philip secured second place in the Men's competition, on which a separate report will follow.
Emma Garrigan secured third spot with her net 72 while Lily McMullan's 86 secured the Gross Prize.
The remaining Centenary Cup Results were as follows: -
9-hole competition winner was Augusta Jennings.
Back nine winner with nett 35 =Anne O'Reilly
Front nine winner with nett 34 =Audrey Kellett.
Category D winner with nett 72 =Anne O'Hea
Category C winner with nett 74 =Sylvia Ashe.
Category B winner with nett 72 =Jacqueline Donnelly.
Category A winner with nett 73=Bernie Rice.
Twos were scored by Anne O'Reilly @ 9 th , Jacqueline Donnelly @ 3 rd , Alexandra Mawhinney @ 7 th and 9 th .
Birdies were returned by Alexandra 3 at the 2 nd ,Mary Black 4 @ 16 th and Corrina Oliver 3 @ 6 th .
Handicap cuts were applied to Alexandra Mawhinney 13-12.
Time for Nine Winner = Bernie McBride 21 points.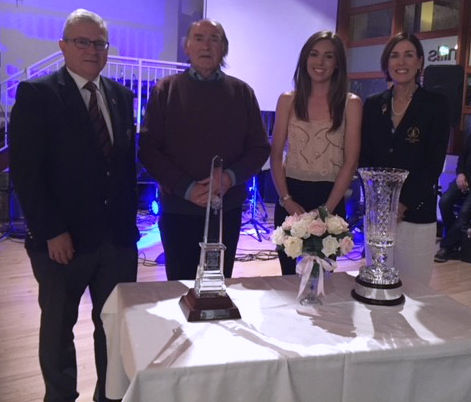 Centenary Trophy winners Alexandra Mawhinney and Natty McGeown pictured with Club Captain Colm Shannon and Lady Captain Elizabeth Mawhinney.