Thursday 16 th August 2018
Thursday was a day of two halves during which those who played in the am had to resort to jackets and umbrellas whilst those who played in the afternoon enjoyed dry conditions and a stiff breeze. However, the treat of rain did not deter the 59 ladies who played in the Club Stableford competition which was sponsored by NicMics Craft Creations.
NicMics is a relatively new enterprise, founded by Nicola Spence, who is a club member and her business partner Michelle Boyd. The talented duo specialises in bespoke, hand-made personalised gifts. The ladies who were in the winners' enclosure were delighted with the beautiful framed prizes which they received. Lady Captain Elizabeth welcomed Nicola to the prize giving and awarded everyone who attended full marks given the problematic road works on the Newry Road.
Winner of first prize was Anne O'Reilly who returned an excellent score of 38 points. Runner up Lynne Brown pipped her playing partner Siobhan Donnelly into 3 rd place beating her on countback with 37 points.
A delighted Anne O'Reilly who said she had a lovely round of golf with her playing partners Jacqueline and Joy, accepted her prize and, on behalf of all the ladies, thanked Nicola and Michelle for their generous sponsorship and the stunning array of gifts for all prize winners. Nicola in turn congratulated everyone who played and indicated she hopes to be back playing again next year.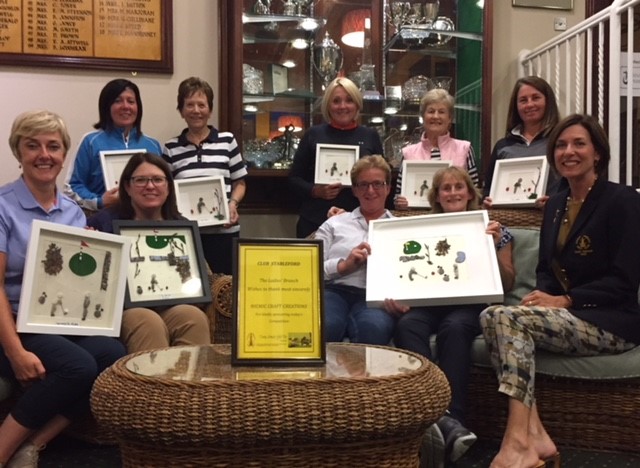 Winner Anne O'Reilly with sponsor Nicola Spence of NicMics Craft Creations along with Lady Captain Elizabeth Mawhinney and other prize winners.
The remaining winners on the day were:
Category A Mary Black 37 points.
Category B Sheila Hughes 34 points.
Category C Cath Murray 35 points
Category D Molly Conway 31 points
Front nine Lily McMullan 20 points
Back nine Emma Garrigan 20 points.
Nine-hole competition Tish Burke 15 points.
Twos were returned by Teresa McVeigh @ 13 th and Alexandra Mawhinney @ 3 rd .
Birdies were recorded by Hilary Johnston 4 @ 10 th , Paula McCrory 4 @ 16 th , Francis Davidson and Lily McMullan 3 @ 2 nd .
Time for Nine = 1 st place Maggie McKee with 20 points beating Bernie McBride on countback.
In the team news briefing the Lady Captain wished Ellen Brady and her Revive Active team success in their semi final match against Greenore on Sunday when they play two matches at home and three away.
Elizabeth concluded by thanking Sylvia Ashe and her team for organising the Junior Girls competition which is scheduled for Monday 20 th August.