The glorious summer weather attracted seventy-two ladies to participate in this week's competition which was once again generously sponsored by Specsavers/Hearcare.
At the evening prizegiving Vice Lady Captain Moya who was deputising for the Lady Captain Elizabeth who is enjoying a well-deserved holiday abroad, welcomed everyone to a busy clubhouse. Moya explained that unfortunately the sponsor was unable to attend as he too was on holiday.
The overall winner on the day was Alexandra Mawhinney with 40 points . Lily McMullan secured second spot with 38 points, beating Karen Edgar on a count back .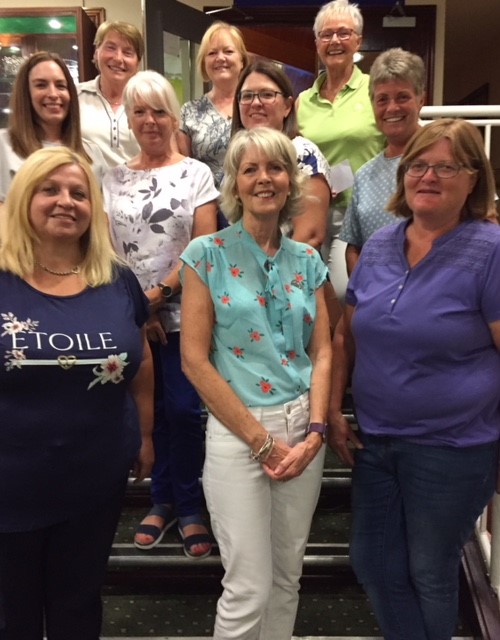 Vice Lady Captain Moya Brady with some of the winners of the Club Stableford Competition sponsored by Specsavers.
A full list of additional prize winners is set out below-
Category A Paula McCrory 37 points
Category B Cait McKinney 37 points
Category C Lynne Brown 35 points
Category D Helen McCourt 37points
Front 9 Gina Morris 19 points.
Back 9 Breda Teahan 20 points.
9-hole Rita Grimley 17 points.
The twos pot went to Paula McCrory for her 2@ 7 th .
A multitude of birdies were recorded by Alexandra Mawhinney 3@1st, Mary Black 3 @ 17 th , Lily McMullan 4 @ 8 TH , Jacqueline Donnelly 3 @ 17 th , Lynne Brown 3 @ 15 th and Ellen Brady 4 @ 10 th .
Time for Nine: -
1 st Sarah George 21 points
2 nd Hilary Johnston 19 points beating Maggie McKee on countback.
The winners of the umbrellas provided by the sponsor for the lucky dip were Anne O'Hea, Maggie McKee and Lorraine Megaw.
On team news Moya congratulated Ellen Brady's Revive Active Team who are due to play Greenore in the semi-final stage of the competition. The Minor Cup team have won 3 matches against Dungannon and are due to play the home leg on 5 th August. Moya also wished every success to the Challenge Team who play Donaghadee at home on Monday 30 th July and the Senior Foursomes who play against Lurgan in the next round.
Lady Vice-Captain Moya reminded those present that the time sheets for Open Week 6 th to 9 th of August are available online and that the list for Lady Captain Elizabeth's outing to Greenore on Monday 27 th August is available in the locker room.