Hewitt Meats were again generous sponsors of the Ellie Mayne Cup. Mrs Ellie Mayne presented the beautifully engraved cup to the ladies' branch in 1966 and her golf clubs adorn the walls of the clubhouse.
The glorious weather conditions which have prevailed throughout the month of June continued and attracted 54 ladies to compete in this prestigious event.
The overall winner was Vice Lady Captain Moya Brady with a magnificent score of 43 points on count back from runner up Denise Murphy and Maggie McKee who secured third place with 39 points.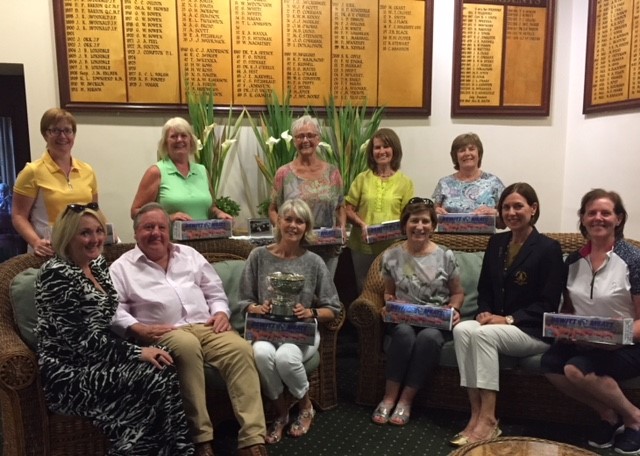 Lily McMullan and John Hewitt sponsor with Moyà Brady winner of Ellie Mayne Cup. Also seated Denise Murphy runner up, LC Elizabeth Mawhinney and third place winner Maggie McKee.
In her acceptance speech Moya commiserated with Denise as this was the second occasion on which she had pipped her at the post. Moya expressed her delight at winning the cup and thanked her playing partner Phil Rice who had helped to keep her focussed on a day when her putter was on fire. Both Moya and the Lady Captain Elizabeth Mawhinney thanked the sponsors most sincerely for their invaluable support and were delighted to be assured by James that he was very happy to be associated with the Ellie Mayne competition and will continue to support it in the future.
Category A Una Cullinane 37 points
Category B Jacqueline Donnelly 38 points
Category C Rea Haughey 38 points
Category D Bernie McBride 35 points.
Front 9 Teresa Corrigan 21 points
Back 9 Pauline Vallely 21 points
9 holes Rita Grimley 15 points.
Twos were recorded by E Fitzsimons @ 7 th , A Attwell @ 3 rd , J Humphries @ 7 th , L McMullan @ 7 th , and T McVeigh @ 11 th .
Birdies were recorded by Moya Brady 3 @1 st , Jacqueline Donnelly 3@ 18 th and Karen Edgar 3 @ 15 th .
In the Time for Nine competition: -
26 th June Maggie McKee won with 19 points.
4 th July Bernie McBride won with 20 points on c/b from P McCrory.
Lady Captain Elizabeth congratulated the ladies who had won on Captain's Day, namely Teresa Corrigan winner with 40 points ahead of Maggie McKee who was runner up. Catherine McAnerney won the Captain's 9-hole prize with 16 points.
Elizabeth gave an update on team news congratulating the Sheila Stinson's Challenge team who defeated Balmoral and Kathleen Mallon's Minor Cup team who defeated Castlerock to reach the quarter final stages. The Revive Active team have also progressed to the quarter finals. Unfortunately, the Cowdry team had been defeated by Edenmore.
Finally, Elizabeth reiterated her sincere thanks to all those who had contributed to her chosen Lady Captain's Day charity- the Southern Area Hospice fund as the donations had exceeded £1,900.