Lady Captain Elizabeth Mawhinney welcomed everyone to the clubhouse for prize giving and referenced the perfect weather and course conditions but very challenging pin positions which competitors had encountered. However, although she couldn't guarantee the weather she assured everyone that the pin positions would be much more manageable on Saturday for her Lady Captain's Day. The ladies competed for the Ian Donaldson Trophy which was donated by Ian during his Captain's year in 1979. He later served as President of the Club when the existing clubhouse was reopened following reconstruction in 1982.
Ellen's Fish and Chips Keady are the new sponsors for this prestigious trophy. Lady Captain Elizabeth thanked Ellen for her generous sponsorship and beautiful golf wear prizes which she had purchased from the pro shop. Ellen had been a long-term sponsor of the winter putting competition and explained she was delighted to transfer her support to the summer competition. Ellen also wished Elizabeth a lovely day for her upcoming Lady Captain's Day on Saturday.
Ann Mone took third place with 33 points just behind Alexandra Mawhinney who returned 34 points. The overall winner was Anne O'Reilly with 39 points. Accepting her prize Anne thanked her playing partner Jacqueline Kelly and Ellen for her fantastic prizes and expressed her delight at being the recipient of the cup.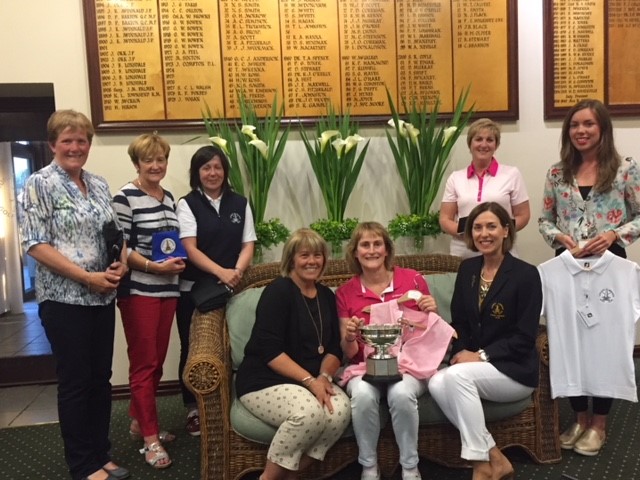 Ian Donaldson Stableford Competition Sponsor Ellen Brady with winner Anne O'Reilly and Lady Captain Elizabeth Mawhinney
The remaining winners on the day were as follows: -
Category A Valerie Gordon 31points
Category B Rita Mone 33 points
Category C Emma Garrigan 31 points.
Category D Bernie McBride 31 points.
Front 9 Jacqueline Kelly 20 points
Back 9 Anne Black 17 points beating Flo McCall on countback.
9 holes Anne McEneaney 18 points.
Helen McLoughlin 19 points.
Birdies were recorded by Alexandra Mawhinney 3 @ 13 th , Rita Mone 3 @ 1 st , and Jacqueline Donnelly 3 @ 1 st .
Handicap cuts were applied to Anne O'Reilly 26-24.
In the Time for Nine competition Paula McCrory emerged in 1 st place with 18 points on a countback from Alexandra Mawhinney.
Lady Captain Elizabeth gave a quick update on the pleasing progress which the Cowdy, Minor, Challenge and Senior Foursomes teams have made to date and wished them success in their upcoming matches.
She also thanked the volunteers who had turned up on the previous two Monday evenings who had helped to make substantial improvement to the the look of the course and clubhouse in preparation for Lady Captain's Day. Elizabeth also drew attention to the beautiful flower arrangements which Sheila Stinson and her team had displayed in the hall and foyer which added to the sense of occasion in the clubhouse.