Lady Captain Elizabeth Mawhinney welcomed everyone to the presentation of prizes and expressed her relief that the main competition and the visiting Lady Captain's event had been played in pleasant conditions as the stormy night and early morning rain had threatened proceedings. Seventeen visiting Lady Captain's had enjoyed a coffee morning reception, a nine-hole competition followed by a lovely lunch and prize giving.
The winner of first prize in the Club Stableford competition was Cait McKinney who returned an excellent score of 40 points , to beat runner up Breda Teahan who recorded 39 points. Third place honours went to Colette McSorley with 37 points.
Cait was delighted to accept her prize and wished Elizabeth a successful Lady Captain's Day on Saturday 23 rd.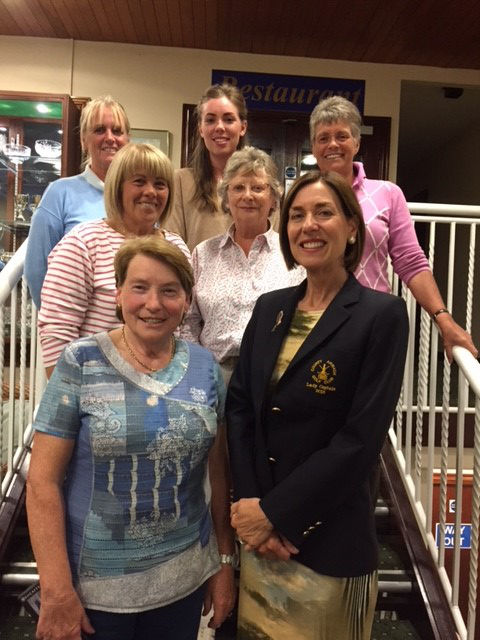 Cait McKinney winner of the Club Stableford Competition with Lady Captain Elizabeth Mawhinney and a number of competition winners.
The remaining winners on the day were
Category A Ellen Brady 35 points.
Category B Denise Murphy 36 points.
Category C Sheila Stinson 35 points
Category D Joy Steenson 34 points
Front nine Ann Atwell 23 points
Back nine Hilary Johnston 20 points.
Nine-hole competition Maura McCreesh 16 points.
Birdies were recorded by Colette McAleavey Ellen Brady and Sheila Hughes who all returned impressive 4s @ 16 th .
Twos were returned by Teresa McVeigh @ 13 th , Valerie Gordon @ 9 th and Colette McSorley @ 13 th .
In the Time for Nine competition Alexandra Mawhinney took 1 st place with 22 points just ahead of Breda Teahan who had 21 points.
Lady Captain Elizabeth reported on the progress of teams with a busy week ahead. The Challenge team play Balmoral at home on Monday 18 th , the Senior Foursomes play a return match against Kilrea on Monday also; Gail Steed's Cowdy team play Edenmore in an away match on Friday 15 th and Kathleen Mallon's Minor Team are home to Castlerock on Sunday 17 th June.
Elizabeth noted her Lady Captain's day is fast approaching and reminded everyone that the seating plan for the ladies' dinner is available in the locker room for anyone who wishes to add their name. The Lady Captain announced that her LC Putting Competition will run from Sunday 17 th until 3pm on Saturday 23 rd June. The Putting Competition will also be available for gentlemen members and there will be a 9 hole Men's competition on Saturday 23 rd June at 3 o'clock.
Elizabeth thanked the ladies who had assisted on the course clean up on Monday evening 11 th June and noted that the fruits of their labour were visible in the orchard area below the Pro shop. Weather permitting there will be another opportunity to help with the course clean up on Monday 18 th June at 6.30pm.
To conclude proceedings the Lady Captain read the content of a letter from the President of Ireland Mr Michael D Higgins congratulating the club on celebrating the 125 th anniversary and wishing them every success in the future. The letter will be displayed along with that from her majesty Queen Elizabeth 2 who also marked the historic 125 th year anniversary by congratulating the club.