The ladies branch competed in beautiful warm sunny conditions for the Fox Cup for golfers in the handicap range of 0-27, and the Culmore Shield for golfers in the 28 to 36 handicap bracket.
The Fox Cup was donated to the ladies' branch by a past captain and the first winner in 1974 was Eileen Steenson, while the Culmore Shield was presented to the club by Mr D S Hyndman in 1953.
Both competitions were generously sponsored by Daily Bake . Mrs Sheila Stinson representing the sponsor presented a beautiful array of prizes to the lucky winners and expressed her sincere hope that Daily Bake will continue to sponsor the competition in the future.
Competition was keen for both trophies and with the course in magnificent shape and the weather perfect for golf the main challenge was to control the pace of putts on very fast greens . The Fox Cup was won by Valerie Gordon with an excellent nett 67. A delighted Valerie thanked her playing partners and expressed her appreciation of the winning prize and thanked Sheila for her sponsorship. In second place Rita Mone returned a nett 70 and third place was awarded to Una Cullinane with a nett 71. Gail Steed won the front nine with a nett 33 and Alexandra Mawhinney won the back nine with a nett 35.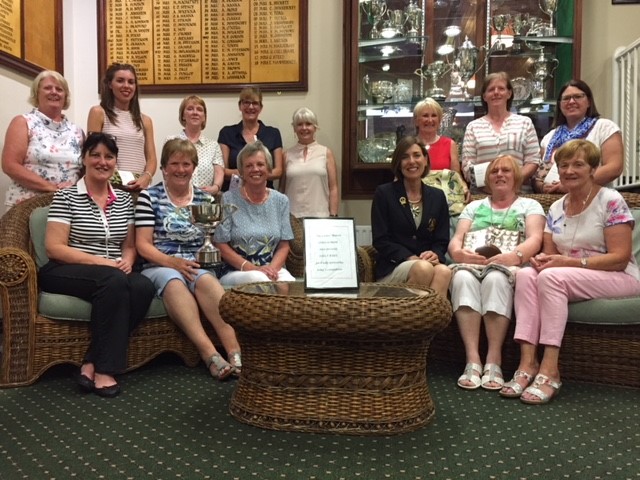 Valerie Gordon winner of Fox Cup, Mary McElvanna winner of Culmore Shield pictured with Lady Captain Elizabeth Mawhinney sponsor Sheila Stinson and additional prize winners.
The Culmore Shield saw equally fierce competition with Mary McElvanna taking the laurels with a nett 71 , beating Helen McLaughlin into second place on countback. Carmel Cassidy's nett 73 earned her 3 rd place. Lynne Brown won the front nine with a nett 34 and Maggie McKee won the back nine with a nett 36. Mary, like Valerie, thanked her playing partners and Sheila for the beautiful prizes. She expressed her delight at being back in the winners enclosure!
Mary Knott won the 9-hole competition with 19 points followed by Gina Morris in second place with 17 points.
A multitude of birdies were recorded by Colette McSorley4 @8 th , Ellen Brady 4 @ 10 th , Corinna Oliver 3 @ 1 st , Geraldine Rafferty 3 @ at 6 th , Hilary Johnston 4 @ 16 th and Lily McMullan 4 @ 16 th .
Twos were returned by Theresa McVeigh @ 13 th , Valerie Gordon, Ann Kinsella and Colette McAleavey @ 7 th .
In the Time for Nine competition Rita Mone was first with 23 points followed by Alexandra Mawhinney in second place with 20 points.
Lady Captain Elizabeth Mawhinney reported very encouraging performances from the Cowdy and Challenge cup teams and wished the Minor and Junior teams success in their return matches against Belvoir at home on Sunday.