Lila's Fashions were again the loyal sponsors of the first Ladies Open Competition of the year. Eighty-two players including ladies from Aughnacloy, Rossmore, Loughall and two Dublin clubs competed for the much sought-after prize vouchers for use in Lila's. Lady Captain Elizabeth Mawhinney welcomed Pamela Johnston, who represented Lila's Fashions, and reminded the packed club house that this marks the ninth year that the Ladies Branch have been fortunate enough to enjoy the support of the Hawthorne family business
Weather conditions were warm dry and sunny and the course, which has begun to recover from the ravages of prolonged spells of rain and snow in recent months, was in excellent condition. While placing was still in operation, the begginings of a little "run" on the ball and the true roll on the greens may have heralded the arrival of low scores but the punishing rough conditions kept scores in check. No one managed to break par on the day, but 3 players returned 36 points, requiring countback to separate them.
Pamela Johnston, of Lila's, presented the vast array of prizes to the grateful recipients whose details are set out below. The top 5 spaces were secured by Breda Teahon on 34 points in fifth, just behind Teresa McVeigh on the same score but with a better back nine. In third place Ethel Liggett's 36 points was again beaten on countback from Rita Mone who secured second spot . The winner on the day was Cait Hanna who returned 36 points, winning again on countback. The winner is also presented with a cup which was first presented in 1985 by the then Lady Captain Mrs Grace McGowan.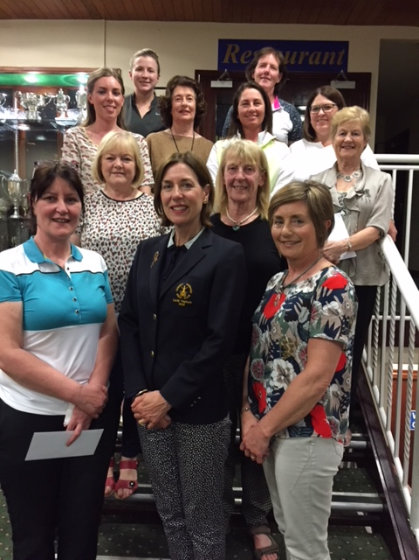 Rita Mone runner up, Lady Captain Elizabeth Mawhinney & Pamela Johnston from Lila's Fashions with prize winners from Spring Open Competition.
Gross prize was secured by Ellen Brady with 23 points.
Category A Alexandra Mawhinney 34 points
Category B Lorraine Abbott 31 points
Category C Eilish Grimes 31 points
Category D Maggie McKee 32 points2
Front 9 Molly Conway 18 points
Back 9 Mary Black 18 points
Visitor's Prize M Collins (Loughall) 31 points
Longest Drive Colette McSorley
Nearest the Pin @ 7 th Molly Conway and @ 11 th Lynne Brown
Birdies were recorded by Mary Black @ 16 th .
Twos were returned by B Rice @ 11 th , Phil McKenna @ 13 th , Hilary Johnston @ 9 th , Corrina Oliver @ 7 th and Helen Forster @ 9 th .