CAGC Ladies branch members competed for the MacMillan Charity Stableford Competition on the 3rd May. The course was in magnificent condition for the annual competition which was again sponsored by Vincent Mone and Son who have been generous sponsors of the competition, and in turn, the charity for many years. Miserable weather conditions in the morning with incessant rain dissuaded many from playing including the sponsor. Those who were in the afternoon draw avoided the showers but did not enjoy the elusive sunshine predicted in the forecast.
Lady Captain Elizabeth welcomed Ann Mone who was Lady Captain in 1984 and thanked her for the spectacular display of Newbridge giftware which the lucky winners would receive. Elizabeth described Ann as someone with a great sense of humour and fun who has been great friend of CAGC.
A full list of category prize-winners is set out below, but the top places were contested between Teresa McVeigh in third place with 32 points, Emma Garrigan in second on 33 and Paula McCrory who secured top spot with 35 points and a one-shot handicap cut for her efforts. Ann in her speech indicated it was a pleasure for her to sponsor the competition as the Mac Millian charity is one particularly close to her heart. She also thanked Elizabeth for the excellent Lady Captain's outing to Roe Park and wished her every success with the Vintage Competition which has been organised by Elizabeth to mark the 125 th anniversary of the founding of the club.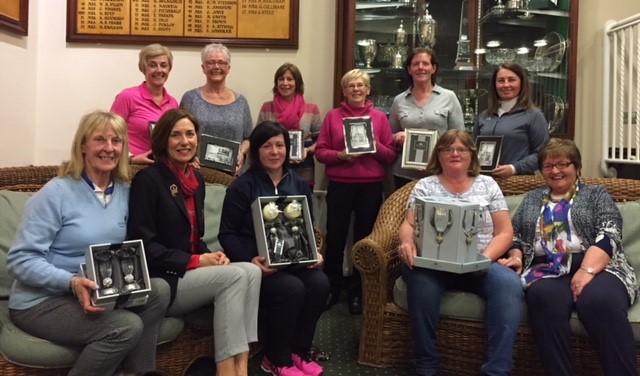 Lady Captain Elizabeth Mawhinney and sponsor Mrs Ann Mone with the prize winners of the MAcMillan Charity Stableford Competition.
Category A Helen Forster 30 points
Category B Siobhan Donnelly 31 points.
Category C Patricia Hughes 28 points.
Category D Maggie McKee 24 points.
Gross Lily McMullan 19 points
Front 9 Eileen Fitzsimons 17 points
Back 9 Mary Black 17 points
9-hole competition Rita Grimley
The birdie honours went to Hilary Johnston who returned a 4 @ 16 th hole.