The welcome break in the seemingly interminable cold and wet weather saw a large number of ladies participate in the PGA Tankard competition, generously sponsored by our club professional Will Carey.
Competing for the generous array of prizes, most golfers began their round in what has become their weekly attire: wet suits, woolly hats and as many layers as could be accommodated without rendering swinging a golf club impossible. After a few holes most ladies began the process of shedding layers as they basked in the welcome warmth of the sun.
Willes presence was marked not only by his generous prizes but many revised, or in some cases rebuilt swings were in evidence as players put the fruits of their winter lessons into play.
In her speech Elizabeth paid tribute to Will who has, in his first year, proved to be a huge asset to the club. The renovated shop and floral displays present a welcome to visitors and members alike and Elizabeth expressed the wish that Wills generous sponsorship and support pays dividends through increased trade.
Lady Captain Elizabeth Mawhinney expressed her delight at the large number of ladies who had participated in the competition and were in attendance for the prize giving on a beautiful warm sunny evening. The long awaited blue skies attracted, fifty ladies to play in the 18-hole competition with a further twenty-one competing in the nine-hole competition.
The overall winner on the day was Lily McMullan with 38 points . Emma Garrigan took second spot with 37 points just ahead of Alexandra Mawhinney who secured third place with 36 points.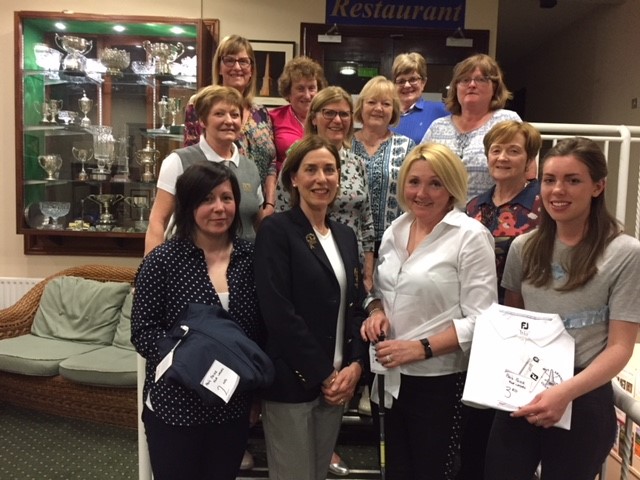 Lady Captain Elizabeth with the prize winners of the PGA Tankard Stableford Competition.
A full list of additional prize-winners is set out below-
Category A Bernie Rice 31 points
Category B Gail Steed 34 points
Category C Donna Carolan 31 points
Category D Maura McCoy 29points
Front 9 Vera Ellingham 18 points.
Back 9 Paula McCrory 17 points.
9-hole
competition:
1 st Place Helen McLaughlin 19 points
2 nd Place Audrey Kellet 18 points
3 rd Place Breda Teahan 16 points
Twos were recorded by Lily McMullan @13 th , Eileen Fitzsimons and Maggie McKee @7 th .
Birdies were returned by Alexandra Mawhinney @ 1 st and Paula McCrory @ 10 th .