Thursday 5 th April saw the first Medal competition of the year for the Ladies Branch which was very generously sponsored by The Dressing Room.
Lady Captain Elizabeth welcomed all the ladies along with the Vice Lady Captain Moya and Mrs Alison Wylie proprietor of The Dressing Room. The weather continued to prove challenging with strong biting winds which contrasted unfavourably with the beautiful conditions in Augusta for the opening day of the Masters. To add to the difficulties, the preferred lies which had been in play throughout the winter were abandoned as this was a qualifying competition. However, the winner of the April Medal, Alexandra Mawhinney did not let the adverse weather conditions stand in her way, returning an excellent score of nett 71.
A delighted and surprised Alexandra graciously accepted her first prize from Alison, thanking her for the generous sponsorship.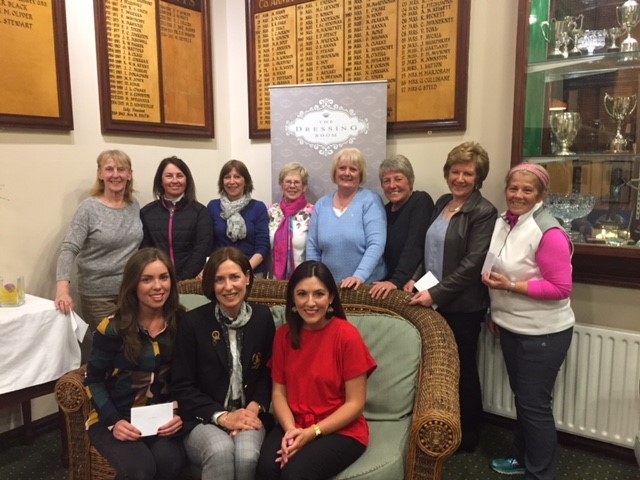 Alexandra Mawhinney 1st Prize Winner, Lady Captain Elizabeth Mawhinney, Mrs Alison Wylie proprietor The Dressing Room and successful competitors in the April Medal Competition.
April Medal -Competition Results: -
9-hole competition winner with 16 points= Maggie McKee.
Back nine winner with nett 39 =Mary Black.
Front nine winner with nett 36 = Una Cullinane.
Category D winner with nett 81 = Anne O'Hea.
Category C winner with nett 80 = Patricia Hughes.
Category B winner with nett 77 = Eileen Fitzsimons.
Category A winner with nett 78 = Lily McMullan.
The gross prize was won by June Humphries with a gross 88.
Third place winner was Teresa McVeigh with nett 74 closely followed in second place by Ellen Brady with a nett 73 . Alexandra took first place honours with a net 71, having returned birdies at the 7 th and 14 th holes.
Birdies were also recorded by Mary Black at the 3 rd , Kathleen Mallon at the 7 th and Corrina Oliver at the 7 th .
Lady Captain Elizabeth wished Valerie Gordon's Junior Foursomes team every success for their away match in Warrenpoint this Sunday. The final numbers for the ladies outing to Roe Valley are to be confirmed early next week.