Thursday's Mary Peters Stableford competition was played in in challenging conditions with heavy rain and cold winds adding to the heavy conditions underfoot. However, Pauline Gingles returned an exceptional score of 39 points to secure first place. Anne Kinsella took second place with 35 points and in third place was Emma Garrigan with 33 points.
Lady Captain Elizabeth Mawhinney warmly welcomed Shirley and Manny Smyth proprietors of Professional Travel who were the sponsors on the night and thanked them most sincerely for their long and generous support of the Ladies' Branch.
In her acceptance speech Pauline thanked Shirley and Manny for their prizes and gave a special mention to her playing partner, Helen McLaughlin, who had kept her focused throughout the 18 holes.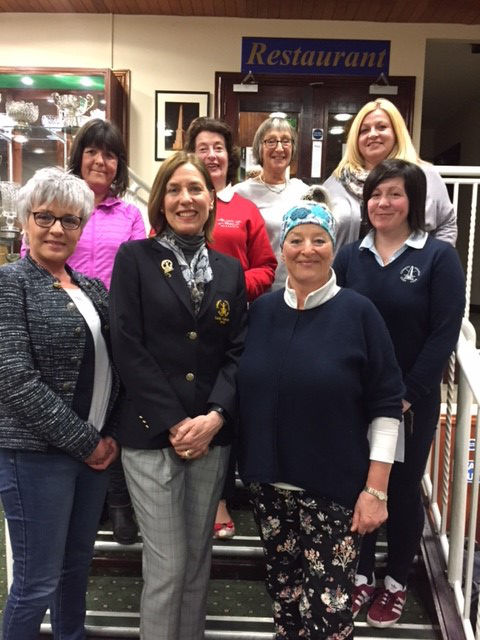 Shirley Smyth- Professional Travel -sponsor, Lady Captain Elizabeth Mawhinney, Pauline Gingles 1st place winner along with prize winners from Mary Peters Qualifying Competition.
The remaining winners on the day were: -
Category A Lily McMullan 33 points
Category B Karen Edgar 31 points
Category C Eilis Grimes 33 points
Category D Gladys Villiers 27 points
Front 9 Helen Forster 17 points
Back 9 Donna Carolan 18 points
9-hole competition
1 st place Bernie McBride 16 points
2 nd place Toni McManus 12 points on countback from Maura McCreesh.
Birdies were returned by L McMullan@7th, P McCrory@ 12 th , J Humphries@15 th and H Forster@9th.
Competitions convenor, Paula McCrory, outlined the results of the Spring League which had been somewhat curtailed by the ferocious weather conditions in January and February. Twenty-two ladies had taken part with Gail Steed emerging at the head of the field with 70 points, closely followed by Ellen Brady in second place with 69 points and Valerie Gordon securing third place honours with 65 points.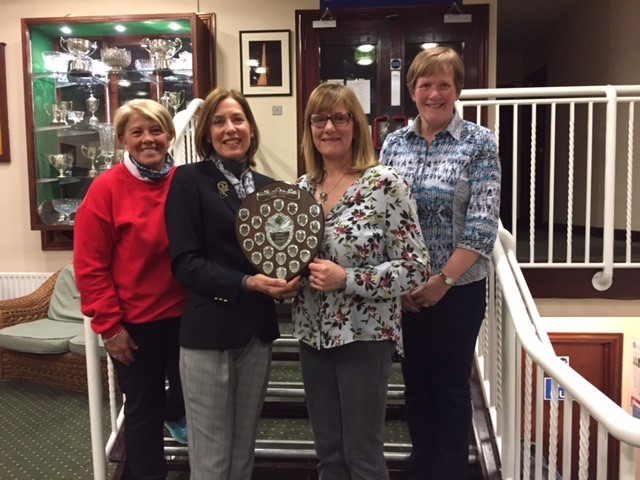 Lady Captain Elizabeth Mawhinney presents Gail Steed with 1st place plaque for Spring League. Also included are runner up Ellen Brady and third place winner Valerie Gordon.
Lady Captain Elizabeth congratulated the Winter Alliance Team who won the league earlier that week. Ellen Brady had been the Captain of the team but had been unable to compete in the final match as she had been representing Co Armagh Ladies Branch at a Golf Digest event.
Elizabeth urged ladies who were available to take part in the upcoming Par 3 Masters competition scheduled for Friday 6 th April and the 9-hole Vintage Competition which is scheduled for Friday 4 th May. Details of both events are available on the club website and posters are on display in the club house.