The annual Eileen Steenson Memorial competition which was sponsored this year by the Craic'd Pot Coffee Shop took place on Thursday 22 nd March. The competition is played in memory of Eileen who was an excellent competitor and a great ambassador for Co Armagh Golf Club. Well known in golfing circles throughout Ireland Eileen served as Lady Captain in the club's centenary year 1993. In addition to her activities on the Lady's Committee Eileen devoted a great deal of her time and energies to the juvenile girls who flourished under her guidance.
Unfortunately, Scott King the proprietor of the Craic'd Pot Coffee Shop was unable to attend the prizegiving. The Lady Captain Elizabeth Mawhinney thanked Scott for his generous sponsorship of the competition and welcomed the ladies who had participated in event.
Ann Atwell was the overall winner with a score of 36 points.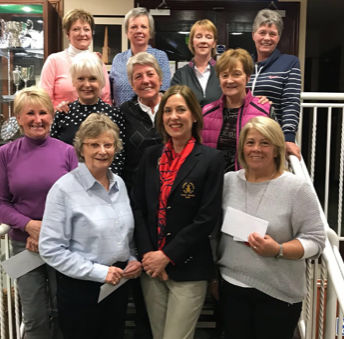 The final results =
1 st Place Ann Atwell 36 points.
2 nd Place Ellen Brady 35 points
3 rd Place Carmel Cassidy 33 points
Category A June Humphries 32 points
Category B Vera Ellingham 30 points
Category C Helen McLaughlin 30 points
Category D Emma Garrigan 27 points
Front 9 Sheila Stinson 17 points
Back 9 Hilary Johnston 18 points
9 Hole Competition: -
1 st Place Gina Morris 19 points.
2 nd Place Mary Knott 15 points
Carmel Cassidy returned the only two of the day at the 7 th hole.