28 th September 2017
The annual McAnerney Open Charity Stableford competition was held on Thursday 28 th September having been postponed from the previous week as the course had been closed because due to the adverse weather conditions. The sponsor Mrs Catherine McAnerney held the coffee morning on Thursday 21 st September raising £1,142.27 for the Hospice.
On the morning, a representative from the Hospice attended to thank Catherine for the sterling work she has done for the hospice over the years. 69 ladies and 2 gentlemen played in the competition which was generously sponsored by McAnerney's Supermarket Armagh. The competition raised £424 for Breast Cancer Research.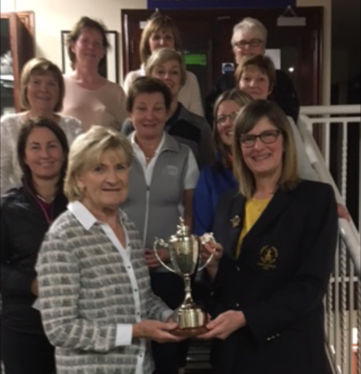 The top prize went to Caitlin Hanna (Dungannon) with 38 points beating Mary Black into second with 37 points. Third place went to Gillian Poole with 36 points. The Gross prize was won by June Humphries with 25 gross points.
The categories were also highly contested.
Cat. A Geraldine Rafferty 34 points
Cat. B Vera Ellingham 34 points
Cat. C Jackie Donnelly 34 points
Cat. D Maggie McKee 35 points
Front Nine Fionnuala Quinn 18 points.
Back Nine Siobhan Donnelly 18 points
9-hole competition Anne O'Hea 18 points.
Visitors' Prize =Jean Barr (Portadown) 29 points
Nearest the Pin =Tish Burke and Margaret Marjoram.
Longest Drive =Maggie McKee