Saturday 9th September 2017
102 ladies, including over 30 visitors, competed for the prestigious Armaghdale Cup on Saturday 9 th September. The ladies challenge cup was originally presented to the club in 1926 by Lady Armaghdale. The competition was once again generously sponsored by G Davidson Business Accounts Services, represented on the night by Francis Davidson.
Lady Captain Gail welcomed Francis and thanked her sincerely for her long-standing support and the fantastic array of beautiful prizes. Indeed, Gail commented that everyone who had participated probably deserved a prize as the weather conditions had been so challenging. She also thanked Ann McDonald, Una Cullinane and Barbara Hamilton for processing the cards.
Ann Mone emerged as the winner with a nett score of 70. Francis Davidson had scored 69 but declined the prize as she was the sponsor. Ann expressed her delight at winning the beautiful first prize and observed it was particularly ironic as Francis had encouraged her to play despite the inclement weather conditions. Denise Murphy took second place with net 70. The gross prize went to Karen Heatherington from Dungannon with 81 shots. Gillian Poole secured third place with nett 72. Another Dungannon lady Lorna Stewart took 4 th place with nett 72 and Paula McCrory secured 5th place with nett 72.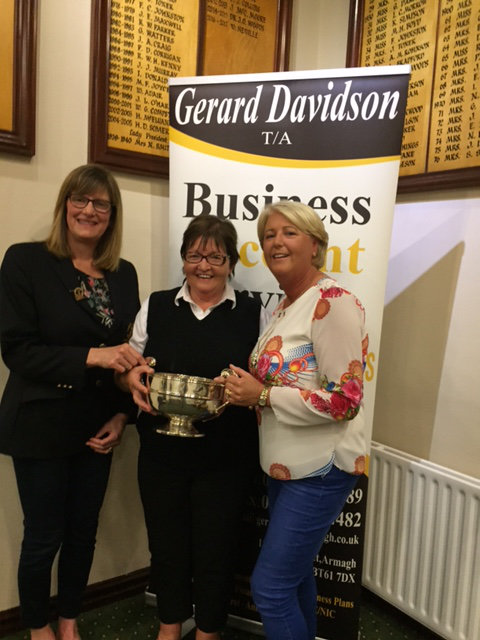 A full list of prize-winners is set out below
Category A winner with nett 73 = Lily McMullan.
Category B winner with nett 73 = Sylvia Ashe.
Category C winner with nett 75 = Molly Conway
Category D winner with nett 75 =Joan Lappin.
Visitor = June Garvin nett 74.
Front nine winner with nett 33 = Joy Steenson.
Back nine winner with nett 37 = Barbara Hamilton.
9-hole competition winner = Barbara Jenkins.
Longest Drive = Colette McSorley at the 5 th .
Nearest the pin = Kathleen Mallon at the 7 th
Birdies were recorded by Bernie Rice at the long 10 th , J Henry at the 11 th , J Garvin at the 7 th , Una Cullinane at the 7 th, Valerie Gordan at the 11 th and Maura McCoy at the 11 th .
Handicap cuts = Francis Davidson 19-18 and Denise Murphy 21-20.