The ladies who participated in the August Club Stroke competition enjoyed beautiful warm sunny weather and played on a course in peek condition. The competition was sponsored by Seven Hills restaurant. Lady Captain Gail expressed sincere thanks to Shauna and Ciara for their generous sponsorship and thanked them for the excellent service that they provide to the Ladies Branch each week and particularly on Lady Captain's Day.
The beautiful playing conditions were reflected in the impressive scores posted by those who featured in the winner's enclosure. The winner of the Club Stroke with an outstanding score of nett 67 was Colette McSorley . A delighted Colette graciously accepted her prize and in her speech thanked her playing partner Aidenne and the sponsors. Second place went to Bernie Rice with a nett 68, narrowly beating Catherine McAnerney who also returned a nett 68. Ellen Brady won the gross prize with an excellent score of 78.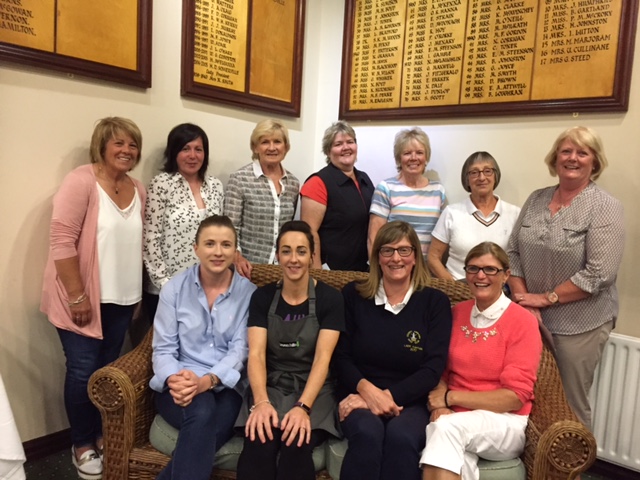 The remaining Club Stroke Competition Results were as follows: -
9-hole competition winner with 20 points = Toni McManus.
Back nine winner with nett 36 =Barbara Hamilton
Front nine winner with nett 33 =Helen Forster.
Category D winner with nett 71 = Emma Garrigan
Category C winner with nett 74 = Donna Carolan beating Sheila Stinson on a BB9..
Category B winner with nett 68 = Bridget McEneaney.
Category A winner with nett 71 = Una Cullinane
The Lady Captain Gail warmly congratulated Geraldine Rafferty who had won the President's Prize with 42 points.
Twos were scored by Teresa McVeigh, Bernie Rice, Gemma Rice, Ellen Brady, Aidenne Canavan , Colette McSorley and Valerie Gordon at the 7 th and 13 th holes.
As a result of these impressive performances the following handicap cuts were applied:- Ellen Brady 9 to 8, Catherine McAnerney 30 to 28, Bridget McEneaney 33 to 22, , Colette McSorley 16 to 15 and Bernie Rice 12 to 11..