County Armagh Golf course escaped the worst of the summer downpours which saw some local courses closed on Thursday 20 th July. Despite the threat of thunderstorms, 50 ladies turned out to compete for the July Medal. A further 15 took part in a 9 hole competition with another 5 playing in the Get Into Golf competition.
Despite a computer glitch which required scores to be calculated manually, testing the patience of Anne, Una and Barbara, the results were completed in time for the presentation by Lady Captain Gail.
The course was in superb condition, with fast running greens making scoring difficult. Hilary Johnston found no such difficulty however, returning an excellent net 66 to win by 5 shots from Siobhan Donnelly, in second place. Gladys Villiers secured 3 rd place with a 72 while Ellen Brady took another Gross prize with 80 strokes.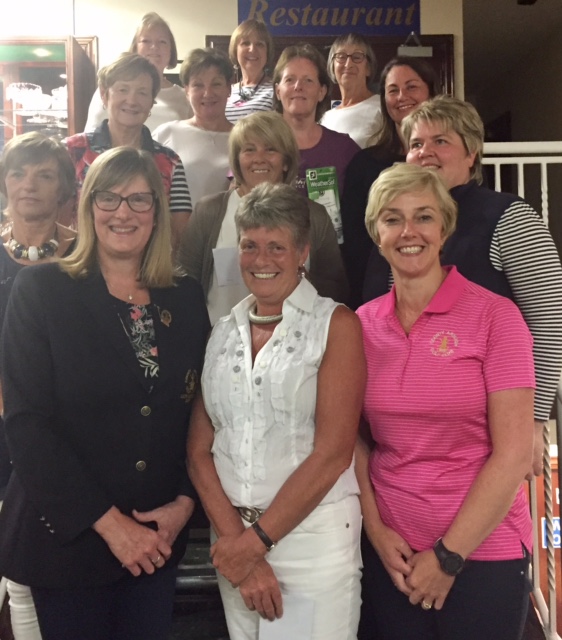 A full list of prizewinners is as follows:
Category A winner with nett 72 = Helen Foster.
Category B winner with nett 72 = Fionnuala Quinn.
Category C winner with nett 74 = Helen McLaughlin on break of tie with Sheila Stinson.
Category D winner with nett 80 =Breda Teahan.
Front nine winner with nett 33 = Toni McManus.
Back nine winner with nett 36.5 = Mary Black.
9-hole competition winner with 17 points = Margaret Marjoram.
6 Hole Get into Golf 43 =Maggie McKee
2s were recorded by Gemma Rice, Helen Foster and Ann Kinsella.
Birdies were recorded by Hilary Johnston at the long 16 th , Ellen Brady at the 1 st and 16 th , Paula McCrory at the 16 th and by Helen Foster who recorded 3 consecutive birdies at the 5 th , 6 th , 7 th and followed with another at the 17 th .
Hilary accepted the first place prize for her exceptional score from Lady Captain Gail, thanking her playing partner Moya Brady.
Lady Captain Gail congratulated all prizewinners and then updated those present on the news from team competitions.
Gail reported that the Senior Foursomes team had been defeated in the quarter finals, in horrendous conditions at Ballyliffen, hosts of next year's Dubai Irish Open. Gail congratulated Una Cullinane , team captain, for the excellent achievement in progressing to this stage of the competition. She added her thanks to Audrey Kellet who had accommodated the team in her holiday home in Greencastle for the match and practice. Gail also expressed her sincere thanks to all Team Captains and their players for the magnificent efforts they had made throughout the season.
Frances Davidson also made a short speech of thanks to the Ladies Branch for the support which had been received for her annual Coffee Morning in aid of Childrens Orphange, Bosnia which had raised over £3,000.