Thursday's competition in County Armagh Golf Club was a day of two halves. Bright sunny conditions greeted the morning players while those in the later part of the draw endured rain and wind. Nevertheless 44 players competed for the Ian Donaldson Trophy which was donated by Ian during his Captain's year in 1979. He later served as President of the Club when the existing clubhouse was reopened following reconstruction in 1982.
Bryan Hynds Garden Machinery are the new sponsors for this prestigious trophy. Lady Captain Gail explained that unfortunately the proprietors of Hynds Machinery were unable to attend the prize giving on this occasion but on behalf of the Ladies' Branch expressed her sincere thanks for their generous sponsorship.
Maura McCoy took third place with 39 points just behind Toni McManus who beat her on a countback. The overall winner was Colette McAleavey with 40 points. Accepting her prize Colette thanked her playing partner Lily and the new sponsors, and expressed her delight at being the recipient of the cup.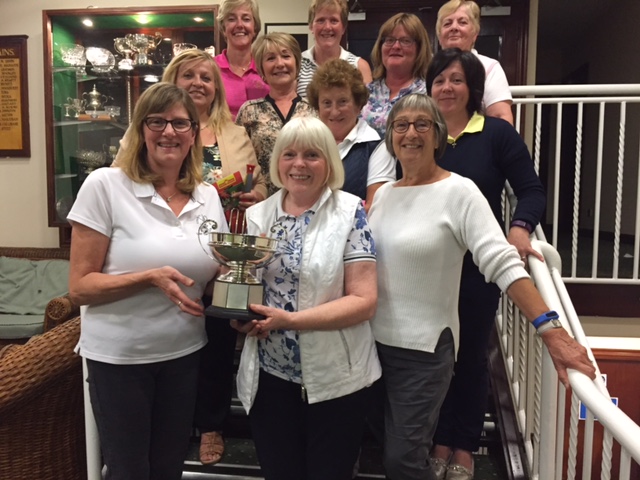 The remaining winners on the day were as follows: -
Get into Golf
First Emma Gerrigan Gross 36
Second Ann McAneney Gross 42.
Category A Paula McCrory 36 points
Category B Karen Edgar 37 points
Category C Ann O'Reilly 30 points beating C McAnerney & C Murray.
Category D Joan Lappin 34 points.
Front 9 Siobhan Donnelly 19 points
Back 9 Valerie Gordan 21 points
9 holes Ronnie Toal 20 points.
Mary Black recorded the only two of the day on the 11 th hole.
Birdies were recorded by Toni McManus at the 7 th , Sheila Stinson at the 9 th , Lily McMullan at the 17 th and Paula McCrory at the 6 th .
Handicap cuts were applied to Colette McAleavey 17-16, Toni McManus 26-24, Maura McCoy 35-34 and Ronnie Toal 31-30.