Hewitt Meats were again the loyal sponsors of the Ellie Mayne Cup. Mrs Ellie Mayne presented the cup to the ladies' branch in 1966 and her golf clubs adorn the walls of the clubhouse.
The glorious weather conditions attracted a large field with 64 completing 18 holes, 10 playing 9 holes and a further 10 participating in the Get into Golf competition.
James Hewitt presented the prizes which had been beautifully arranged by Lily McMullan who had kindly included an additional two prizes for the Get into Golf ladies. Paula McCrory took third place with 38 points just behind Lily McMullan who beat her on a countback with 38 points. The overall winner was a very much in form June Humphries with 39 points. Presenting her with the top prize and the cup, James Hewitt remarked he was delighted to see that June was still showing the rest of the field how to perform. Both June and the Lady Captain Gail Steed thanked the sponsors most sincerely for their invaluable support and were delighted to be assured by James that he was very happy to support the Ladies branch and will continue to do so in the future.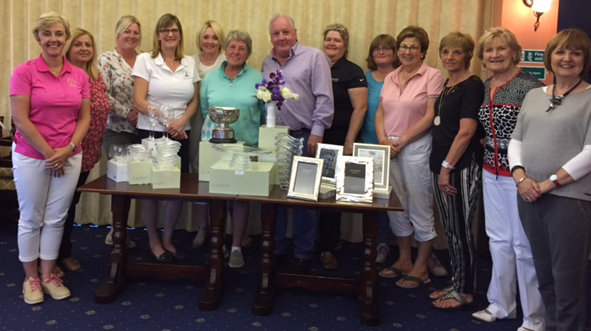 Category A Helen Foster 37 points
Category B Teresa Corrigan 38 points
Category C Catherine McAnerney 36 points
Category D Gladys Villiers 31 points.
Front 9 Karen Edgar 19 points
Back 9 Siobhan Donnelly 20 points
9 holes Margaret Marjoram 20 points.
Get into Golf First Colette McKeever Gross 39
Second Bernie Loughran Gross 40.
Birdies were recorded by Teresa McVeigh, June Humphries, Ellen Brady, Helen Foster and Mary Knott.
Teresa Corrigan, June Humphries and Paula McCrory all received a one-shot handicap cut.