The pattern of wet and windy Thursdays continued this week but once again did not deter the 59 ladies who played in the Club Stableford competition which was sponsored by NicMics Craft Creations.
NicMics is a relatively new enterprise, founded by Nicola Spence, who is an active member of the Ladies Committee, and Michelle Boyd. They specialize in bespoke, personalised gifts. The ladies who were in the winners' enclosure were delighted with the beautiful framed prizes which they received. Demonstrating their ability on the night, Nicola made up a bespoke framed gift for June Humphries who had recorded an Ace at the 7 th hole. This was June's 5 th hole in one.
Winner of first prize was Jacqueline Kelly who returned an excellent score of 40 points, to beat runner up Moya Brady who recorded 37 points. Third place honours went to Lynne Brown with 35 points.
Jacqueline accepted her prize and, on behalf of all the ladies, thanked Nicola and Michelle for their generous sponsorship and the stunning array of gifts for all prize winners.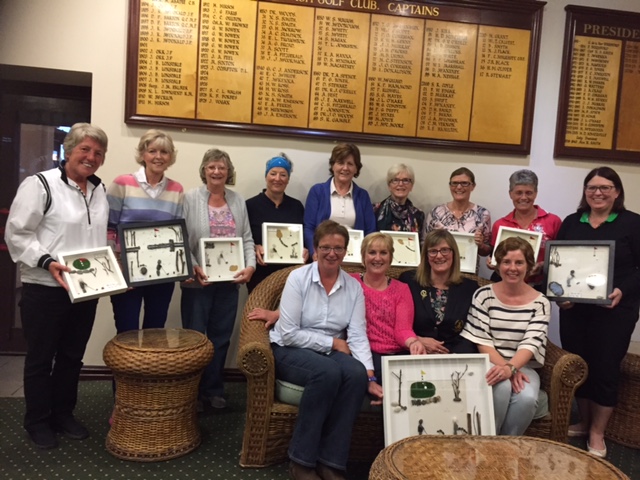 The remaining winners on the day were
Category A Hilary Johnston 34 points (beating Bernie Rice and Lily McMullan on the back nine).
Category B Pauline Gingles 34 points (beating Kathleen Mallon on the back nine).
Category C Ann Atwell 30 points
Category D Angela O'Reilly 28 points
Front nine Kathleen Mallon 20 points
Back nine Bernie Rice 20 points.
Nine-hole competition Geraldine Joyce.
Birdies were recorded by Hilary Johnston @ 18 th , Lily McMullan @6 th , Corinna Oliver@12 th and Bernie Rice @18 th .
Jacqueline Kelly was cut from 27 to 26.