8th June 2017 - The ladies branch competed in very wet and trying conditions for the Fox Cup for golfers in the handicap range of 0-27, and the Culmore Shield for golfers in the 28 to 36 handicap bracket.
The Fox Cup was donated to the ladies' branch by a past captain, while the Culmore Shield was presented to the club by Mr D S Hyndman in 1953.
Both competitions were generously sponsored by Daily Bake. Unfortunately, Mrs Sheila Stinson who had presented the beautiful array of prices was unable to attend the prize giving.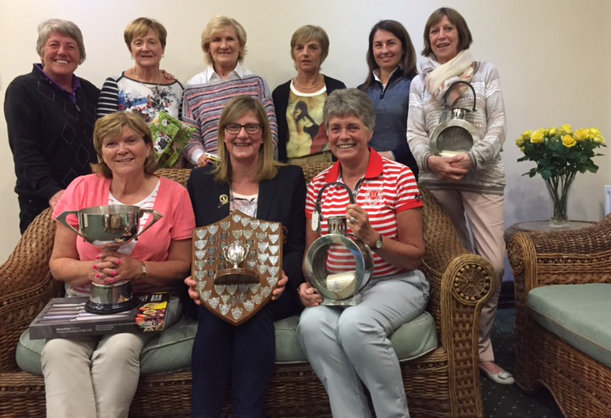 Competition was keen for both trophies and while the course was in magnificent shape, the heavy rain fall and blustery conditions presented players with a stern challenge. The Fox Cup was won by Geraldine Rafferty with a nett 70. Geraldine thanked the sponsors for the beautiful prizes and added that she was delighted to have won the cup for the third time! In second place Hilary Johnston returned a nett 71 and third place was awarded to June Humphries with a nett 71 beating Siobhan Donnelly on a BB9. Lily McMullan won the front nine with a nett 31 and Mary Black won the back nine with a nett 35.
The Culmore Shield saw equally fierce competition with Lynne Brown taking the laurels with a nett 73, beating Patricia Hughes into second place with a nett 74. Donna Carolan's nett 75 earned her 3 rd place. Gladys Villiers won the front nine with a nett 34 and Catherine McAnearney won the back nine with a nett 41.
Helen McLaughlin won the 9-hole competition.
Birdies were recorded by Francis Davidson at the 1 st and Hilary Johnston at the 17th .