The annual Daisy Ferguson Greensomes competition took place on Thursday 25 th May in beautiful, sunny conditions. The competition was sponsored by Wright's Interiors of Russell Street.
At the prizegiving in the clubhouse, the Lady Captain expressed her sincere thanks for the continued generous support which Roberta Wright has given to the Ladies branch and encouraged members to continue to support the sponsors.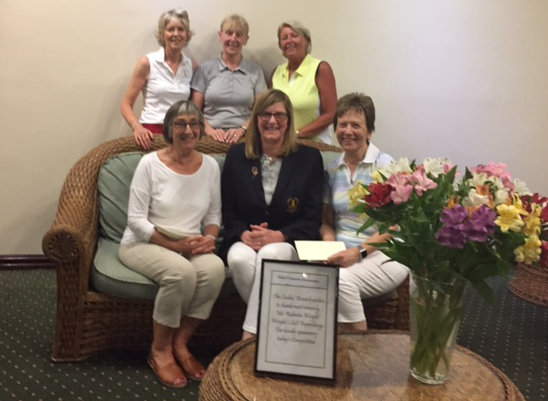 The final results =
1 st Place Sheila Hughes and Toni McManus 42 points.
2 nd Place Theresa McVeigh and Francis Davidson 39 points
3 rd Place Lily McMullan and Moya Brady 37 points
In the nine hole competition Angela O'Reilly was the winner with 17 points.
The delighted winners will represent the club in the next stage of the competition which will be held in Royal Co Down later in the year.
Birdies were recorded by Paula McCrory at the 8 th and Hilary Johnston at the 11 th . Twos honours went to Theresa McVeigh and Francis Davidson.