Fifty six Lady members competed for the MacMillan Charity Stableford Competition on the 4 th May. The course was in magnificent condition for the annual competition which was again sponsored by Vincent Mone and Son who have been associated with the charity for many years. Scores on the day ranged from the excellent to the instantly forgettable but those who did not feature among the prizes had the consolation of playing in brilliant sunshine.
Ann Mone, on behalf of the sponsors organised the display of a wide array of stunning Rose Gold Tipperary Crystal jewellery which she presented to the grateful prize-winners at an evening function in a packed clubhouse.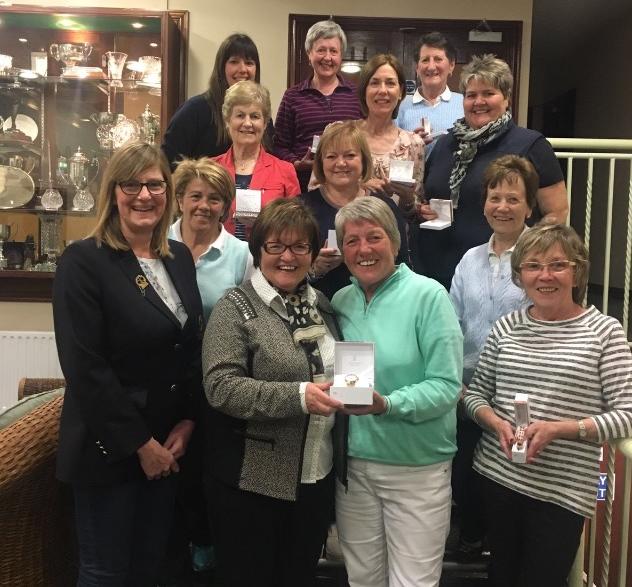 Ann expressed delight in her speech, that so many of the prizes went, on the day, to her close friends. A full list of category prize-winners is set out below but the top places were contested between Sheila Hughes in third place with 37 points, Ann McElroy in second on 39 and the ever popular June Humphries who secured top spot with a magnificent 40 points. Both Ann and June received a one shot handicap cut for their efforts.
Category A Helen Forster 34 points
Category B Elizabeth Mawhinney 36 points beating Pauline Gingles on countback.
Category C Molly Conway 34 points beating Sheila Stinson on countback.
Category D Breda Teahan 34 points beating Marjorie Compston on countback
Gross Ellen Brady 22 points
Front 9 Corrina Oliver 22 points
Back 9 Sylvia Ashe 19 points
9 hole competition Grace Magowan
While birdies were in plentiful supply and shared between Paula McCrory, Eilish Grimes, Cait McKinney, Colette McAleavey, Ellen Brady, Sheila Hughes, June Humphries and Helen Forster, Geraldine Rafferty signed off for a 2 at the 7 th hole.
However, Geraldine's 2 was not the only one recorded on the day. The rarest of birds was recorded by Hilary Johnston who eagled the 17 th hole.