While early April usually marks the start of the golfing season with the Augusta Masters, the Ladies of County Armagh Golf Club begin their golfing endeavours in earnest on the last Thursday of April with competition for the Millennium Bowl for golfers in the handicap range of 0-24, and the McCall Shield for golfers in the 25 to 36 handicap bracket.
The Millennium Bowl was donated by the Lady Captain in 2000, Mrs. Cecelia Woods while the McCall Shield was donated by Flo McCall during her captaincy in 2009.
Both competitions were generously sponsored by O'Reilly and Fee, Veterinary Surgery, and the vast array of prizes were presented on the night by Anne O'Reilly.
Competition was keen for both trophies and while the course was in magnificent shape, the chilly and blustery conditions presented players with a stern challenge. This was reflected in the standard scratch of 71.
The Millennium Bowl was won by Mary Black with a nett 70, from Valerie Gordon and Moya Brady with scores of 71 and 72 respectively. Helen Forster's 72 secured her a category prize, edging out Paula McCrory who returned a nett 73.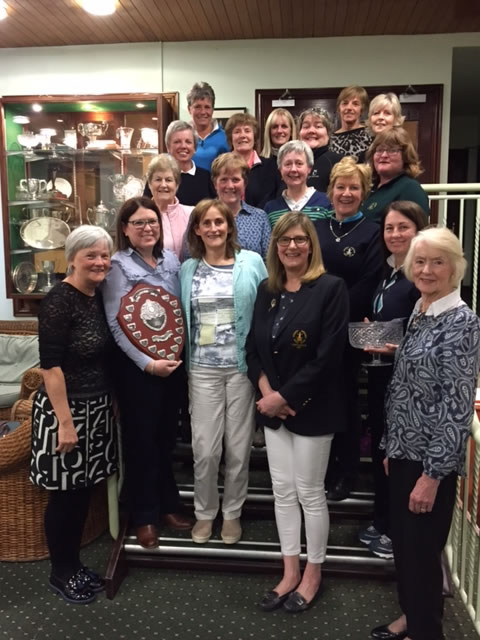 The first and second nine prizes were won by Hilary Johnston and Pauline Vallely who edged June Humphries and Sheila Hughes from the prizes on countback.
The McCall Shield saw equally fierce competition with Lynne Brown taking the laurels with a nett 67, beating Anne O' Hea into second place with a nett 69. Molly Conway's 73 earned her 3 rd place, beating Gladys Villiers and Sheila Stinson on countback. Gladys and Sheila's scores secured them category prizes.
The first and second 9 prizes in the Shield were won by Joy Steenson and Catherine McAnerney.
Sylvia Ashe won the 9 hole competition with 24 points.
The usual suspects, Paula McCrory and Ellen Brady, recorded birdies on the day, Paula at the 2 nd and 10 th and Ellen at the 4 th .
Barbara Hamilton recorded the only 2 on the day at the 3 rd hole.
Fifty three ladies competed on the day and the prize giving took place in a clubhouse which was packed with competitors and participants in the Get Into Golf initiative, who enjoyed their first week of tuition under the watchful eye of the new professional, Will Carey.
Lady Captain Gail expressed delight at the numbers participating and the enthusiasm shown. She added that Will has identified a number of budding talents as potential future prize-winners and hoped that participants continue to enjoy the programme.
Both Lynne and Mary, in their acceptance speeches thanked Flo and Cecilia, for the donation of the respective trophies. They also paid tribute to the generosity of the sponsors, O'Reilly and Fee.
Lady Captain Gail reminded members that the Spring Open is scheduled for Monday 8 th May and that times were now available on the club website.