Immediately on being confirmed as its 2018 Captain, Colm Shannon outlined a positive vision for County Armagh Golf Club during his tenure and beyond.
After smacking his ceremonial drive up the first fairway, Shannon struck an upbeat and progressive tone when addressing a busy clubhouse at a New Year's Day inauguration event that also saw Elizabeth Mawhinney, Gerry McCreesh and Kenny Edgar assume the roles of Lady Captain, President and Vice Captain respectively.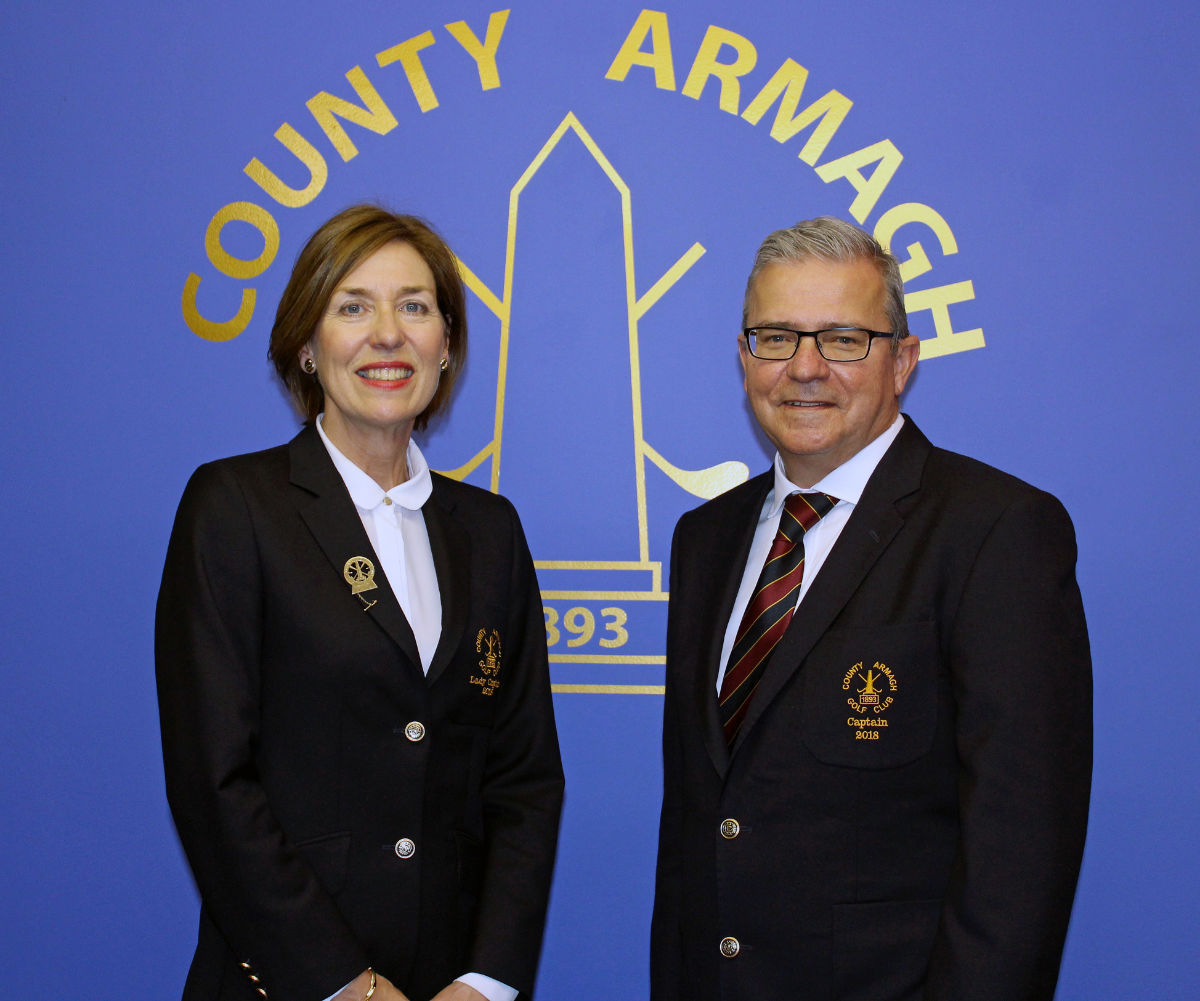 "I feel very honoured that I have been asked to be the club's Captain in the year that we celebrate our 125th anniversary. I hope I can live up to everyone's expectations."
"I first joined back in the early 70s when I was 11 or 12 and this was a 9-hole course. It was a great club then and, thanks to the efforts of the members and Captains over the years, both men and women, it's still a great club."
"I went onto Council in 2007 because I wanted to give something back to a club that had served me so well for so long. We have great full-time staff but it's the volunteers, convenors and members of Council who provide the direction and guidance."
"I really want to continue the tradition of members getting involved in helping out. If there is something you think you can do, just let me or one of the other Council members know. Every bit counts, no matter how small."
The new Captain paid tribute to his predecessor, Richard Stewart, saying, "I've a really hard act to follow. Richard was a truly outstanding Captain. He showed endless energy, determination and enthusiasm in taking the club forward."
"His leadership of Council, his support behind the scenes with committees, his organisation of the classic in May and his tireless support for all the club's teams showed real dedication to the position."
"Richard's captaincy year will also go down in club folklore, given the amazing feats and subsequent media coverage of Joe Rooney's holes-in-one and John Maguire's HowDidiDo triumph at Turnberry. The victorious Jack Craig Mixed Foursomes team also deserve a mention for their brilliant achievement." 
"I'd like to thank Richard for the support and advice he has given me, particularly over the last few months as I prepared for my own captaincy. And, on behalf of the club, I commend him on all his tremendous work last year."
Colm congratulated outgoing Lady Captain Gail Steed, too, on her very successful incumbency, and thanked Walter Neville for the wise counsel that he provided during his stint as President and, indeed, for his many years of dedicated service to the club. He also wished Lady Captain Elizabeth, President Gerry and Vice Captain Kenny well in their new posts.
"Gail and Richard clearly demonstrated the value of a strong working relationship between Council and the Ladies' Committee."
"Elizabeth and I are keen to continue that, and I look forward to working with her in the coming year. Indeed, such cooperation will become increasingly relevant given the proposed amalgamation of the GUI and ILGU, which I warmly welcome."
Turning to aspects of club life that will be of particular significance in 2018, Colm expressed his gratitude to Honorary Secretary, Paddy Burns, for his ceaseless commitment to the everyday running of the club, and to Honorary Treasurer, Pat McAleavey, for his ongoing methodical diligence in ensuring that the club remains on a relatively sound financial footing.
This prudence has enabled the commencement of some course improvements, under the committed stewardship of Greens Convenor, Davy Baird, including work on the 16th green, while there are plans for a new buggy shed and improved course drainage.
It is also hoped that the clubhouse bar area can eventually be refurbished. Members will be kept informed of these proposed projects in due course.
The 2018 Captain was full of praise for new Professional, Will Carey, who will no doubt continue to be a great asset to the club as he embarks on his second year with us.
Will's juvenile coaching has been invaluable, and Colm identified attracting and retaining more junior members as a key area moving forward.
"I want to see a vibrant juvenile section. Jarlath McReynolds and Michael Calvert, along with Will, are doing fantastic work in this regard, and I hope others will help them in that."
Shannon also indicated how County Armagh Golf Club intends to mark its 125th anniversary this year.
"Among other events and competitions, we've planned a gala banquet for the City Hotel  on Saturday 27 October ."
"We hope this will be an opportunity for members and businesses that have supported the club over the years to join us in celebrating our 125th anniversary. Further information about this evening will be available shortly."
Ably supported by devoted wife, Mary, and son, Mark — "who, thankfully for him, didn't inherit his dad's golf swing!" — Colm Shannon will be a fine ambassador for County Armagh during his time at the helm, just as Richard Stewart was before him.
Everyone associated with the club wishes Colm, and indeed all those taking up new roles, all the very best for 2018.