1st G Hughes nett 62
2nd Niall McGurgan nett 63 (best gross 69)
Category 1
1st Naill Brady nett 65
2nd Ian Millar 66
Category 2
1st Neil Monaghan nett 65
2nd Kyle Johnson nett 66
Category 3
1st John Toner nett 65
2nd Joe McKenna nett 66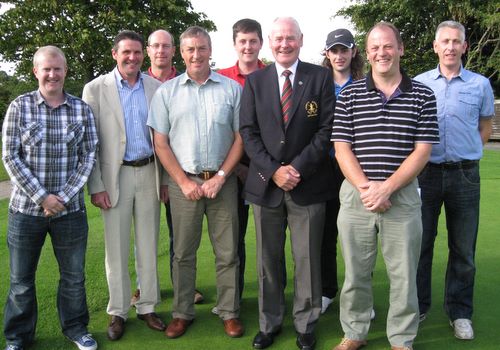 July Medal & Stroke Competition winners County Armagh Golf Club Captain Tom Calvert is pictured with winners of the July Medal and Club Stroke competitions played on the weekend July 9th and 10th. From left to right: Niall McGurgan, Charlie Johnston, Neill Monaghan, Norman Mallon, Jarlath McReynolds, Andy Millar, Ian Millar and John Toner.
Gervaise grabs July Medal
A level par back nine after an equally impressive three over front nine secured the July Medal for Gervaise Hughes.
The 11-handicapper booked his place in the club championship in impressive syle with a nett 62 to win the day ahead of the inform low handicapper Niall McGurgan.
Four pars kicked off Gervaise's round before he dropped three shots over the next three holes. But at the turn it was all the damage he had done.
He hit the back-straight in determined fashion, opening with a birdie four at the par four tenth hole, dropped a shot at the next, and a birdie three at 14 compensated for a further dropped shot at 16 for a level par back nine.
Level par was the story of runner-up Niall McGurgan's front nine and with a one under par back nine with a birdie at the last, he deservedly collected the prize with a nett 63.
Another Niall, Niall Brady, claimed first prize in Category One with a nett 65 and Royal School teacher Ian Millar graciously accepted second with a nett 66, collecting a share of the Two's pot on the way with a bridie two at the ninth hole.
In Category Two Neil Monaghan shot a nett 65 including a birdie three at the second hole for his first prize, and Kyle Johnston was runner up with a nett 66.
John Toner's nett 65 secured him first prize in Category 3 and Joe McKenna claimed second with a nett 66.
Details

Parent Category: News & Results
Category: Men - News & Results