1st William White 43pts
2nd Shea Brady 42pts
Category 1
1st Andrew McTaggart 41pts
2nd Michael Cullen 40pts
Category 2
1st Cathal Cullen 42pts
2nd Andrew Dunwoody 42pts
Category 3
1st Tim Teaham 41pts
2nd G Cullen 39pts
Best Gross: Kieran Donnelly 34pts
Presentation of prizes will take place on Sat 13th August @ 6.30pm. All prizes winners are requested to attend.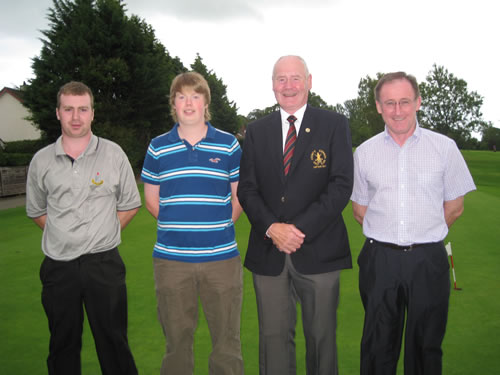 Winners of the County Armagh Open Stableford Competition sponsored by Armagh Potato Company Ltd, Cathal Cullen, Shea Brady and Tim Teehan, are pictured with Club Captain Tom Calvert
William leads home youthful winners
It was youth to the fore in County Armagh Golf Club's Open Stableford competition on Saturday (July 30) as William White ran up an excellent winning score of 43 points to claim the honours
Shea Brady, an eight handicapper, impressively also mastered the blustery conditions to claim second prize with 42 points.
Just three over par after nine holes, 12-handicapper William had 20 points on his card at the turn, and added a further 23 to his tally over the back nine where he surprisingly finished with a double bogey six for just a point.
Shea was equally on top-scoring form and after opening with a birdie three at the first, enjoyed a steady round with further birdies at 11 and 15 for his round two over par and 42 points.
In Category 1, Andrew McTaggart secured first prize with 41 points - a steady round indeed from the 12 handicapper. And Michael Cullen picked up runners up prize with 40 points.
Cathal Cullen's 42 points - 22 front nine and 20 back nine - took the honours in Category 2 on countback from Andrew Dunwoody who also returned 42 points, ultimately giving way to Cathal after a double bogey six at the 17th hole.
In Category 3 Tim Teehan was the man on form and picked up first prize with 41 points. G Cullen's 39 points earned him the runners up prize.
And the Best Gross score of the day was returned by Kieran Donnelly.
Details

Parent Category: News & Results
Category: Men - News & Results