The Charlemont Cup has long been the jewel in County Armagh Golf Club's intra-club matchplay crown — it's "the one they're all after". And in 2018, the historic doubles event witnessed glory for the deadly duo of Darren Wilson and Dean Chambers.
The formidable Chambers/Wilson axis began their ultimately triumphant Charlemont journey with a first round dispatch of seasoned campaigners PJ Collins and John White, before victory over Mickey Cullen and Tom Fox enhanced their matchplay momentum.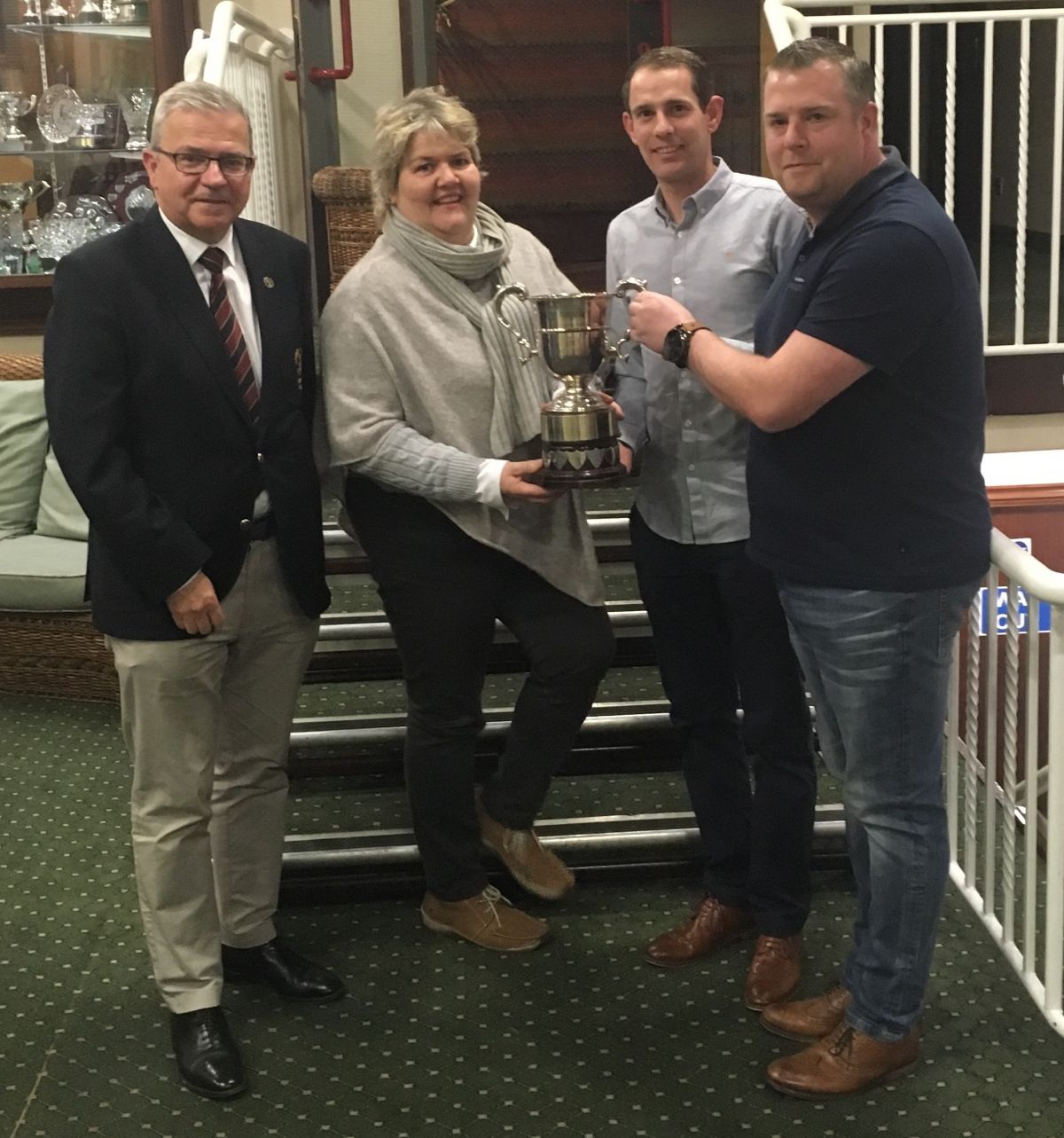 Charlemont Cup Champions 2018, Dean Chambers and Darren Wilson, are presented with the trophy by Helen Forster, manager at the Charlemont Arms Hotel Armagh, sponsors of the annual pairs matchplay tournament. Also pictured is County Armagh Golf Club Captain, Colm Shannon.
The father-son pair of Sean Dougan Jnr and Snr couldn't live with Chambers/Wilson in round three, and then yet another Sean, this time McAnenly, fell by the wayside alongside playing partner, Ian Beaddie.
The same fate would befall Stephen Catterall and David Leeman in the last four, which set up a fascinatingly poised final against a second familial foe in the shape of Neil and Adam Cromwell.
Entirely undaunted in this decisive showdown, Darren and Dean held firm and, after a sixth consecutive win, they deservedly got their hands on the coveted Charlemont Cup trophy.
For their part, the Cromwell runners-up enjoyed an excellent campaign in which, despite surrendering a plethora of shots at every stage owing to their low handicaps, they managed to see off the mettlesome four-fold challenges of Mark Keogh/Bill Knipe, Roy Davis/Des Kinsella, Jimmy Wilson/Richard Stewart, and Kevin McElvanna/Adrian Woods.
On being presented with the hard-earned silverware, Dean spoke to his and teammate Darren's great pride at their achievement. Meanwhile, Helen Forster from tournament sponsors, the Charlemont Arms Hotel Armagh, warmly congratulated the lads on their success and said that she looks forward to supporting the prestigious competition for many more years to come.