With playing conditions having remained largely fair as the calendar ticked over into October, the qualifying campaign at County Armagh Golf Club was sensibly extended for an extra couple of weekends. And this meant that Joe Rhodie, Sam Jenkins and Lee Stewart all found time to score a late-season success.
In a Club Stableford on 6 October, Rhodie recorded back-to-back birdies at the 7th and 8th as well as two instances of three consecutive pars. The resultant 44-point haul was superb and slashed Joe's handicap from 18 to 15, as well as earning him a comfortable four-shot victory margin.
Next in the Saturday standings was overall runner-up, John Lowe, whose four double bogeys were entirely out-of-keeping with the manner in which he negotiated the other 14 holes, namely through 11 pars, a birdie and two bogeys.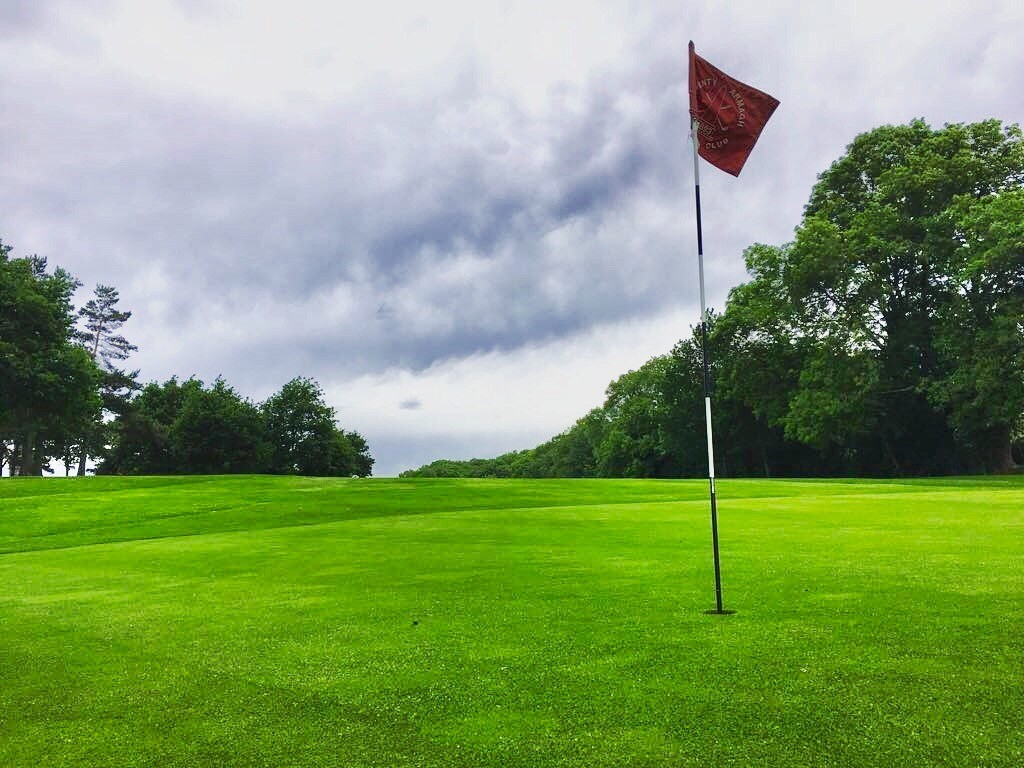 Lowe's terrific 40-point total was matched by Johnny Brown, who lost out on a break of tie in the overall reckoning but found consolation in the shape of category 1 pre-eminence. Johnny's excellent gross 76 included a birdie up on Rokeby Green and an earlier spell of six pars in a row.
Four points adrift of Brown was Michael Calvert, whose 36-point scorecard was enough for second spot in the 0-12 bracket. Michael's no-scores at the 6th and 10th were ameliorated by birdies at the 8th and 12th and a strong three-par finish.
In category 2, Eamon O'Hagan's neat-and-tidy outing of eight pars, 10 bogeys and 40 hits on each nine yielded a marvellous 40 points and kept him two clear of second-placed Niall McGeown. Niall's best golf came on a fruitful five-over-par outward trek.
Brian Liddy registered a nap-hand of pars on his way to a solid 37-point tally that proved unbeatable in category 3. The runner-up here was Patrick Hughes, whose 35-point offering peaked with a birdie on 11.
Mark Loughran deservedly claimed the day's gross award, although his fine four-over-par round would have been better still but for a few dropped shots on the homeward straight.
Twenty-four hours later on 7 October, Sam Jenkins notched an even more emphatic tournament triumph, as a massive 43-point haul left his rivals floundering. The 2017 Captain's Prize winner signed for a magnificent gross 71 during which, just like Rhodie the day before, he birdied both the 7th and 8th. After a satisfying handicap cut, Jenkins will be playing off six for the winter.
Trailing Sam by a full five points was the Sunday runner-up, Darren O'Hagan, who fired nine pars and a birdie as he racked up an impressive 38 points.
In category 1, Lee Stewart and Oliver Connell both returned 36 points and were separated into first and second positions respectively on a countback. Lee birdied the 3rd and 14th, while Oliver parred five of the first six holes and three of the last four.
Category 2 was a similarly handicap-equalling affair as Brian Wilson's 36 points edged out Sean McAnenly's on a tiebreaker. Wilson's highlight was a Beresford birdie and McAnenly posted nine pars.
Meanwhile, Gerry Kelly took care of business in category 3 courtesy of a pleasing 37-point display that denied second-placed Brendan Lynch by a single point. Both men carded four pars amid their solid showings.
What was that about post-September conditions having stayed mostly favourable? Saturday 13 October was miserably wet and grim. Nevertheless, a sufficient cohort of hearty golfers completed 18 holes in order for the day's Club Stableford to retain its validity; albeit, due to the smaller number of competitors, prizes were awarded only for first and second place overall.
Emerging victorious from this reduced and damp field was Lee Stewart, whose wonderful gross 74 contained a Ballyheridan birdie and no double bogeys and was a particularly impressive performance given the rain.
Stewart's accruing 38-point total was matched by runner-up Martin McCelland, who also battled admirably in the inclement circumstances. McClelland birdied the 14th and, indeed, only a scrappy conclusion prevented him from clinching the top honours.
The weekend qualifying events have since given way to the annual Winter League, which is contested off the green tees. The white markers and weekly competition reports will return in the spring of 2019.