Traipsing aimlessly around IKEA. Wrestling glumly with garden weeds. Perching on a bar stool but wishing dearly to be somewhere else. These are perhaps just some of the ways in which County Armagh's male membership tried, and most likely failed, to cope with a rare golf-less Saturday on 1 September, when the Ladies' Armaghdale Cup took precedence.
Twenty-four hours later, then, 146 coiled-spring hopefuls were positively chomping at the bit to get back out on the fairways and stake their claim for September Medal glory. And alongside Adam Cromwell, Stephen Nugent, Keith Stewart, Brendan Arthurs and Andrew Conn, the name of Tomas McElmeel can now be added to the final list of CAGC's 2018 monthly Medal recipients.
In the competition sponsored by Holmes and Doran Surveyors Ltd, McElmeel plundered the Sunday spoils with a superb nett 66. The winning round had started in unpromising fashion, but Tomas soon found his stride with four consecutive pars from the 4th to the 7th.
Then, on the homeward strait, a birdie at the 15th backed up further pars at the 11th, 13th and 14th and ultimately cemented a fine Medal success. McElmeel will no doubt be chuffed at acquiring a one-shot handicap reduction in addition to the September silverware.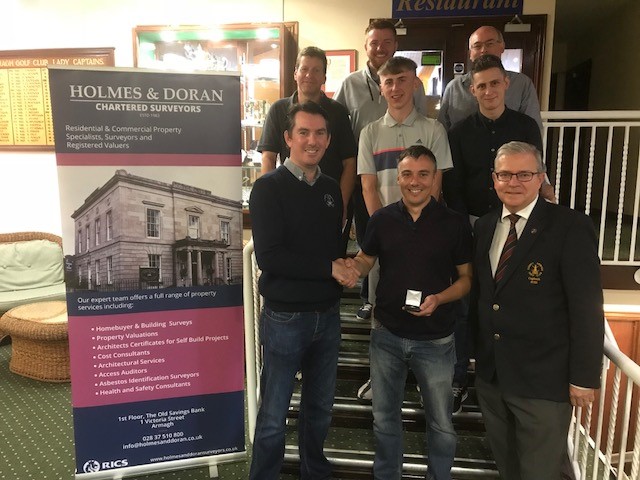 Tomas McElmeel, winner of County Armagh Golf Club's September Medal, receives his prize from Club Vice Captain Kenny Edgar, representing competition sponsors, Holmes and Doran Chartered Surveyors. Also pictured are Club Captain, Colm Shannon, and other prizewinners Neil Linton, Lee Stewart, Martin Carson, Calum Connell and Simon Arthurs.
Calum Connell put behind him the regret of his near miss in the previous weekend's Junior Scratch Cup to post an outstanding gross 72 comprising three birdies, five bogeys and 10 pars. While Calum's accruing nett 66 lost out to Tomas on a break of tie, it defeated Lee Stewart on a countback.
Connell secured the overall runner-up award, therefore, while Lee had to settle for top-dog status in category 1. For his part, Stewart also performed brilliantly and, remarkably, the Killylea man's two-over-par offering contained exactly the same par-birdie-bogey stats as Calum's.
On a day when six-handicappers came very much to the fore, Lee's old mate Neil Linton filled second position in the 0-12 bracket through a marvellous gross 73 and nett 67 that featured birdies at the 2nd and 16th and a sequence of seven pars in a row. Neil, Lee and Calum all now find themselves within touching distance of a five handicap. Meanwhile, reluctant to be entirely overshadowed by his aforementioned six-handicap counterparts, Rónan O'Reilly brightened up his morning of dull scoring with a hole-in-one on the 9th.
A fruitful spell of one under par for half-a-dozen holes either side of the turn and then a birdie-par climax provided the backbone of the excellent nett 67 with which Martin Carson took the plaudits in category 2. That nett tally was equalled by second-placed Simon Arthurs, who finished with a 3, 4 flourish just like Carson and recorded nine pars elsewhere amid an accomplished display.
A pair of impressive nett 67s at the head of the category 3 standings also required a tiebreaker to split them. Rodney Lynas registered seven pars as he secured pre-eminence in this category as well as a new handicap of 18. Rodney's superior homeward nine thwarted Andrew McBurney, who collected second prize by virtue of a gross 90 that included a birdie at the 6th.
In the Open competitions a few days later on Wednesday 5 September, birdies at the 3rd and 6th and an eagle at the 12th were the most memorable moments of a wonderful 43-point display from Derick Hynes that proved peerless among the seniors, while Roy Davis's nine-par salvo led to a top-notch 40-point haul and first place on the under-50s' roll of honour.