County Armagh Golf Club's enterprising run in the 2018 Ulster Cup has been ended at the semi-final stage after defeat to Malone.
Marty Daly's charges, the first County Armagh side to go this far in the tournament in a quarter of a century, travelled to Malone for the first leg on Monday 27 August. A stern challenge awaited them in Belfast on a course set up long and battered by strong winds, and against canny opponents who had also made the last four in 2017.
They acquitted themselves spiritedly, however — a repeated characteristic of their campaign this year. Strong finishes from Malone saw the home team post the first points of the tie, but County Armagh responded admirably as Patrick Brannigan and Paul McCurry prevailed.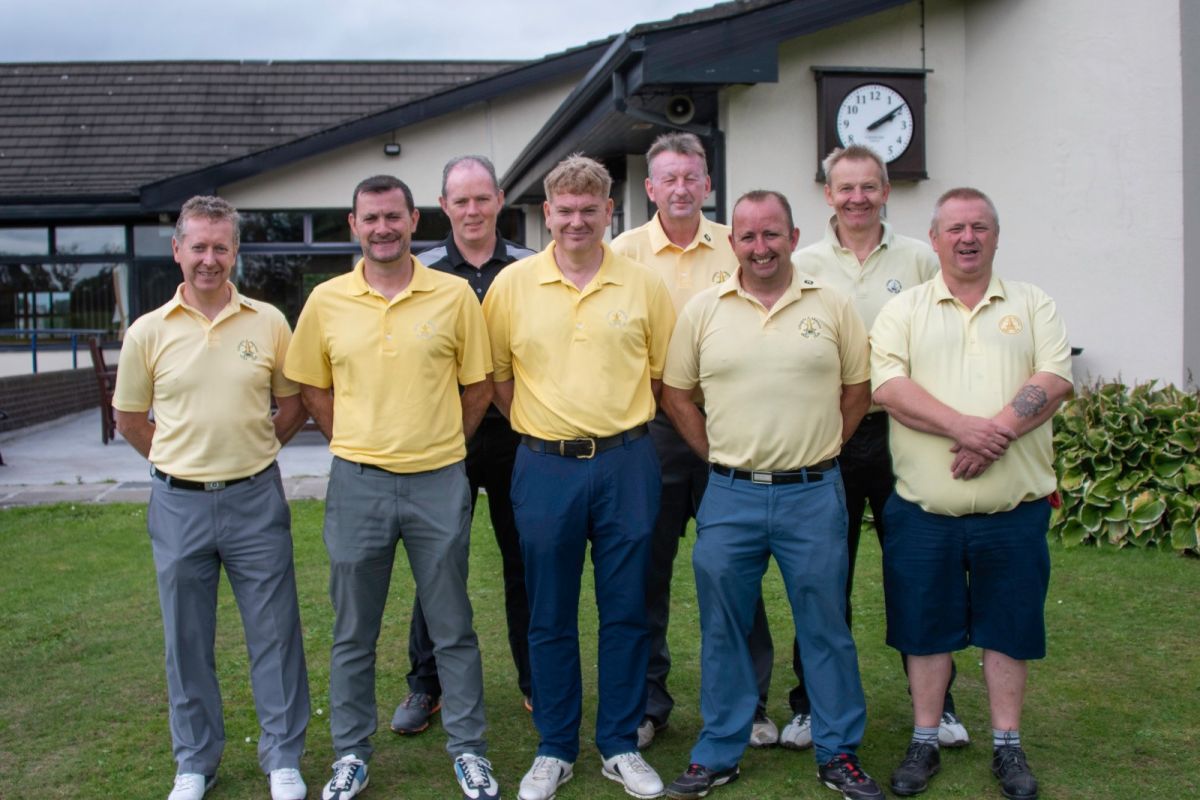 County Armagh's 2018 Ulster Cup semi-final line-up (L-R): Paul McCurry, Barry McGurgan, Paul Corvan, Patrick Brannigan, Declan McReynolds (non-playing vice captain), Marty Daly (captain), Cormac O'Hare and Nigel NcMahon.
Gaffer Daly then added another win before a doughty fightback from Barry McGurgan eventually secured a further half point. So, shared spoils at 3½-3½ represented a more than acceptable position with the home leg to follow less than a week later.
In that Cathedral City semi-final showdown on Sunday 2 September, overcast and gusty conditions again greeted the 14 golfing combatants. The visitors were quick out of the blocks and built a halfway lead in five of the seven individual clashes but, with a margin of only one or two holes in most of those, it was looking very much like this would be another nail-biter.
Paul Corvan and Nigel McMahon produced the goods in matches no.1 and no.2, registering a victory and a half point respectively, but Malone responded with a win in the third encounter to level the overall score once more. With four games still in progress, then, it was all to play for.
Captain Marty launched a comeback in which he won four holes in a row to be only one down after 15 but sadly, when his assistant Declan McReynolds drove out to the 16th, the news was delivered that Malone had hit late purple patches up ahead and collected the four wins required for their progression.
Congratulations and best wishes for the final are due to Malone. Well done also to the County Armagh squad on what has been a fantastic 2018 Ulster Cup journey featuring memorable triumphs over Greenisland, Portstewart, Ashfield, Ballybofey, Cloverhill. The club would like to thank Marty and all the players and caddies for their fine efforts throughout. They'll give it another rattle next year no doubt!