Whereas County Armagh Golf Club's inaugural Scratch Cup event in 2017 was contested in radiant sunshine and agreeable golfing conditions, its second iteration, again kindly sponsored by F&K Smyth Restoration and Decoration, was an entirely different meteorological story.
On 26 August, the Cathedral City course bared its teeth for a gruelling 36-hole test, as the absolutely brutal wind and abundance of heavy rain made an unholy alliance with white markers positioned as far back as they could go and difficult pin placements on ever-so-slick greens. It was a stiff golfing examination but an eminently fair one.
The Senior Scratch Cup was competed for by members and visitors in the 0-5 handicap bracket and witnessed triumph for Lurgan hotshot Michael McSherry. He followed up a fantastically gritty level-par morning outing with a post-lunch 71 to complete a winning tally of 141.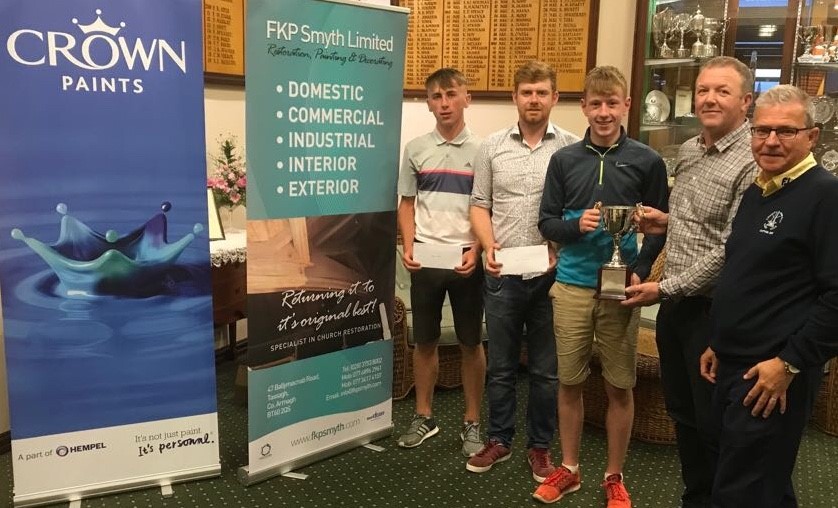 County Armagh Golf Club Junior Scratch Cup champion, Caolan McReynolds, receives his trophy from Francis Smyth of F&K Smyth Restoration and Decoration, event sponsors. Also pictured are Club Captain, Colm Shannon, and other prizewinners, Calum Connell and Ruairi O'Connor.
One shot adrift of McSherry was runner-up Ruairi O'Connor, whose journey from Sligo was a worthwhile one, and Omagh's Jordan Hyland grabbed third place on 146. The accolade for lowest first round went to Jamie Stothers of Tandragee for his 71, and the three-over-par display of McSherry's clubmate, Gareth Moore, represented the best second-18 score.
Meanwhile, the Junior Scratch Cup, which is for contenders playing off six and above, produced a prizewinning line-up with a homelier makeup. The champion here was young Caolan McReynolds, who continued his sparkling 2018 progress with a 162-stroke victory. The nine-handicapper's Scratch success consisted of dogged knocks of 82 and 80 and a wind-defying overall haul of 17 pars and a birdie.
The Junior Scratch Cup runner-up was Caolan's Fred Daly and Ronan Rafferty team colleague, Calum Connell, who declared on 162. Juvenile Calum's excellent afternoon gross 77 contained an ultimately costly quadruple bogey finish but was enough to edge the slightly more experienced Neil Linton, who returned the same 36-hole aggregate, into the bronze-medal berth.
Moyola Park's Conor McElhinney collected the award for the finest first round among the 6+ crew with an early 80, before Ian Beaddie's local knowledge helped him to a terrific 78 that was the lowest posted in the afternoon by those who didn't feature elsewhere on the Sunday roll of honour.
Finally, the prize for the day's best nett was clinched by Harry McGeary from Dungannon, whose 140-shot total edged County Armagh's Gareth Reilly into second place by a single stroke.
Full credit goes to organisers Jarlath McReynolds, Stewart Stevenson and Davy Baird for putting on another top-notch tournament that simultaneously thrilled and sternly challenged all of its participants. What the weather has in store for CAGC's 2019 Scratch Cups is anyone's guess.
A few days later, Caolan was at it again when his classy gross 76 and 39-point performance proved unbeatable in the Wednesday Open Stableford. On the same day, Tom Calvert prevailed among the over-50s by virtue of a superb scorecard showing nine pars, a birdie and 40 points.