With England at one stage looking to be on the verge of World Cup glory in Russia, and our last drop of rain seemingly having fallen way back in 1966, it has felt at times recently as though we are living in some sort of parallel universe. County Armagh Golf Club has at least attempted to retain a small grip on normality in these heady last few weeks, though, with the completion of some refreshingly sane and workaday events that have since been ticked off its 2018 fixture list.
While the Three Lions have actually now racked up 52 years of hurt, Calum Connell rarely has to endure more than 10 days of hurt, such is the remarkable regularity with which he features among the prizes at CAGC. The talented schoolboy's latest winning display arrived on Sunday 1 July, when he topped the pile in a Club Stableford competition. Calum's superb gross 73 incorporated birdies at the 12th and 15th and, most pleasingly, represented the lowest round of his embryonic career.
The massive 41 points that it yielded also left young Connell a full five strokes ahead of the chasing pack. That group was headed up by overall runner-up, Bill Knipe, who birdied the 4th and reeled off three consecutive back-nine pars on his way to a fine 36-point return.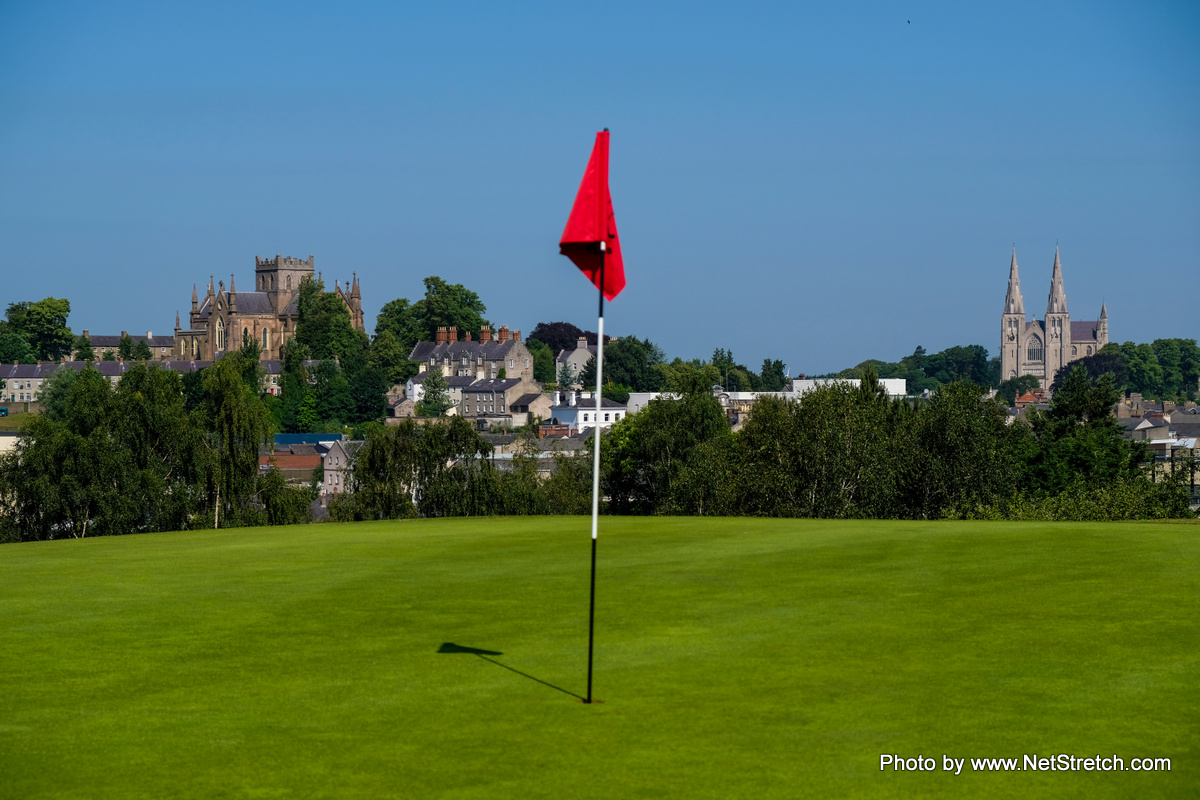 The 18th hole at County Armagh Golf Club: par 4, index 6, Cathedrals.
Neil Linton has been one of CAGC's most consistent performers this campaign, and he was there or thereabouts again here with an accomplished gross 77 that had promised even more after he negotiated the first eight holes in level par but was still sufficient to bag first place in category 1. Matching Neil's 35-point haul but losing out on a countback was category 2 runner-up, Adam Cromwell, whose best play also came during a front nine that he completed in just 34 shots.
Roy Davis and Beechy Hughes were neck and neck at the summit of the category 2 standings on a solid 36 points each, with the former narrowly edging out the latter by virtue of his slightly more fruitful back nine. Davis hared out of the traps with birdies at the 1st and 4th, while Hughes's intermittent four pars kept his stableford tally ticking over nicely.
A Sunday of largely conservative scoring – surely the fact that Captain's Night finished only a few hours before is merely coincidental – was wrapped up in category 3, where the plaudits were taken by Gerry Doyle with a steady if unspectacular 33 points, which kept him one clear of his nearest challenger, Norman Mallon.
The prevailing totals were back up to the usual standard a few days later on 4 July. This Wednesday Open Stableford was won by Roger Duggan, who parred five of the first six holes immediately after the turn and eventually signed for a terrific 39 points. Meanwhile, the Senior Open leaderboard was led by Conlon Rice, who went one better in posting a marvellous 40-point haul that was boosted in no small part by a run of six consecutive pars from the 8th to the 13th and the two fours with which he concluded proceedings.
Then, on Saturday 7 July, a Four-Ball Team Classic gave players an opportunity to cast aside individual ambition in favour of collective glory, and grabbing exactly that were Jonny Brown, Tom Calvert, Norman Mallon and Colin Clarke, who emerged comfortably victorious with 106 points.
The quartet of Donal Moran, Philip Dowey, Leo King and Gary Lappin occupied the runner-up berth with 101 points, which was one more than Christopher Lester, Mark Keogh, Paul Pender and Bill Knipe, who filled the bronze medal position.
Selfish objectives had long returned to County Armagh's fairways by Wednesday 11 July, when Jonny Palmer's brilliant 40-point outing, which contained a birdie at the 2nd and seven pars, rendered him unbeatable in the over-50s Open. On the same day, the Open Stableford honours went to podcast king, Paul Kelly, by virtue of a melodious 37-point offering that peaked during a sequence of four pars in five holes on his journey home.
Finally for this round-up of a busy midsummer schedule, a bonus Ladies and Gents Open Stableford tournament on Thursday 12 July witnessed respective triumphs for Sheila Stinson, whose 43-point showing was as fabulous as one of her much admired flower arrangements, and Tim Teahan, whose magnificent 42 points proved that he's not merely the skipper of a successful inter-club team but an able participant in his own right.