The Lonsdale Open represents one of the most prestigious and eagerly anticipated events on the County Armagh Golf Club fixture list, and the historic Lonsdale Cup is arguably the most coveted piece of silverware the club has to offer.
In the stroke competition sponsored by Armagh City Hotel on 2 June, then, the Lonsdale was granted its due reverence and respect by both the heavenly weather and the stunning scoring among 189 hopeful contenders. And heading up that field to be crowned a most worthy 2018 Lonsdale Champion was Ed Hughes, who returned a breathtaking nett 61.
Four consecutive pars from the 5th to the 8th helped Ed to reach the turn in 39 strokes, which was three under his then 16 handicap. Even better was to follow, however, as birdies at the 12th and 13th, which nestled nicely among his pars at the 10th, 11th, 14th and 15th, meant that Hughes was just three over par with three holes left to play. Hughes's 5, 5, 6 climax from there was understandably jittery, but it couldn't prevent his romping to Lonsdale triumph with a fantastic gross 77 that also clips his handicap to 13.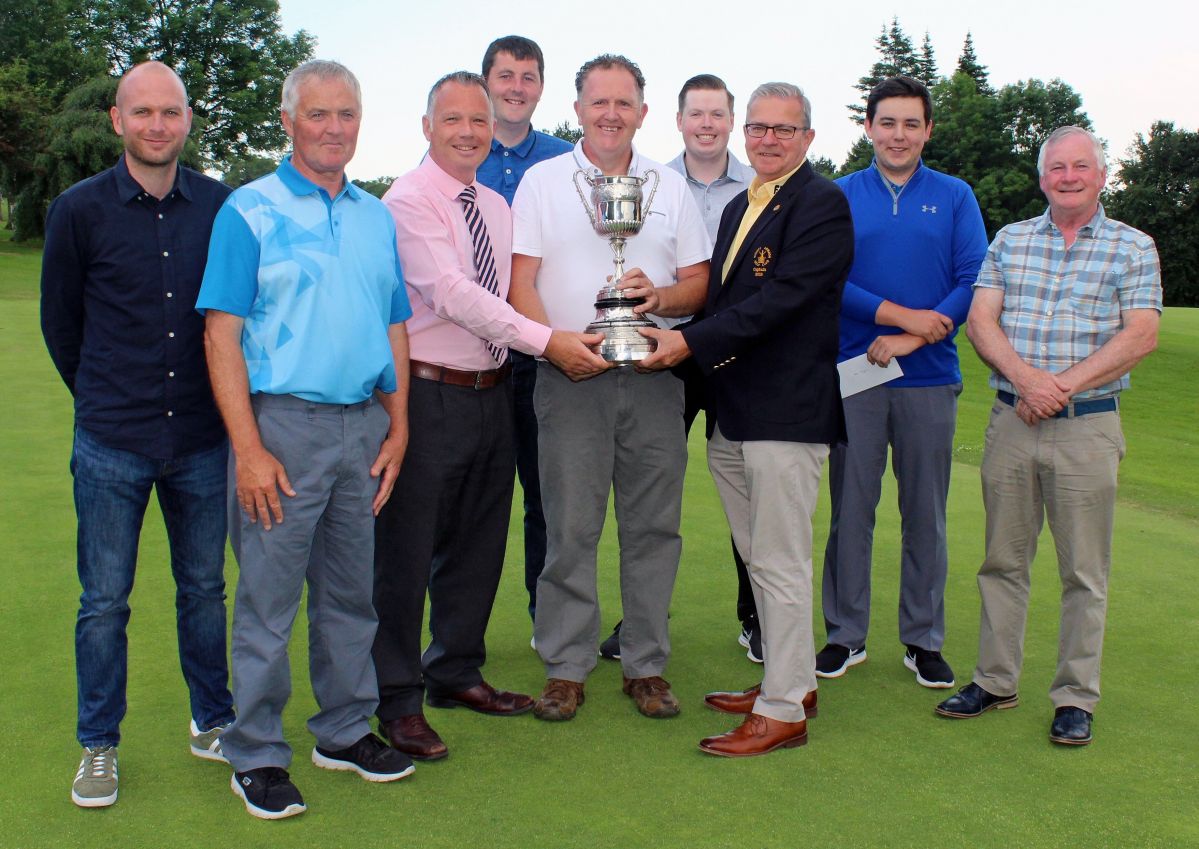 County Armagh Golf Club Captain, Colm Shannon, and Barry Donaghy, representing Armagh City Hotel, present the Lonsdale Cup to champion, Ed Hughes. Also pictured are other prizewinners (L-R) Rónan O'Reilly, Tom Fox, Jarlath McReynolds, Shea Brady, John Maguire and Peter McParland.
Next to Ed in the Saturday pecking order was the red-hot Jarlath McReynolds, who negotiated the city course in just 67 hits. McReynolds's mastery was particularly evident during a three-under-par homeward dander, yet this nett 63 and overall runner-up award was to constitute only the first phase of a highly satisfying weekend's work.
Occupying the bronze-medal berth was Charlie Vernon, whose superb gross 73 was bookended by birdies at the 1st and, remarkably, both the 17th and 18th. Vernon also parred 10 of the intervening 15 holes and his nett 63, which makes him a single-figure handicapper, was pipped to second place only by virtue of a marginally inferior back nine.
Immediately below Charlie on the Lonsdale leaderboard were a plethora of nett 64s, with players clearly showing little mercy in taking full advantage of the benign golfing circumstances. That coterie of nett 64 men were separated into the four remaining nett prizewinning positions on breaks of tie.
Fourth spot was filled by Tom Fox, whose round was drifting somewhat aimlessly at six over par at the Quarry until back-to-back birdies at the 8th and 9th sparked him into life. Fox reeled off seven pars on the spin straight after the turn and closed out an excellent gross 76 with a pair of harmless bogeys.
Since his unexpected glory year in 2016, Rónan O'Reilly's results have been largely underwhelming – he is CAGC's equivalent of Leicester City. However, O'Reilly was back to something like his best form here with a gross 72 that earned him fifth prize, a swift return to a seven handicap and perhaps even an invite to Jamie Vardy's next party.
Avoidance of anything worse than a bogey often leads to a satisfactory outcome and that was very much the case for young Caolan McReynolds. The Fred Daly and Ronan Rafferty stalwart racked up seven pars and two birdies amid an impressive seven-over-par outing that handed him sixth spot and did its best to snatch some of the column inches from older brother Jarlath.
Completing the nett podium line-up was seventh-placed Peter McParland, whose best golf came during a splendid 40-stroke front nine that featured a nap-hand of pars. Three more valuable pars would arrive on the way home, as McParland sealed a two-shot handicap cut.
Meanwhile, last year's Lonsdale winner, John Maguire, made a sterling defence of his title in scooping the accolade for best gross on a countback from Shea Brady. Both lads posted classy gross 70s comprising three birdies, three bogeys and 12 pars.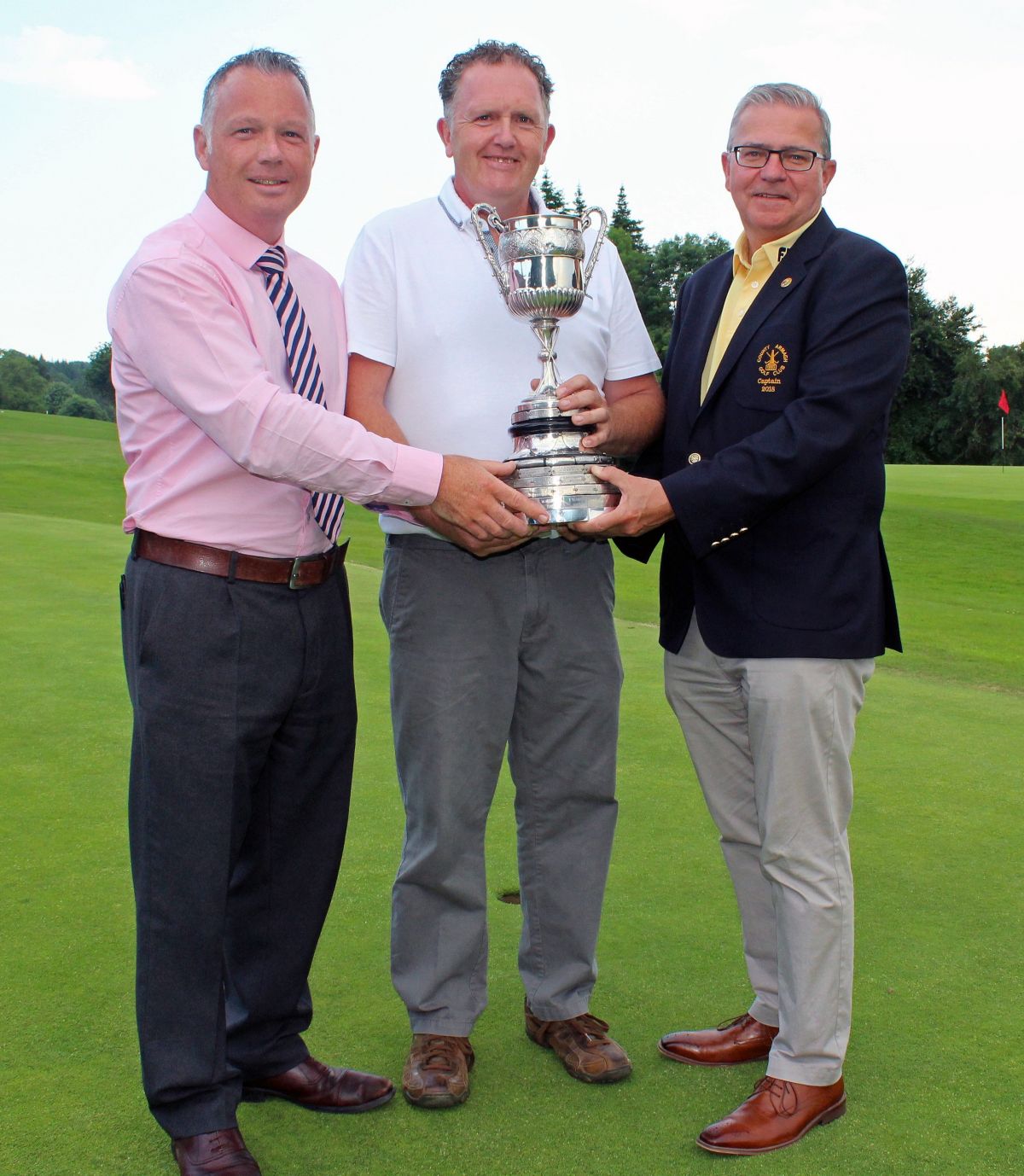 Ed Hughes accepts the magnificent Lonsdale Cup from County Armagh Golf Club Captain, Colm Shannon, and Barry Donaghy, representing Armagh City Hotel, competition sponsor.