With the course at County Armagh Golf Club suddenly in the sort of dry and bouncy state that was almost unimaginable just a fortnight ago, Eamon O'Hagan and Lee Kirrane took full advantage of the wonderful weather to land the spoils in two recent Sunday Stableford events.
First, on 20 May, four consecutive pars midway through the front nine helped Eamon to a satisfactory 18-point halfway tally before he really hit his stride coming home. The former schoolteacher birdied the 11th, recorded two further pars at the 13th and 14th and then, crucially, negotiated his way back to the clubhouse with four harmless bogeys. That all meant a terrific 39-point total that handed O'Hagan a slice of glory and pruned his handicap to 14.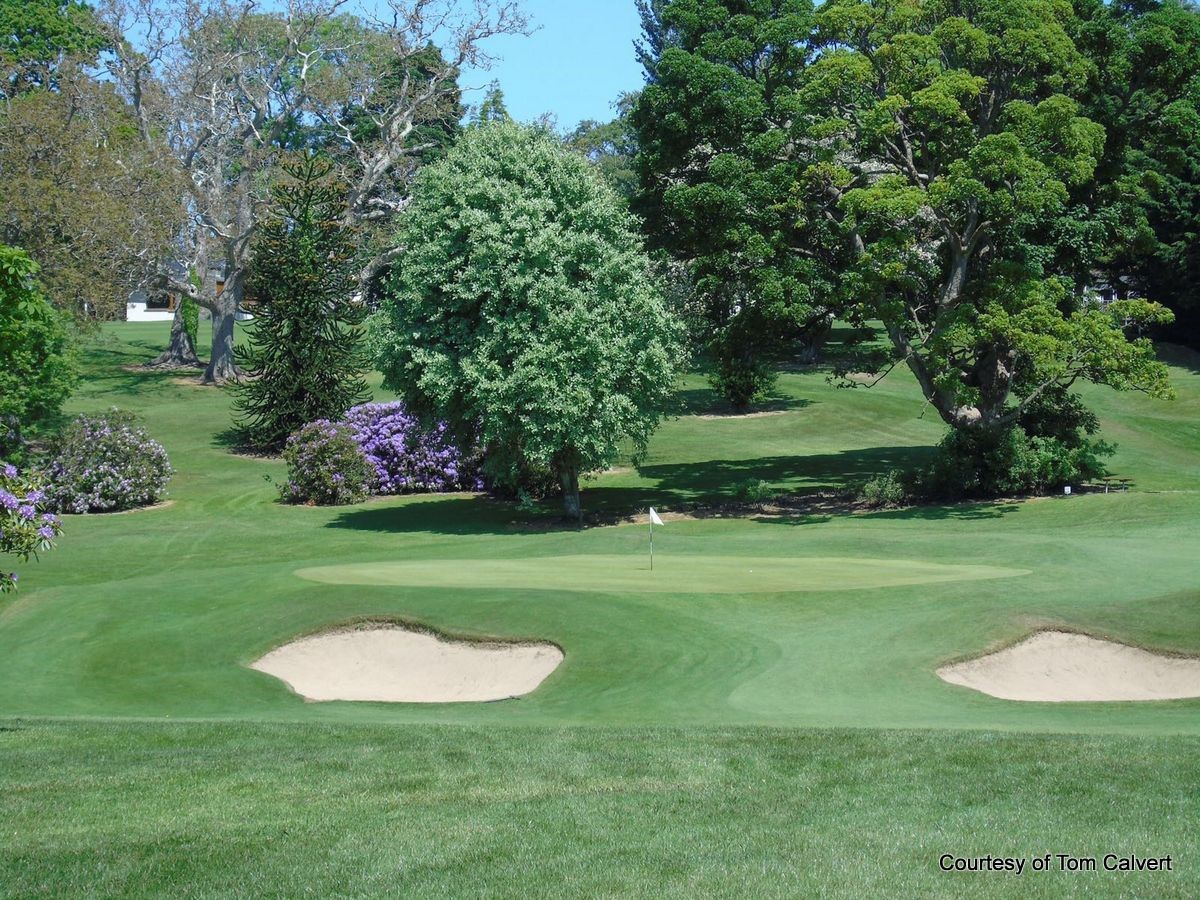 The 3rd hole at County Armagh Golf Club: par 3, Lonsdale.
After his category accolade a week previously, Patrick Darragh was back among the prizes with an overall runner-up placing here. Darragh missed out on top spot only on account of a marginally less productive back nine and, indeed, his day shared some similarities with Eamon's as he, too, parred everything from the 4th to the 7th and earned a 15-to-14 handicap clip as a result his excellent 39 points.
Adam Cromwell endured a torrid beginning and end to his round but was a phenomenal five under par for 12 holes in the middle. Adam's birdies at the 6th, 8th, 10th and 15th and eagle at the 12th ultimately contributed to a gross 72, 38 points and first position in the 0-12 handicap bracket. Second place in category 1 was filled by Shea Brady who, like Cromwell, also had a 38-point outing that, although bookended by woe, incoporated some majestic play in between: the six-handicapper was three under par for a 14-hole spell from the 4th to the 17th.
Conor McGuigan was the main man in category 2, where his high-quality 38-point scorecard containing eight pars edged out Paddy Smyth. Birdies at Ballyheridan and Beresford were the highlights of Smith's 37-point showing, which was next best after Conor.
Two players reached the 38-point mark in category 3 and had to be split by a break of tie. Peter McParland was the victor here as his remarkably consistent eight-bogey closing stretch narrowly edged out Turlough Brady, whose half-a-dozen pars sealed a second Sunday award for the Brady bunch.
Seven days later, Lee Kirrane was a worthy tournament winner on account of a sparkling 40-point display. The crafty Cockney completed the front nine in just 38 strokes and accrued a hefty 22 points in the process. A handicap-levelling back nine, which included a gutsy riposte to a no-score at Sequoias, then saw the 15-handicapper safely over the finish line. It has been rumoured that, during the Kirrane family trip to Tayto Park the following day, the breadth of the grin on Lee's face was rivalled only by that of big Mr Tayto himself.
Kieran Grimes matched Lee's 40-point haul but had to be content with the runner-up gong given his slightly inferior last six holes. Nevertheless, this was a highly impressive performance from Grimes, featuring as it did a birdie at the 2nd, four other pars and a four-over-par outward trek.
Andrew Miller proved unbeatable in category 1, where his 13 pars, two birdies and three bogeys added up to a consummate 39 points. Trailing Miller by a single point and securing second prize among the low men was the red-hot Calum Connell, who was just three over par for his back nine.
Meanwhile, the category 2 plaudits were taken by Richard Brunsdon. The 13-handicapper failed to register at either the 5th or 6th but was a very useful four over par for the dozen holes thereafter, a sequence that enabled him to amass 37 points. Aidan McParland occupied the runner-up berth here with the same score. He parred six of seven holes either side of the turn in a solid effort that was marred only by a ding at the 18th.
Finally, Brendan Lynch and Hugh McEneaney were neck and neck at the head of the category 3 standings, where another break of tie decided the result in favour of the former. Amid superb 39-point efforts from both, Brendan fired a nap-hand of pars while Hugh parred three of the short holes and has had his handicap reduced by a shot.