Just shy of 200 hopefuls took to County Armagh Golf Club's fairways on 26 May, as the packed field made the most of this continued spell of sublime weather.
In the Open Stroke tournament sponsored by Hillview Lodge Driving Range, eventual champion Christopher Lester signalled his winning intentions right from the off with a birdie at the opening hole. Pars at the 3rd, 4th, 6th and 7th then ameliorated most of the damage caused by unwelcome treble bogeys at the 2nd and 8th.
So, Lester reached the turn in a handicap-equalling 41 shots but it was thereafter that he really made his bolt for glory, as another birdie at the 10th kick-started a wonderful two-over-par back nine display. The now 13-handicapper's 4, 5, 4 concluding sequence was deserving of particular credit, and the resultant nett 65 ensured that Christopher could add this Open title to the various honours that he claimed in his prolific 2017, most notably the Bumblebee Cup.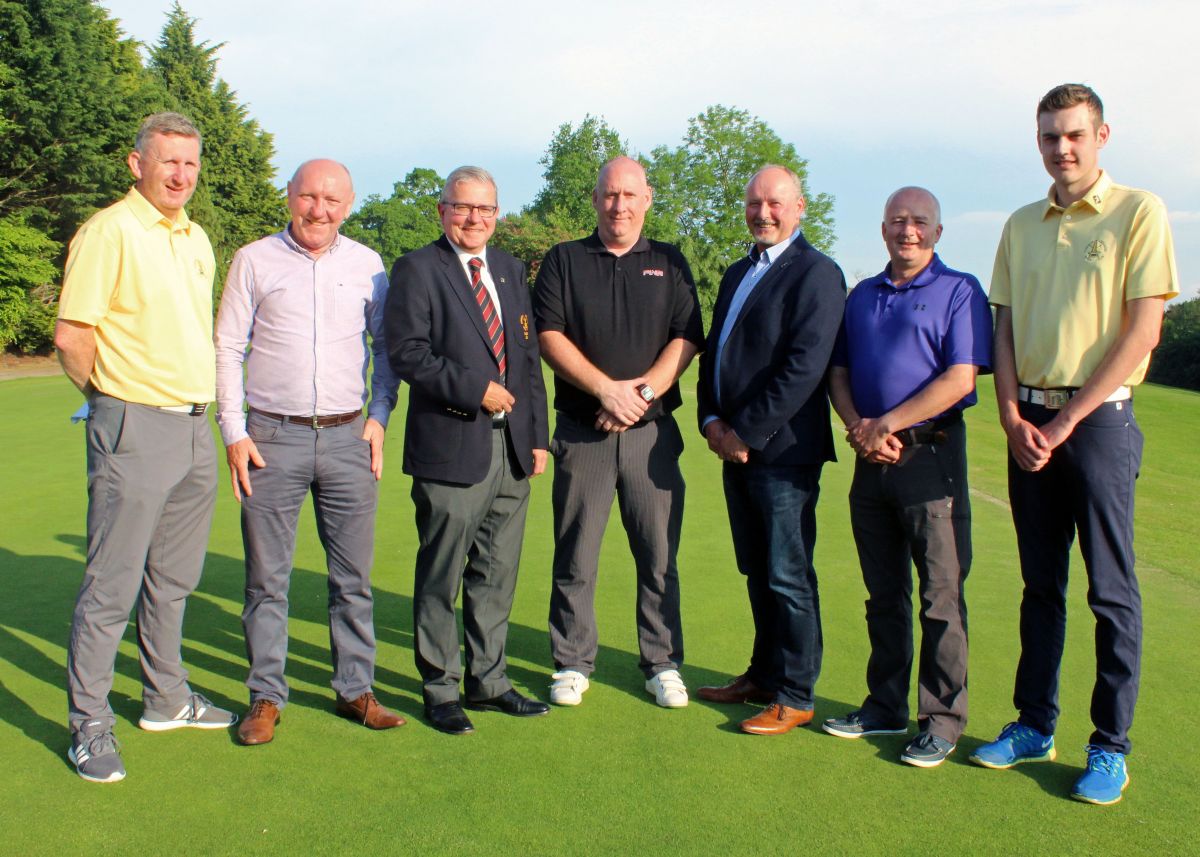 County Armagh Golf Club Captain, Colm Shannon, and Gary Baird from Hillview Lodge Driving Range, sponsor of the Open Stroke competition, are pictured with prizewinners (L-R): Oliver Connell, Anthony Conlon, Leo King, Stephen Catterall and Adam Cromwell.
The overall runner-up plaudits were taken by Leo King, who also posted a terrific nett 65 but was denied first prize on a countback. This was a truly regal performance from King nevertheless. His four-over-par knock was an accomplished affair made up of a birdie, five bogeys and a dozen pars, including six on the bounce at the beginning of the back nine.
The bronze-medal berth was filled by Mark Frazer, the last of the triumvirate to declare with a nett 65. Frazer's front nine was characterised by its skilful serenity: an innocuous bogey at the 9th followed eight consecutive pars. Mark's journey home was a somewhat more tumultuous one, consisting as it did of just one further par, four bogeys, a double bogey and a hat-trick of birdies. That all amounted to a colourful gross 74 and a nine-to-eight handicap cut.
Birdies at the 4th and 8th were the highlights of Anthony Conlon's magnificent one-under-par front nine, before four double bogeys coming in put paid to his chances of a loftier leaderboard position. Anthony is unlikely to find much consolation in what some anoraks might regard as the pleasing numerical uniformity of his day's statistics: gross 77, front nine 33, back nine 44, nett 66, starting handicap 11, finishing handicap 9.9.
Next in the standings were the ever-consistent duo of Stephen Catterall and Oliver Connell, who both registered a nett 67 and were separated into fifth and sixth respectively on a break of tie. Catterall reeled off ten pars in a row amid an assured gross 76, while Connell's brilliant 39-stroke outward trek was key to his earning a new handicap of 15.
The Saturday Open's nett podium line-up was completed by Kevin Ward with a nett 66. Kevin was impressive in parring half of his 18 holes but will reflect with little fondness on a treble bogey at the last of them.
In the gross reckoning, a return to form for Lee Campbell saw him clip round in just 73 blows to edge out Adam Cromwell, whose gross 75 total tells only a small part of the story given that he teed off at the 14th three under par.
In the midweek Open Stableford on 30 May, Andrew Streahorn was top man with a massive 44-point plunder during which he, just like Ward four days earlier, recorded nine pars. Meanwhile, prevailing among the over-50s was Terry Chin whose splendid gross 80, which yielded 43 points, was helped along by birdies at the 4th and 11th. Other Wednesday showings worthy of mention were Joe Rooney's exceptional gross 66 and Shea Smyth also managing to break par despite a heartbreaking quadruple bogey at the 17th.