With young Adam Cromwell having snapped up the first Medal of the season at County Armagh Golf Club last month, the second was on offer for the best performer in an Armagh Business Centre-sponsored stoke competition on 19 May. And as 174 combatants did sunshine battle for the coveted silverware, the last man standing was the increasingly prolific Stephen Nugent.
Given the fruitful fashion in which in which he has commenced the 2018 campaign — numerous category honours have followed his top prize in March's Chest, Heart and Stroke — the Keady player has been threatening a really big win, and he got it here by virtue of a fabulous nett 64.
Nugent's success was built on admirable constancy and error evasion, as his only score worse than a bogey came in the form of a relatively harmless five at the 9th. Elsewhere, Stephen's steadiness brought six pars and 11 bogeys, including a 5, 4, 5 climax that was especially impressive given the stakes.
In addition to being presented with the May Medal for his superb Saturday showing, Nugent has taken receipt of a new handicap of 18, and his sound golfing progress shows no sign of abatement.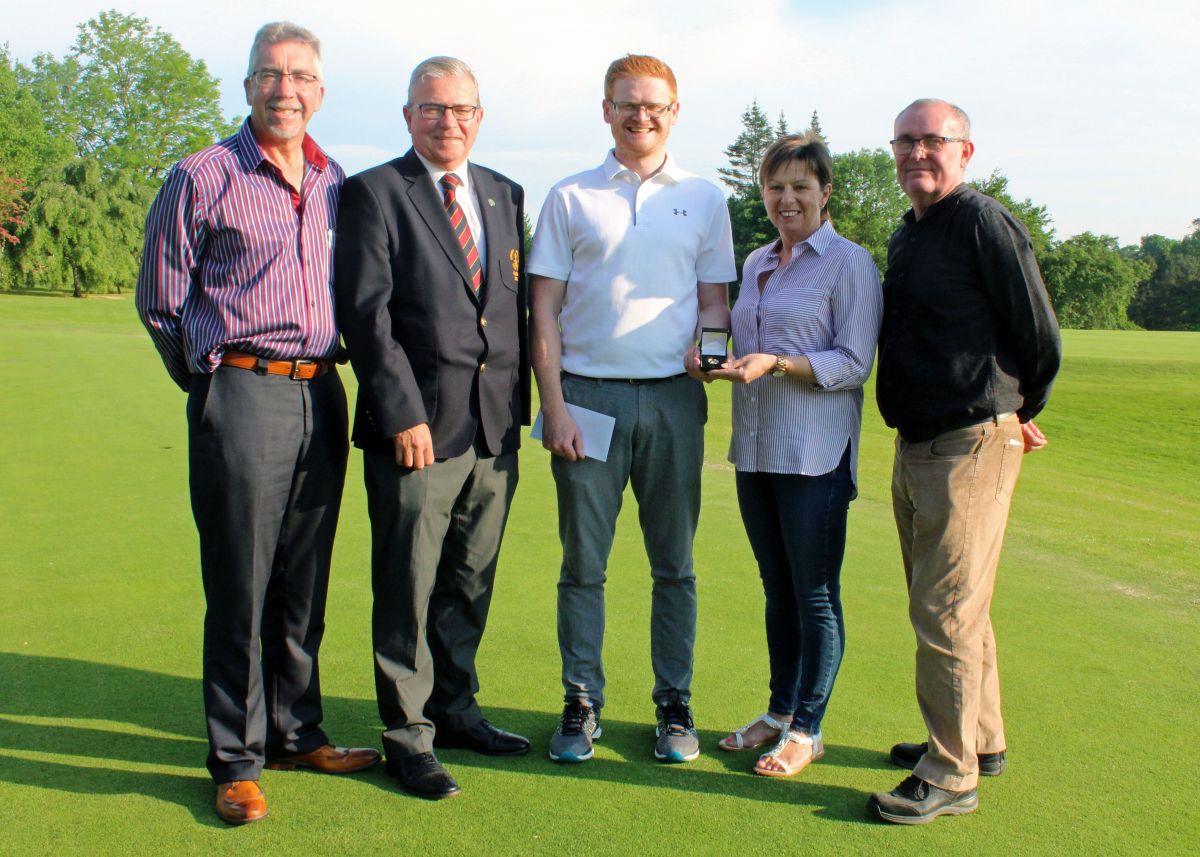 Stephen Nugent is presented with the May Medal by Eileen Stewart from Armagh Business Centre, competition sponsor. Also pictured are County Armagh Golf Club Captain, Colm Shannon, and other prizewinners, Conal Hamill and Eamon Connolly.
Matching the triumphant total of nett 64 but losing out to the champion on break of tie was Conal Hamill, who filled the overall runner-up berth. There is little substitute for experience and, as the Moy man rolled back the years, he rolled home the putts to reach the turn in just 37 strokes.
Keen cyclist Hamill would pedal harder still during an even better back nine comprising a Ballyheridan birdie, five pars and three bogeys. It all meant that Conal could apply the brakes and dismount with a classy 75 as he closes in on a free-wheeling return to single-figure-handicap status.
Fred Daly and Jimmy Bruen talisman, Calum Connell, proved peerless in category 1, where his nett 66 featured the disappointments of sevens at the 5th and 10th but, more characteristically, two birdies and 10 pars. Next to Calum in the category 1 pecking order was the ever-consistent Neil Linton, who fired three birdies amid a high-quality gross 74 and resultant nett 67.
Darren O'Hagan was playing alongside the aforementioned Hamill, and he and the tournament runner-up seem to have inspired each other to golfing excellence. Particular evidence of this was a nerveless concluding stretch where O'Hagan was one over from the 15th to the 18th, and that put the seal on a nett 67 that prevailed among the 12-18 handicappers. Second place here was occupied by another Fred Daly team member, Caolan McReynolds, who also carded a nett 67. Caolan produced his finest golf in the early exchanges, when he parred six of the first eight holes.
A terrific four-over-par homeward trek containing birdies at the 11th and 15th helped Cathal Cullen to a nett 66 and the plaudits in category 3. Runner-up here was Eamon Connolly, whose birdie at the last capped a solid nett 69 that earned his third category accolade in as many weeks. Meanwhile, Shea Smyth's reward for a level-par outing and exceptional 34-shot back nine was the day's gross award.
A few days later, Andrew Currie headed up the Wednesday Open challengers with a spicy 38-point serving that included three pars on each nine. On the same day, Cormac O'Hare finished with five pars on the bounce to record a fine 39-point tally that kept him ahead of his rivals in the Senior Open Stableford event.