With the weather showing a belated improvement and the course having dried out considerably as a result, things at County Armagh Golf Club are beginning to look and feel a bit more like one might usually expect for this time of year.
And in the PGA Tankard on Saturday 12 May, Andrew Hayward took full advantage of these more manageable conditions to expertly lead home a field of more than 160 hopefuls.
Hayward was anything but wayward as he kept it very much on the straight and narrow during a front nine that contained a birdie at the second-hardest hole and just 38 strokes. Playing off 15, that gave Andrew a very healthy halfway status and meant that mere solidity coming home should be enough to shoot a decent number; and so it proved.
A double bogey at the 16th was a minor setback that could've led to an irreversible loss of momentum — it's happened to many of us — but Hayward responded in some style, registering two closing pars to crown a terrific 40-point victory in the competition sponsored by Armagh Potato Company Ltd.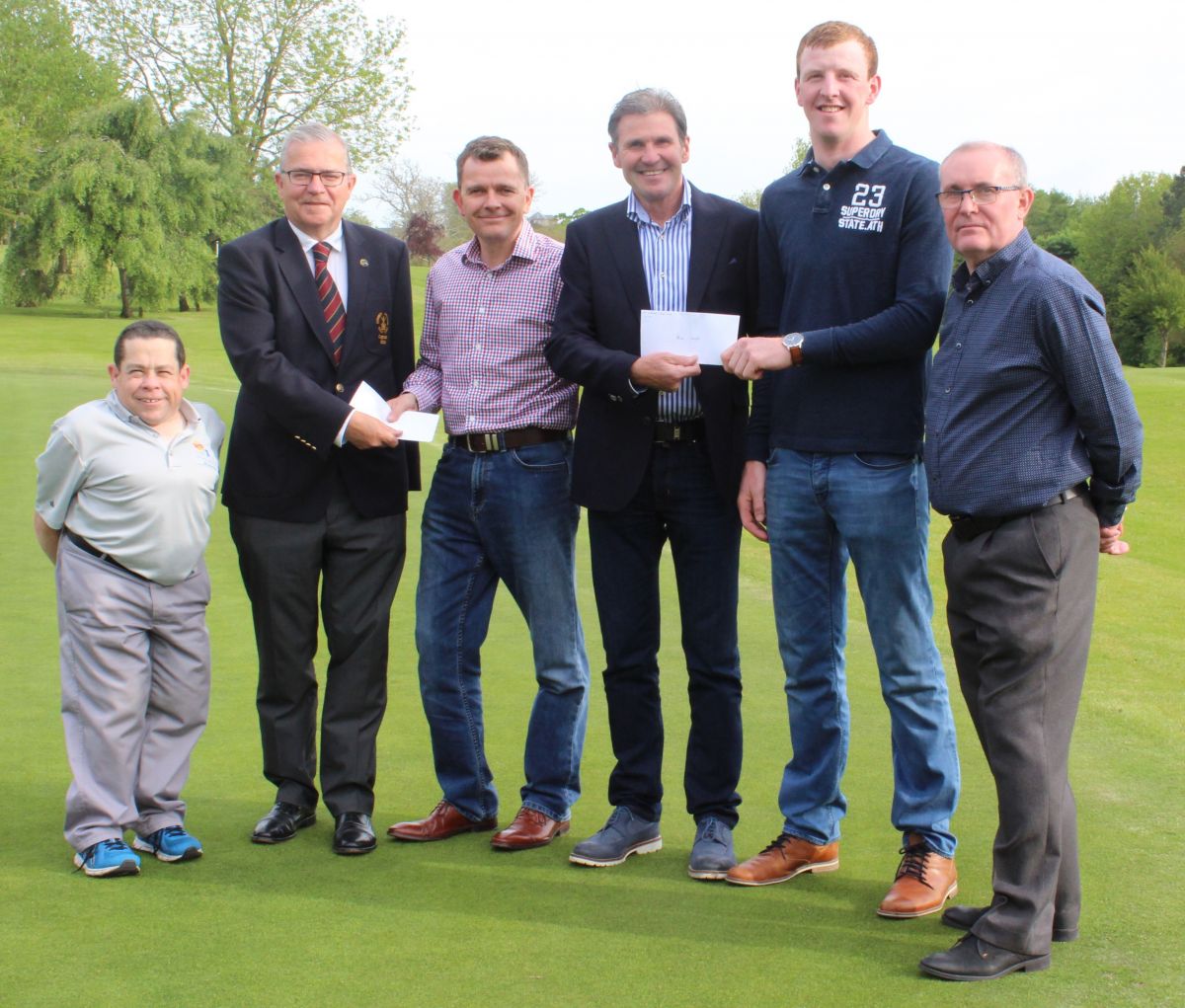 PGA Tankard winner, Paul Hayward, receives his prize from County Armagh Golf Club Captain, Colm Shannon. Also pictured are Charlie Johnston from Armagh Potato Company Ltd, competition sponsor, and other prizewinners (L-R): Paul Kelly, Shea Smyth and Eamon Connolly.
The scorecard of an overall runner-up won't often feature two treble bogeys, but that was the case for Derick Hynes on this occasion. For those ordeals at the 8th and 13th aside, Hynes turned in a wonderful performance where birdies at the 9th and 12th were backed up by eight other pars.
That all amounted to an engaging 40-point return that, although admittedly could've been even more, was denied top spot only on a break of tie and represented a grand day's work for the now 12-handicapper.
Eight consecutive pars from the 11th to the 18th was the satisfyingly serene manner in which Mark Frazer saw out a splendid gross 76 to win category 1. Frazer's 39 points were matched by Mickey McGuirk, who had to be content with second place on account of his marginally less fruitful homeward haul. That back nine was unhelpfully bookended by double bogeys, but Mickey's birdies at the 3rd and 12th and seven pars elsewhere were more reflective of his excellent outing.
Neck and neck at the peak of the category 2 standings, also on 39 points, were Paul Kelly and Mark Keogh. The former's much tidier concluding stretch ultimately decided the result in his favour and clipped his handicap to 17. Keogh, for his part, enjoyed an impressive sequence of six pars in seven holes either side of the turn.
As a striker for Manchester United and Wales amongst others, Mark Hughes was renowned for his adroitness of the volley, and a volley of four back-nine pars ensured the category 3 honours for his Keady namesake here. Eamon Connolly notched a couple of pars on each nine to equal Hughes's 34-point total and occupy the category 3 runner-up berth. Meanwhile, the day's gross prize was Shea Smyth's reward for a masterly 70-shot display.
On 16 May, even an amazing seven-birdie plunder wasn't sufficient for Stewart Stevenson to dislodge Joe Rooney from the head of the Wednesday Open leaderboard. An eagle at the 12th brought Joe to an incredible five under par at that stage, and he would eventually sign for a stellar gross 68 that yielded 41 points.
On the same day, Rooney's uncle, Paddy Digby, produced a none-too-shabby gross 75 of his own, and the accruing 37 points enabled him to prevail in the Senior Open Stableford.