Given the arduous scoring conditions in the 2018 qualifying season thus far, any player who beats his handicap by a shot or two has usually had justifiable reason to expect to feature prominently on that tournament's list of prize winners. Although this continued to be true in the Bumblebee Cup on 5 May, there were two significant outliers among the 177 scorecards returned.
In the stroke event sponsored by Victoria Bar Armagh, champion Paul Donnelly and next-placed Paul Pender blitzed the field with exceptional final tallies that made a mockery of the awkward golfing circumstances created by strong winds, tricky pin placements, heavy rough and a course generally playing more than its full length given the lack of run.
Donnelly's nett 61 was as impressive as it was incongruous with the Saturday toils of most of those around him and fully merited the silverware that came along with it.
That said, such glory didn't look to be in the pipeline when Paul struggled to an eight at the opening hole. Indeed, he could also have lived without two more snowmen arriving at the 10th and 12th. However, elsewhere, Donnelly's performance was fantastic, as he left his 1st hole troubles behind him immediately with a level-par six-hole stretch that included birdies at the 3rd and 6th.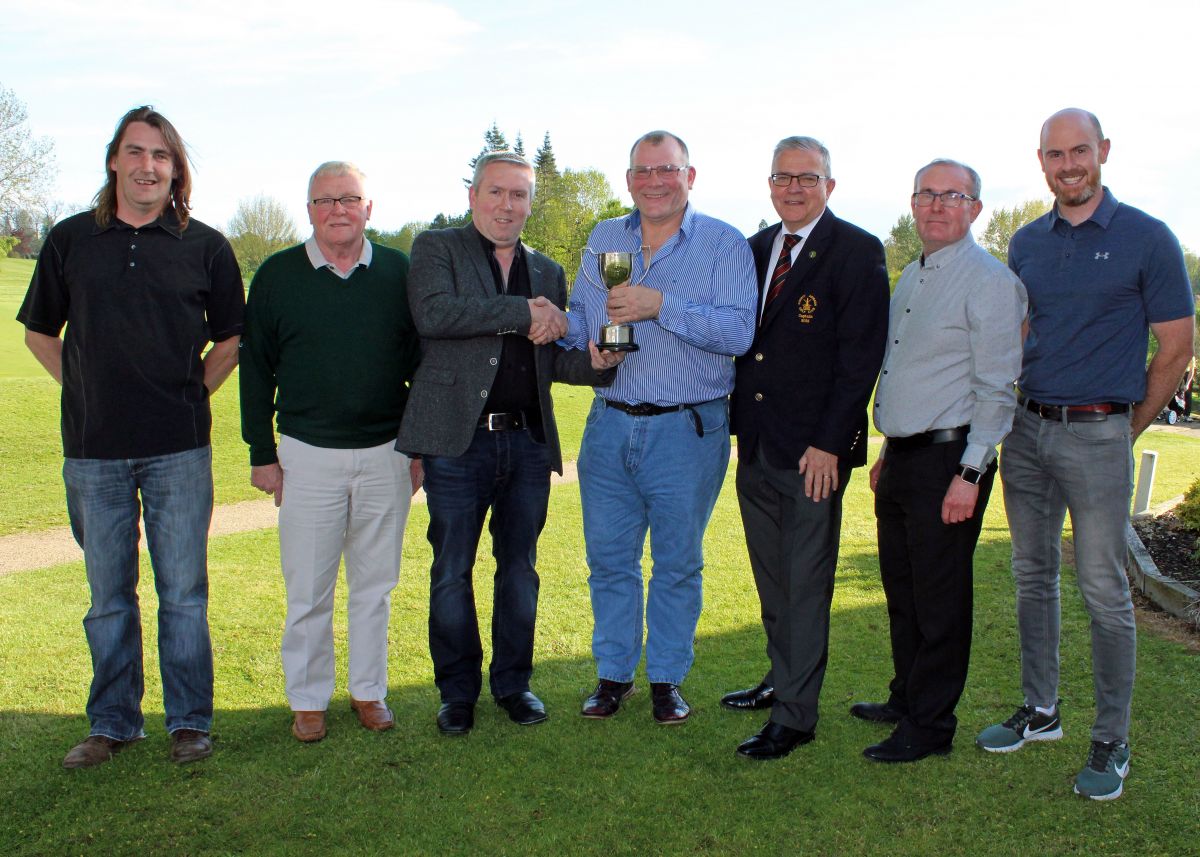 Paul Donnelly is presented with the Bumblebee Cup by Nicky Currie from competition sponsor, Victoria Bar Armagh. Also pictured are County Armagh Golf Club Captain, Colm Shannon, and other prizewinners (L-R) Stephen Miller, Dessie Cassidy, Eamon Connolly and Paul Pender.
Four pars would follow for Paul coming home, before a gutsy bogey at the 18th put the seal on a red-letter day that also means a satisfying four-shot handicap reduction.
In second positon, Paul Pender produced a virtuoso display of his own as he signed for a nett 65. Coincidentally, Pender also birdied the 3rd and 6th, while a majestic up-and-down from over the back of the 11th green sparked a valuable spell of six consecutive pars.
A successful winding par putt at the Lakes and a spirited 12-foot bogey putt on the 17th were key moments in the closing stages of Paul's superb five-over-par offering, and any disappointment that the big Woodford native may have felt at missing out on the top honours will have been assuaged by a pleasing 10-to-8 handicap cut.
Jonathan McKnight was the only other competitor to post a total in the nett 60s, as the Bumblebee Cup mimicked the sort of conservative scoring normally reserved for a US Open. McKnight's 5, 5, 6 climax was untidy, but the fact that he still registered a gross 77 is indicative of the calibre of the golf that preceded it.
The eight-handicapper's nett 69 contained a birdie and 10 pars, and he triumphed in category 1 just ahead of Neil Linton. On his way to a high-standard nett 70, Linton parred all but one of the first nine holes before a more topsy-turvy homeward trek.
Jonathan Doherty's fine nett 71 incorporated birdies at the 11th and 15th, which ultimately proved decisive in his taking the category 2 plaudits from Dessie Cassidy on a break of back-nine tie. Cassidy's round was an admirably consistent affair that clipped his handicap back to 16.
A birdie at the 3rd and a hat-trick of pars led to category 3 joy for Eamon Connolly. His sterling nett 70 was two fewer than Stephen Miller, who recorded a brace of pars on each nine. Meanwhile, a consummate one-over-par showing comprising two birdies, 13 pars and three bogeys bagged the Bumblebee gross gong for Philip Kelly.
The unspectacular scoring theme carried on into the competitions on Wednesday 9 May, when Anthony Conlon's stable 34-point outing surpassed all of his over-50 counterparts, while the day's Open Stableford was won by Paul Traynor with a no-nonsense 35 points.
On the inter-club matchplay front on Sunday 13 May, the Rossmore Cup men went down 3.5-0.5 in their first round first leg clash at Kilkeel, while the Pierce Purcell team didn't emerge from a tough qualifying session at Silverwood. There was happier news, though, for the club's Fred Daly juniors who, 24 hours earlier, enjoyed an excellent 4-1 first round first leg victory over Portsewart that sets them up nicely for the away leg on Sunday 20 May.
Win, lose or draw, County Armagh Golf Club would like to thank everyone involved for giving up their time to represent our club's teams.