Away from the relative glamour and spotlight of tournaments like the Lonsdale Cup, the Captain's Prize and the Gerry Lenagh Open, or any of those with a sponsor's name attached, lies the unheralded competition type that provides the backbone of the County Armagh Golf Club fixture list: the Club Stableford.
Two such bread-and-butter events were held on consecutive Sundays either side of the April-May border yielding victories for Brian McGrady and Dean Chambers, neither of whom will care one jot about the comparatively low-key nature of their triumph. A win's a win.
On 29 April, McGrady prevailed with a splendid 38-point performance that included both birdies at the 2nd and 11th and a spirited back-nine recovery, which was necessitated by a spell of three double bogeys in four holes immediately before the turn that threatened to derail his challenge.
As it was, this pleasing result for Brian brought with it a definite sense of déjà vu given that he last secured a qualifying top spot in another Sunday bout on 23 April 2017. Seemingly, the big 13-handicapper peaks at exactly this time of year.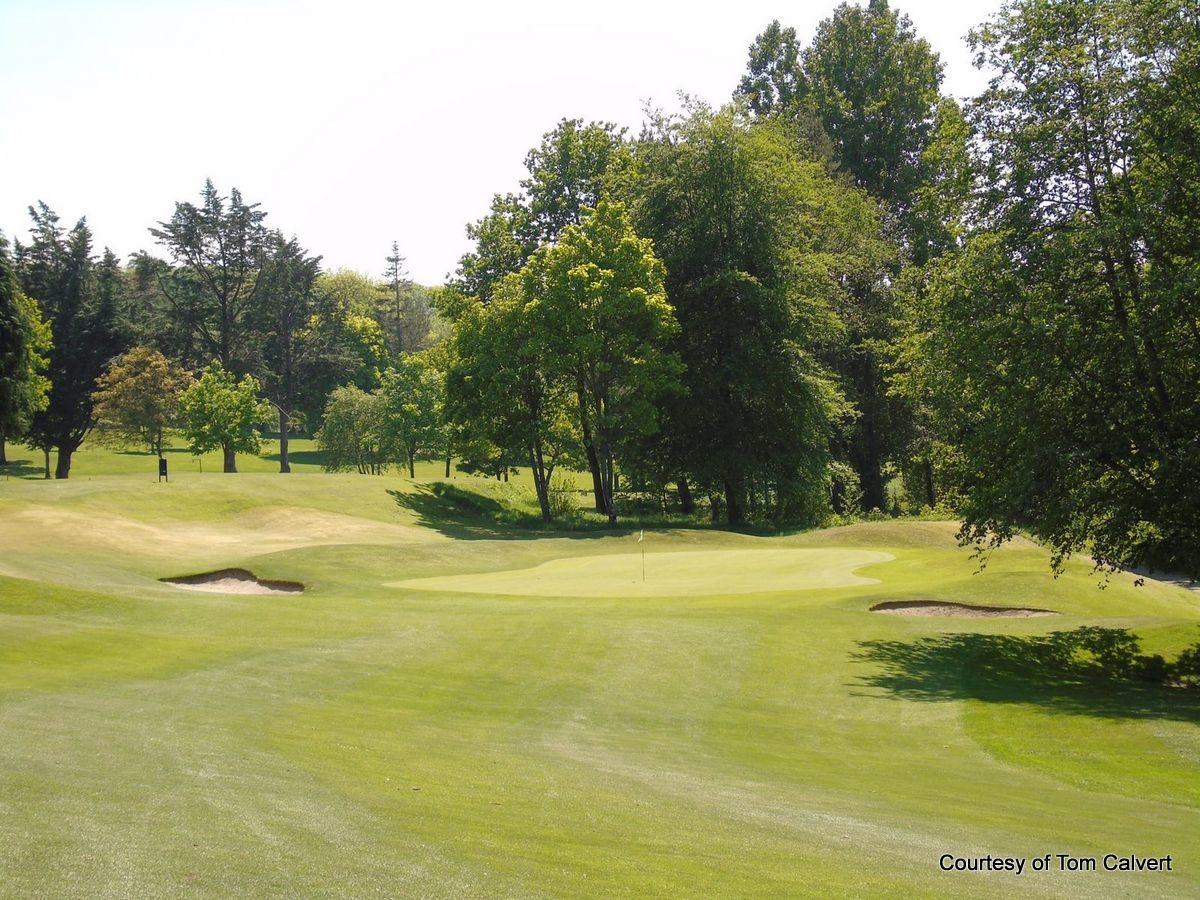 County Armagh Golf Club's 2nd hole: looking resplendent in sunnier times.
Returning to the present, Stephen Moloney matched the 38-point winning total but finished in the silver-medal placing after losing out on a break of tie, as was always likely due to McGrady's aforementioned homeward heroics.
While Stephen might justifiably regret his no-score at the deceivingly awkward 15th hole, his birdie, half-a-dozen pars and avoidance of anything worse than a bogey elsewhere suggest that this 12-handicapper is in rude golfing health.
A one-under-par outward nine propelled Andrew Conn to the dominant status of having 24 points in the bank at the halfway stage, but that scintillating progress was checked by a no-score up the 10th and mediocrity thereafter. Still, this was another excellent 38-point outing overall, and it secured for Conn the category 1 honours as well as a new handicap of 10.
Sean McAnenly registered four pars in a row from the 5th to the 8th before going one better with a birdie out at Rokeby Green. Sean's fine 37-point offering ensured that he took the plaudits in category 2.
A Noel double act occupied the runner-up berths in categories 1 and 2. An opening par and then three birdies on the spin meant that, incredibly, Noel Murtagh stood on the 5th tee at three under par. Reality perhaps set in at that juncture, however, and Murtagh would eventually disembark his personal roller-coaster with 37 points and second prize among the low men. Meanwhile, Noel Loye's seven pars and a birdie at the 13th were the same as the stats recorded by McAnenly, the only player to outdo him in the 13-18 handicap bracket.
Creditable 34-point returns saw Paul McKeown and Dwayne Houston locked together at the head of the category 3 standings. Although McKeown posted a par on each nine amid a generally consistent display, Houston had no problem in seeing him off on account of a superior back nine. Dwayne's round was the very definition of a mixed bag, but he was yet another competitor to amass seven pars and a birdie.
And Stewart Stevenson's classy 72-stroke showing comprising 12 pars, two birdies and four bogeys handed him the day's gross accolade.
A week later on 6 May, Dean Champbers stood proudly at the summit of the Sunday evening leaderboard having vanquished all of his rivals with a high-quality 37-point haul.
Kicking off each nine with a double bogey and dinging the penultimate hole won't have featured among Chambers's pre-game aspirations, but the expertise with which he negotiated the city course's other tests ensured that he was able to absorb those setbacks within an unbeatable tally.
Although Paul Traynor equalled the 13-handicapper's score, four pars and a Sequoias birdie coming home ultimately decided the outcome in Dean's favour. For his part, overall runner-up Traynor has had his handicap reduced to 15 by virtue of an assured 85-shot round containing a nap hand of pars.
Caolan Doyle supplied evidence, if any were needed, that he's just as capable of clinching prizes as his prolific old man. Indeed, considering that he declared on 37 points, Doyle Junior probably would have claimed the competition outright if it weren't for a cheerless 5, 7, 5 closing sequence. But the seven-handicapper ought to reflect instead on the more gratifying memory of the birdie hat-trick that aided his capture of the category 1 title.
Next to Caolan in the category 1 pecking order was Philip Russell, whose well-constructed gross 78 meant 36 points and a voucher in the bag in the early knockings of his qualifying campaign.
Last summer's Henry White Open champion, Desmond Kinsella, was back on decent form here with a steady 35 points that took care of business in category 2. Like Kinsella, Ed Hughes both birdied the Quarry and plundered 35 points, and he took second position in the 13-18 handicap section.
Two instances of back-to-back pars helped Kevin Smyth on his way to a solid 36 points that couldn't be bested in category 3, where Paul Hughes's 31 points were enough for him to fill the runner-up slot.
Finally, the gross award in May's first Club Stableford was scooped by John Maguire on 33 gross points. Maguire's scrappy denouement of four dropped shots in his last five holes was as uncharacteristic as the brilliance of his previous 13 had been typical.