As County Armagh Golf Club finally begins to emerge from a brutal and seemingly never-ending winter, the first trophy on its 2018 fixture list has been awarded to Oliver Connell.
Oliver was a regular prizewinner in 2017 and it's been a case of, "Please, sir, I want some more", as he's hit the ground running again this term.
In the CP McNabb Trophy, which was played for on the weekend of 7-8 April, the big 16-handicapper triumphed by virtue of a marvellous 42-point performance; golf, glorious golf.
Having notched 19 points on his way out, Connell really turned on the style during a 39-shot back nine that included birdies at the 12th and 17th.
That yielded a massive homeward haul of 23 points, which meant that even a late Oliver twist — namely a treble bogey at the 18th — couldn't derail his Saturday success.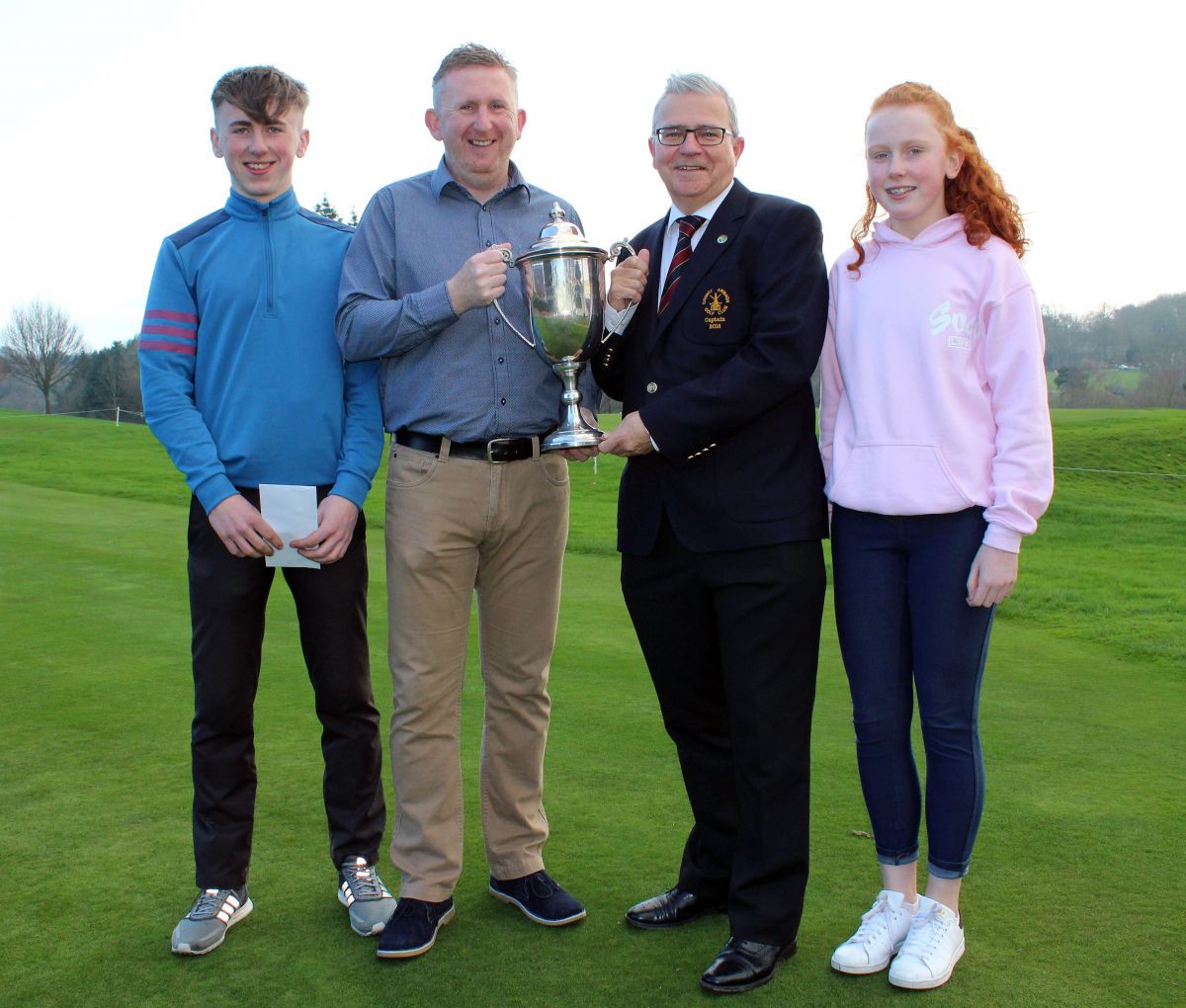 Oliver's Army: CP McNabb Trophy winner, Oliver Connell, is joined by proud daughter, Alicia, and son, Calum, who himself was a prizewinner in the Easter Open a week previously. Also pictured is Club Captain, Colm Shannon, who made the presentation.
Leading the chasing pack that Connell so artfully dodged was Adam Hunniford, who matched both the victor's 42-point total and, remarkably, his breakdown of 19 points on the front nine and 23 on the way in.
However, after coming out on the wrong side of a back-six break of tie, Hunniford ultimately had to content himself with a runner-up berth. Nevertheless, the nine-handicapper will reflect with much satisfaction on a fine gross 73 containing birdies at the 7th, 11th and 12th.
Ian Millar parred eight of the opening nine holes before eventually signing an excellent 41-point scorecard that was the best returned in category 1. Should such hefty point-scoring antics be repeated when the qualifying competitions commence, new Handicap Convenor Millar will be forced to turn the scythe on himself.
One point adrift of Ian and securing second position in category 1 was Paul Corvan, whose hat-trick of birdies at the 11th, 12th and 13th contributed greatly to a terrific level-par back nine.
After equalling the tallies of Oliver and Adam at the overall leaderboard summit but losing out to both on a countback, Gavin McElmeel filled top spot in category 2. His superb 42-point offering featured five pars in a row immediately after the turn, while a no-score at the often tricky 15th was the only genuine blot on his McNabb copybook.
Two strokes adrift of McElmeel was Francis Smyth, whose impressive 40-point showing had its origins in a fruitful level-par spell between the 4th and 7th.
Stephen Nugent was among the prizes for a third consecutive weekend, as his 39 points earned him second place in category 3. Here, Nugent was bettered only by Philip Dowey, whose brilliant 41-point outing was a model of consistency: 21 points on the front nine, 20 on the back, and not a no-score in sight.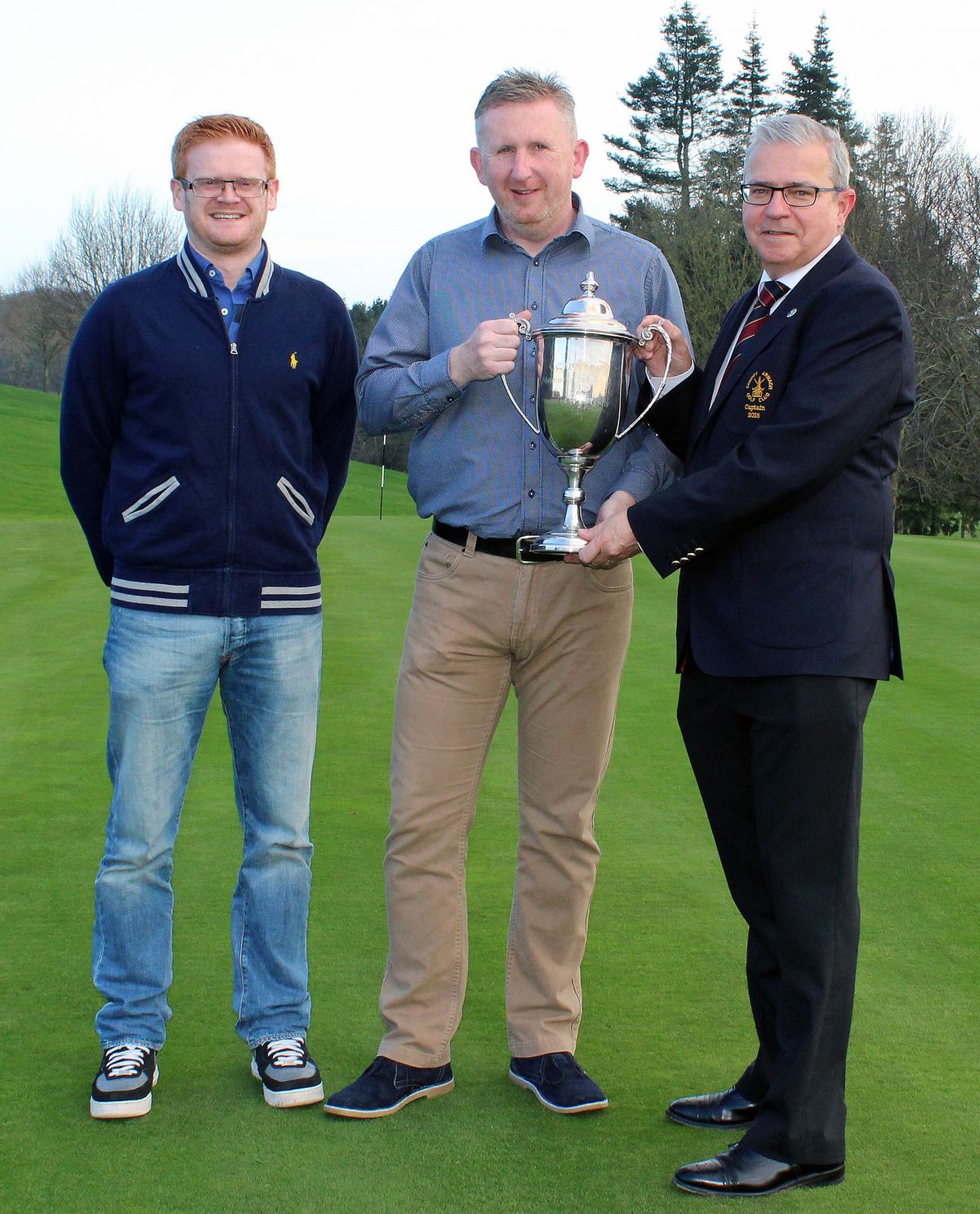 County Armagh Golf Club Captain, Colm Shannon, hands the CP McNabb Trophy to Oliver Connell. Also pictured is category 3 runner-up, Stephen Nugent.