County Armagh Golf Club hosted its annual Easter Open competition on 31 March and 1 April, a weekend when bitterly cold conditions were in direct contrast to the red-hot scoring.
The most sizzling of these performances in the stableford event sponsored by Cyril Johnson & Co Ltd came from Stephen Miller, who plundered no fewer than 25 points on a two-over-par front nine, which he followed up with a further 21 on the homeward trek.
On a super Saturday showing in which Stephen birdied the 4th and carded only one double bogey, he eventually signed for a blistering 46 points to seal a comfortable three-point winning margin.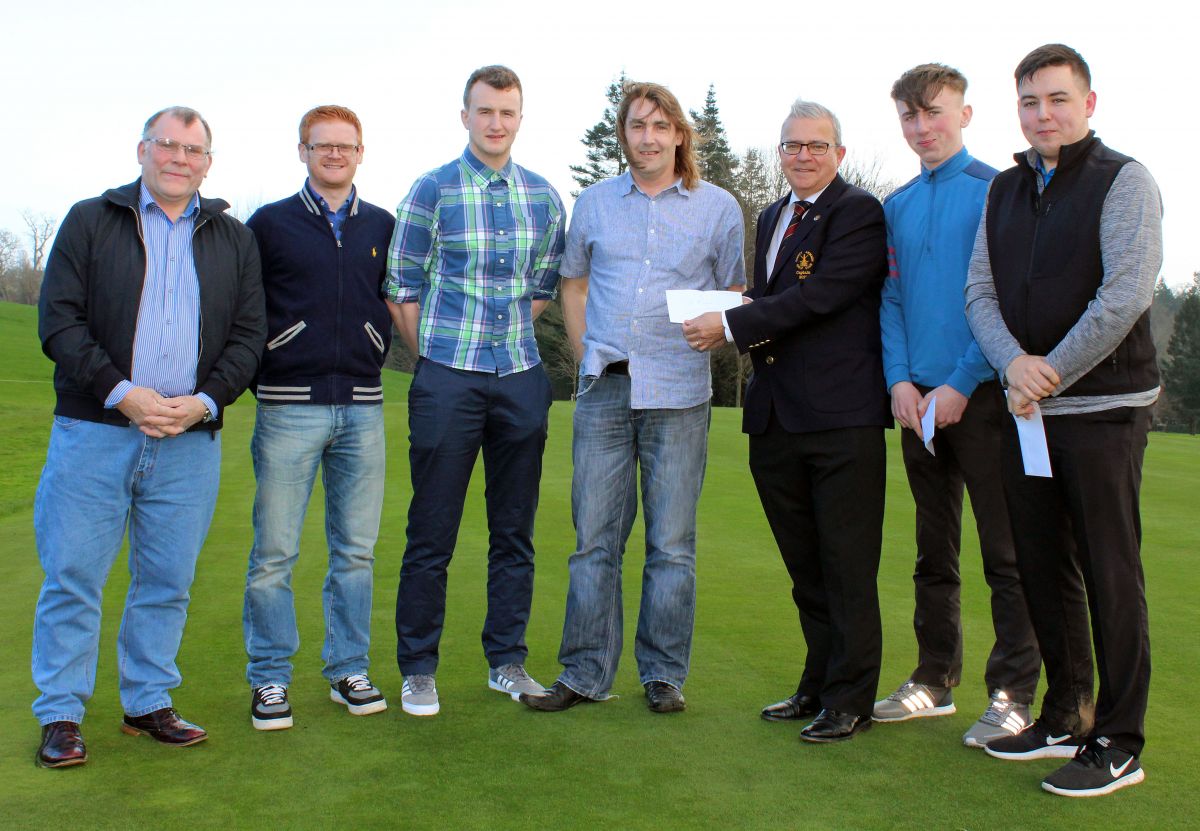 The Easter Open stableford competition at County Armagh Golf Club was won by Stephen Miller, who was presented with his prize by Club Captain, Colm Shannon. Also pictured are other prizewinners in the Cyril Johnston & Co Ltd-sponsored tournament: (L-R) Paul Donnelly, Stephen Nugent, John Vernon, Calum Connell and John Maguire.
Miller will hope to reproduce such heroics when the qualifying tournaments commence later this month, and his 19 handicap is likely to start plummeting from that point.
John Vernon was a prolific prize collector in 2017, and he looks to be in fine fettle again this term. The seven-handicapper fired a marvellous gross 70 comprising 14 pars, two birdies and two bogeys, and the resultant 43 points saw him fill the overall runner-up berth.
Absolutely haring out of the traps with an incredible opening of five straight birdies was last season's HowDidiDo star John Maguire, who would end the day with a three-under-par gross 67.
Maguire's 42 points earned him second position in category 1, where he was one point adrift of Calum Connell. The young 12-handicapper registered 11 pars and a birdie in a mightily impressive, 75-stroke outing of his own.
Having landed the category 2 runner-up prize a week earlier, Ian Ritchie went one better here. The 16-handicapper recovered brilliantly from the disappointment of a no-score at the 1st hole, as he proceeded to post nine pars and an excellent 40 points.
Trailing Ian in second spot was Andrew Steed, whose 22-point front nine was just what the doctor ordered. Steed will perhaps rue a slightly untidy conclusion to his round but, in happier news, this 39-point offering is evidence that his game does not require surgery.
Recent Chest, Heart and Stroke champion Stephen Nugent proved that that victory was no flash in the pan, as he was unbeatable in category 3 this time out. Nugent racked up a massive 25 points on the way out before a rather more prosaic back nine of 16 points.
And Paul Donnelly sneaked into the prizes with a symmetrical scorecard showing 19 points on each nine. Perhaps most satisfying for Donnelly will have been his avoidance of a no-score throughout.