Having been regular playing partners for many a year, Francis Curley and Aidan McParland stuck together once again as first Francis and then Aidan secured top honours on consecutive Sundays at County Armagh Golf Club.
Curley last tasted success four months ago when he lifted the PGA Tankard by virtue of a nett 65. This time, an excellent nett 67 saw him head the standings in a Club Stroke event on 3 September that was kindly sponsored by Fairlawns Residential Home.
Unlike in that Tankard triumph back in May which was made possible by a remarkable recovery from a listless start, Francis performed adroitly right from the off in parring each of the opening four holes. A wobbly patch ensued as the 12-handiapper surrendered four shots to the course between the 5th and 7th. However, a more than decent ratio of seven pars from his remaining 11 holes banished the memory of that blip and set up Curley's deserved win.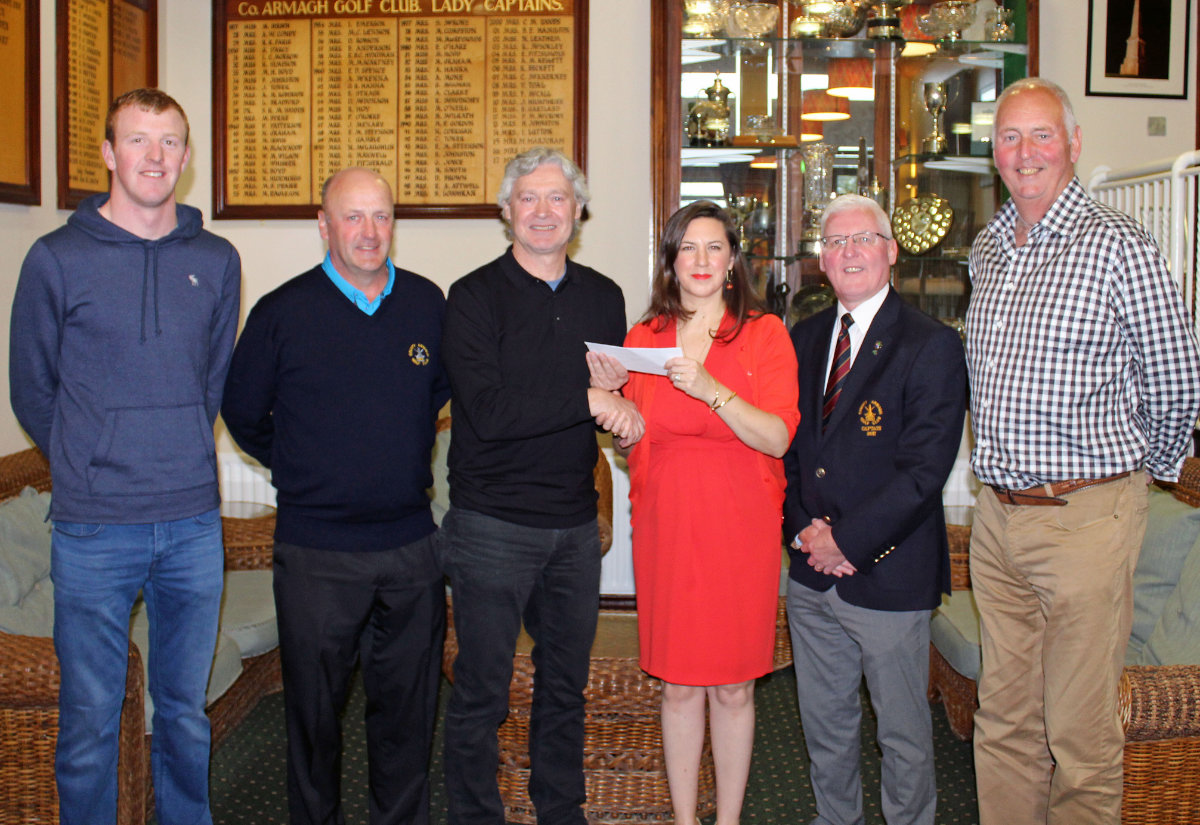 Francis Curley, winner of the Fairlawns Residential-sponsored stroke competition at County Armagh Golf Club is presented with his prize by Claire Cassidy, manager at Fairlawns Residential. Also pictured are Club Captain, Richard Stewart, and other prizewinners (L-R) Shea Smyth, Brian McGuigan and Eamon O'Hagan.
Losing out to Francis on a break of tie but claiming the runner-up accolade was Laurence Corr, who carded a nett 67 of his own. Back-to-back double bogeys at the 10th and 11th were Corr's only genuine errors of a round in which he registered eight pars and a birdie at the 7th, and this high-quality gross 80 means he now plays off 12.
Shea Smyth birdied the 6th and 10th as he arrived at the 13th tee on two under par. He would go on to drop three strokes in the last six, but the three-handicapper's consummate gross 71 and nett 68 took the plaudits in category 1. Runner-up here was Brian McGuigan, whose eventful outing incorporated four birdies, five pars, eight bogeys, a double bogey and ultimately a nett 69.
A birdie at the 1st helped Derick Hynes to negotiate the front nine in just 37 strokes, and he eventually prevailed in category 2 with a nett 68. Eamon O'Hagan filled second position here with a solid nett 70 that included eight pars. Thomas Crowe returned the same score to take first prize in category 3, while Kevin Boyd parred five holes on his way to a nett 71 and the runner-up berth.
In another Club Stroke a week later on Sunday 10 September, the aforementioned Aidan McParland posted an astonishing nett 61 and, in so doing, recorded the biggest victory margin of the entire season.
After becoming the proud owner of a new driver in July on account of correctly choosing Jordan Spieth as the 2017 Open Champion in Will's Pro Shop Sweepstake, Aidan proved himself capable of glory in his own right with this stunning display.
Without a double bogey in sight all day, a birdie at the 2nd and pars at the 4th, 6th and 8th saw McParland reach the turn on four over par. There followed an equally serene homeward trek of five bogeys and four pars — admirably, two of which came at the 17th and 18th — and Aidan's majestic gross 79 slashes his handicap from 18 to 15 in one fell swoop.
A full six shots adrift of McParland but producing a nonetheless terrific showing was Ryan McVeigh, who finished second on nett 67. Ryan's birdies at the 9th and 15th were negated somewhat by neighbouring double bogeys at the 8th and 16th, but nine pars and five bogeys elsewhere represented accomplished golf and he's now a single-figure handicapper.
The ever-impressive Mark Loughran reeled off nine pars in a row to commence proceedings and another six on the spin to conclude, with bogeys at the 10th and 11th and a birdie at the 12th merely a brief deviation from that formidable norm. Loughran's gross 71 for a nett 67 earned him the category 1 award ahead of Neil Cromwell, who matched that nett total but was edged out on a countback. Cromwell's first-class, level-par scorecard boasted one birdie, one bogey and 16 pars.
Martin Carson completed the back nine in just 42 blows to clinch top spot in category 2 with a creditable nett 70. That was one stroke better than second-placed Daryl Lawson's nett 71, which peaked with a birdie at the 17th.
For a second Sunday running, Thomas Crowe's nett 70 led the way in category 3; these are the latest milestones in his very steady golfing year. Trailing Crowe by just one shot was Jimmy Kelly, whose nap hand of pars contributed greatly to his nett 71.
In the weekly Wednesday Open competitions on 13 September, Paul Rice continued his brilliant 2017 campaign with a 40-point win, while Brian Liddy's fine 39-point offering rendered him king among the over-50s.