A positively regal golfing performance clinched glory for James King in the annual stroke event sponsored by Hugh McElvanna Drapery and Footwear, who may now have to start stocking some royal regalia in order to satisfy the noble needs of their newest customer.
King's exceptional nett 64 on Sunday 27 August fended off the challenge of 84 opponents and means he's now playing off 19. His peerless scorecard showed symmetrical nines of 42 shots — with one birdie and one par on each — and a welcome absence of any significant errors, as a dozen bogeys provided a solid foundation to James's merited success.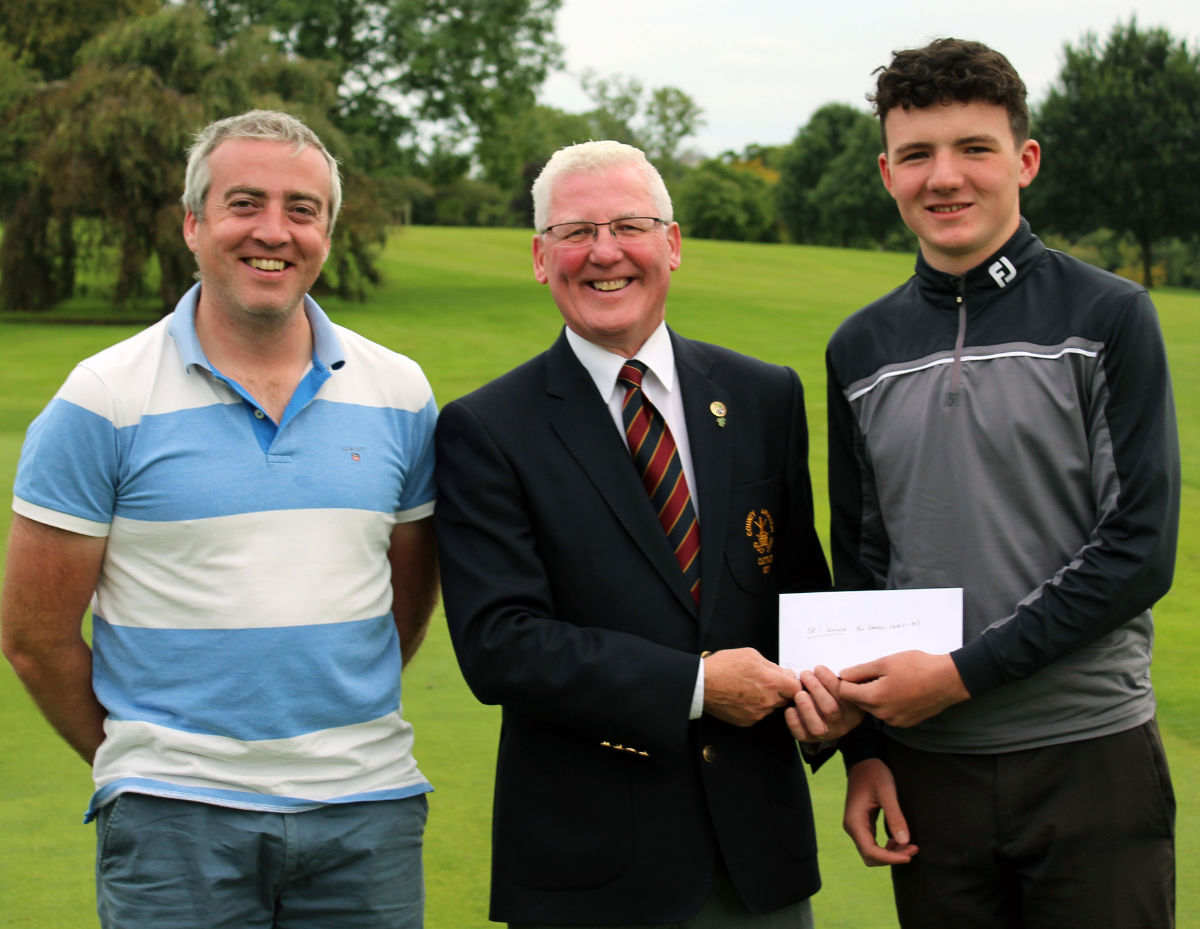 Category 1 prizewinners in the Hugh McElvanna Drapery and Footwear-sponsored stroke event, Joe Rooney and Stewart Stevenson, are congratulated by County Armagh Golf Club Captain, Richard Stewart. The competition was won by James King.
Second position was occupied by Colm McElroy after his superb nett 65. After a tidy front nine of five pars and four bogeys, Colm embarked on a steady homeward dander of seven bogeys, one par and a bonus birdie at the 15th to post an accomplished gross 80 that clips his handicap to 14.
Joe Rooney has generated more than a few column inches this summer and his newsworthy form continued here with a nett 67 that sealed first place in category 1. Rooney's exquisite round reached a back-to-back birdie crescendo on 17 and 18 and he signed for a gross 69. "After the Lord Mayor's show" is a proverb that clearly holds little or no truck for Stewart Stevenson. The three-handicapper followed up his competition-winning three-under-par return of 24 hours earlier with a classy nett 67 that saw him to the category 1 runner-up spot, having lost out to Joe on a break of tie.
While a 6, 6, 5 sequence isn't the finish that Gareth Reilly would've been hoping for, he played quite brilliantly for the preceding 15 holes. The new 12-handicapper recorded nine pars and a birdie at the 12th and took the category 2 plaudits with a fine nett 67. Bill Knipe had a similarly troublesome conclusion to his proceedings, including an ugly quadruple bogey at the Lakes but thankfully, just as for Gareth, that was entirely unreflective of his day's play. Impressively, Knipe reeled off eight consecutive pars either side of the turn on his way to a nett 68 and second prize in category 2.
Thomas Crowe grabbed the category 3 honours with an excellent nett 67 containing two pars on each nine, and James Kelly sneaked onto the podium alongside him by virtue of a creditable nett 72.
In the weekly Wednesday Open on 23 August, Stewart Hall notched three birdies in a fantastic 40-point outing where even a no-score at the last couldn't halt his victory march. Meanwhile, Kenny Gordon matched Stewart's stableford total to prevail among the over-55s with an assured showing that clipped his handicap to 16.
A sense of déjà vu pervaded the County Armagh fairways a week later when the red-hot Hall triumphed with 40 points once again on Wednesday 30 August. The ever-consistent Ian Beaddie was the best of the seniors that day after carding a tremendous gross 75 for 42 points.