The Woods, Webster and Connolly Cups were contested at County Armagh Golf Club on Saturday 26 August, giving players the opportunity to test their scratch mettle against those in the same handicap bracket.
With the respective tournaments all kindly sponsored by Abbey Bond Lovis Insurance, a sublime gross 70 saw Paul Doyle prevail among the 6-9 handicappers and lift the Woods Silver Salver Trophy. The highlight of Doyle's Sunday stroke victory in June was an eagle at the 14th and he was up to his old tricks again, this time with a spectacular three at the 12th. Fifteen pars and two bogeys elsewhere made up an outstanding level-par offering that clips Paul's handicap to five once more.
Three shots adrift of Doyle and claiming the runner-up spot was Philip Russell, who reached the turn in 37 strokes before producing a marvellous level-par back nine featuring birdies at the 12th and 14th to add to his earlier 2 at the 3rd. Philip's classy gross 73 makes him an eight-handicapper but further downward trajectory seems inevitable.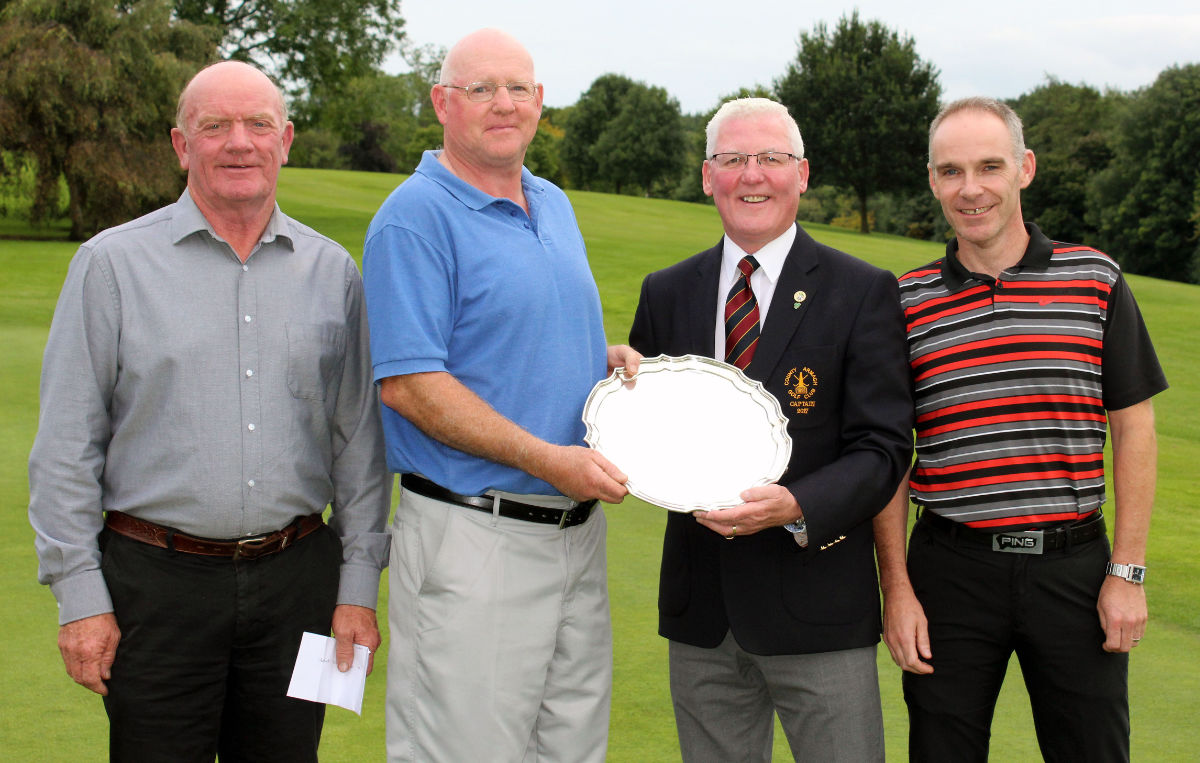 County Armagh Golf Club Captain, Richard Stewart, presents the Woods Silver Salver Trophy to Paul Doyle, who won the competition sponsored by Abbey Bond Lovis Insurance. Also pictured are other prizewinners Philip Russell and Danny McGee.
The Webster Cup is competed for by all those with handicaps between 10 and 18
but contenders here were reduced to mere Catterall damage, as Stephen Catterall returned a tremendous gross 72 to coast to a comfortable win. After bogeying the opening three holes, Stephen was one under par for the remainder of his outing, where birdies at the 7th and 13th and a bogey at the 15th punctuated 12 pars. This incredible nett 61 slashes Catterall's handicap to nine, where he'll hope to remain in order to have a chance of adding the 2018 Woods title to this year's Webster Cup on his career honours list.
Next to Stephen was Martin Daly with a terrific gross 76 comprising six bogeys and a dozen pars, including an impressive five in a row to finish. The prize for best nett among the 10-18 men went to Danny McGee after a wonderful nett 64 containing no fewer than 10 pars and a bonus birdie on 14.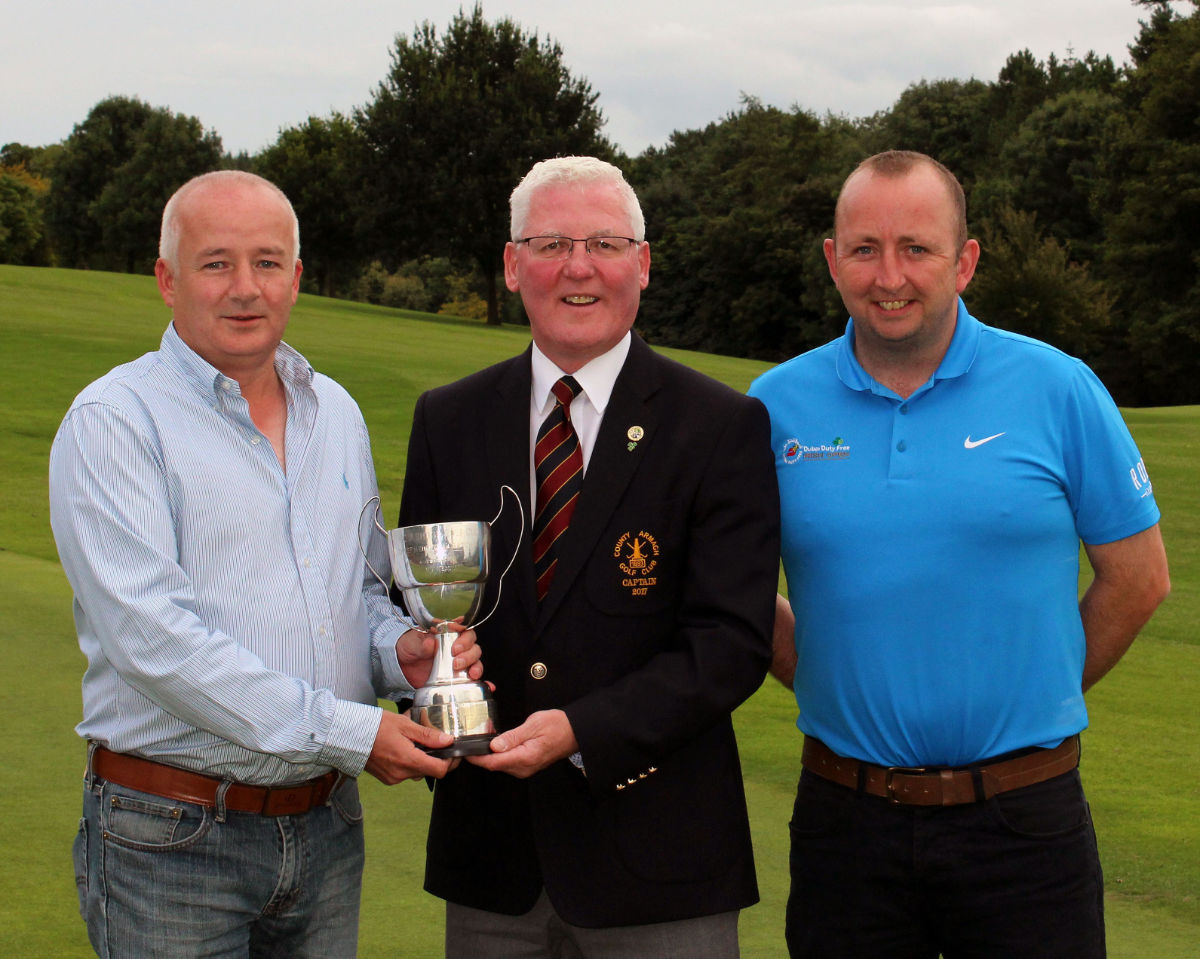 The Webster Cup is presented to Stephen Catterall by County Armagh Golf Club Captain, Richard Stewart. Also pictured is Martin Daly, who finished 2nd in the tournament sponsored by Abbey Bond Lovis Insurance.
Joe Rhodie was the deserving recipient of the Connolly Cup on account of a fine gross 86 that was boosted in no small part by six pars. Rhodie recovered admirably after a disappointing seven at the 1st, and this splendid showing earns him a new handicap of 18 as well as the coveted silverware.
The Connolly Cup runner-up berth was filled by Sean Dougan Jnr, who parred five holes on his way to an excellent gross 87. Meanwhile, Caolan McBride was just three over par for a nine-hole spell in the middle of his round, as he marked his return to action with a magical nett 69 that scooped the nett prize in the 19-28 category.
Finally, while there was no silverware on offer for the 0-5 handicappers, their stroke competition witnessed a simply flawless performance from Stewart Stevenson, who emerged triumphant by virtue of a three-under-par masterclass consisting of 15 pars and three birdies. It's an easy game.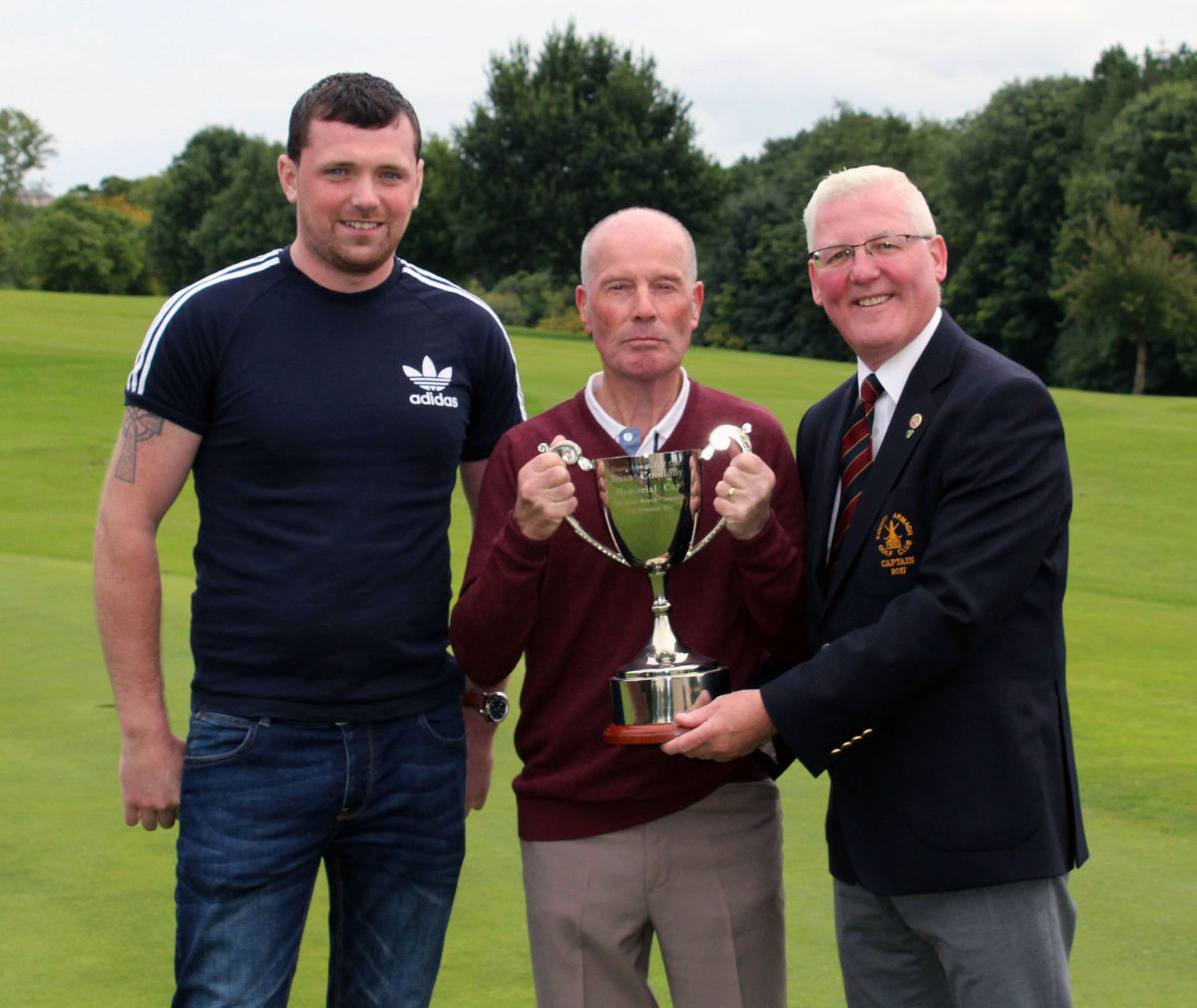 County Armagh Golf Club Captain, Richard Stewart, presents the Connolly Cup to Joe Rhodie, winner of the Abbey Bond Lovis Insurance-sponsored event. Also pictured is runner-up, Sean Dougan Jnr.