The Henry and May White Memorial Open kicked off the July schedule at County Armagh Golf Club and saw Desmond Kinsella roar to victory with a tremendous nett 65.

In the Philip White Tyres-sponsored stroke competition held on the first day of the month, Kinsella's round was bookended by double bogeys at the first and last holes.

Happily for the now 13-handicapper, however, those scrappy sixes were entirely out of keeping with the rest of his play in an excellent 79-stroke showing containing just four dropped shots elsewhere.

Consecutive pars at the 5th, 6th and 7th helped Desmond to a dominant halfway position of three under his handicap, but even better would follow on the back nine.

Seven pars on the spin between the 11th and 17th spoke to a man inspired rather than daunted by the prospect of glory and, indeed, it was this hot streak that guided Kinsella to his first piece of silverware since making a welcome return to the club after a spell in Rossmore.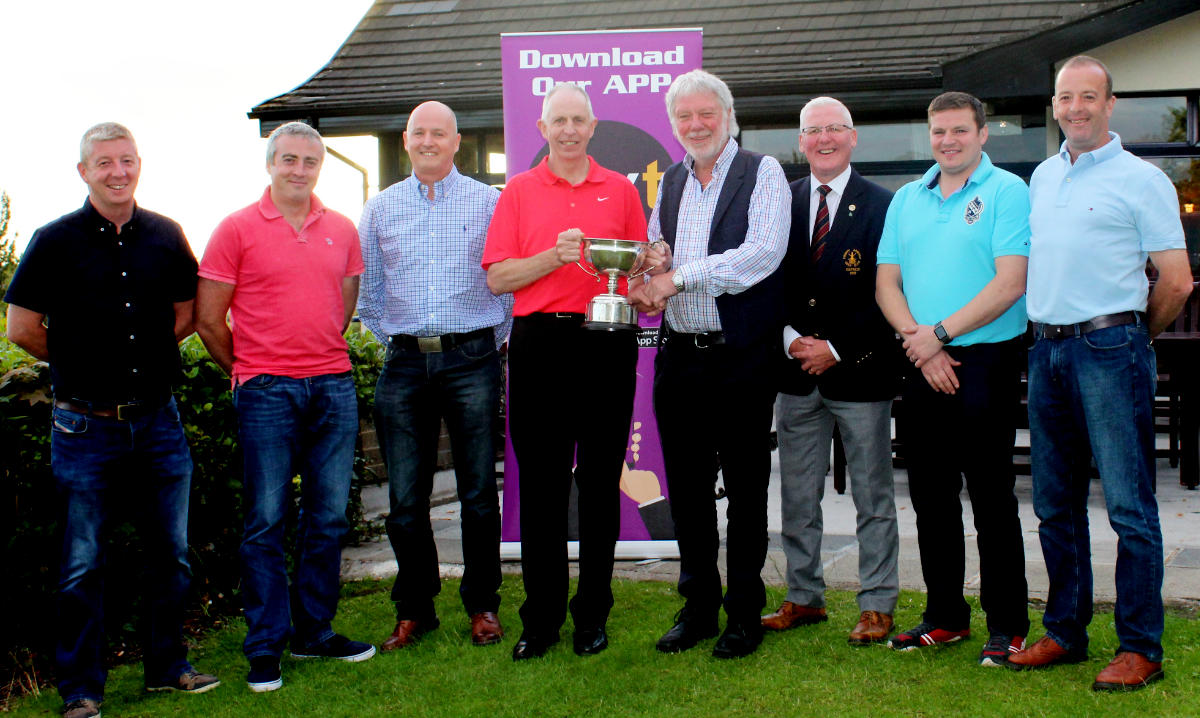 Desmond Kinsella is presented with the Henry and May White Memorial Open Trophy by Philip White, proprietor of Philip White Tyres Ltd, sponsors of the annual competition at County Armagh Golf Club. Also pictured are Club Captain Richard Stewart and other prize winners (L-R) Conor McAneney (4th overall), Stewart Stevenson (1st gross), David Grimley (3rd overall), James Johnston (2nd gross) and Johnny Brown (5th overall).
Mark Loughran has turned in some highly impressive performances of late, and he produced another here to fill the runner-up berth with a nett 66. Loughran's handicap has been clipped to four after a sublime gross 71 comprising two birdies, thirteen pars and just three bogeys.

David Grimley and Conor McAneney are two more players enjoying profitable seasons and, after both matched that fine nett 66 total, they were pushed into 3rd and 4th place respectively on account of their back nine scores. Grimley birdied the 2nd and 6th on his way to completing the front nine in just 37 blows, while Conor's assured gross 80 included nine pars and a birdie at the Quarry.

Fifth prize was taken by Johnny Brown with a nett 67. The nine-handicapper was three over par on each nine in this admirably consistent outing.

Back-to-back birdies at the 2nd and 3rd were the highlights of Paul Wasson's day, as he too returned a splendid nett 67 to secure 6th spot.

On a Saturday of widespread low shooting, Brian McGrady also carded a nett 67 to both sneak into the prizes in 7th and earn a one-shot handicap reduction.

Six birdies, five pars, five bogeys and two uncharacteristic closing double bogeys all added up to a madcap 73 for Stewart Stevenson, who just pipped his equally alliteratively titled cousin, James Johnston, to the gross honours. James's four-over-par scorecard was rather more sedate but still boasted two birdies and 10 pars.

Away from domestic action, Lee Campbell will join Joe Rooney in competing in the Ulster Boys Championship at Knock Golf Club, Belfast, from 11 to 13 July. This week also sees Jarlath McReynolds, Andrew Miller and Philip Kelly travel to Royal Portrush to take part in the North of Ireland Championship. County Armagh Golf Club would like to wish all five players the very best of luck in their endeavours.