The Restaurant - Tel: 028 37525861
'Opening Times'
Thursday 12.00pm - 8.00pm
Friday 12.00pm - 8.00pm
Saturday 12.00pm - 9.00pm
Sunday 12.00pm - 7.00pm
SCROLL DOWN THE PAGE TO SEE ALL OF OUR MENUS...
Seven Hills Restaurant Menu
Starters
Soup of the Day with Wheaten Bread £4.95
Chicken and Bacon Ceasar Salad £5.95
Deep Fried Brie with Caramelised Red Onion Chutney £5.95
Crumbed Mushrooms with Garlic and Herb Mayo £4.95
Mini Duck Spring Rolls with a Soya Dip £5.95
Main Courses
8oz/10oz Sirloin Steak with Mashed Potato, Grilled Tomato, Onion Rings & Pepper Sauce £13.95/£15.95
Pan Fried Chicken with a Creamy White Wine, Smoked Bacon & Leek Sauce Served on a Bed of Mashed Potato £10.95
Salted Chilli Chicken/Beef Stir Fry with Rice & Garlic Bread £10.95
Chicken Curry, Basmati Rice & Garlic Bread £9.95
Chilli Vegetable Stir Fry with Basmati Rice & Garlic Bread (V) £9.95
Breaded Fish Goujons with Tartar Sauce, Chips & Garnish £9.95
Roast Gammon with Creamy Mash & Parsley Sauce £10.95
Sides-£2.00 Each
Chips, Salted Chilli Fries, Mashed Potato, Garlic Chips, Onions Rings, Champ, Selection of Chefs Vegetables
Bar Snack Menu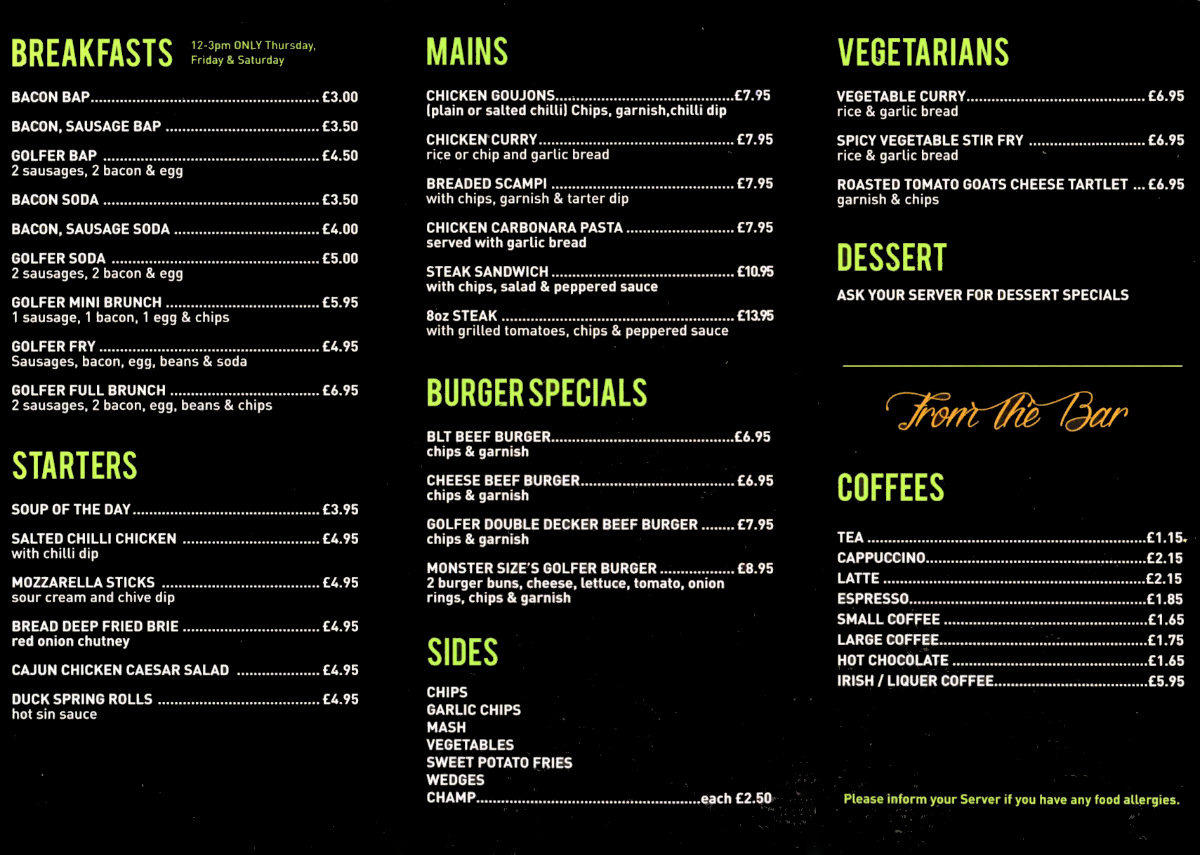 Christmas at Seven Hills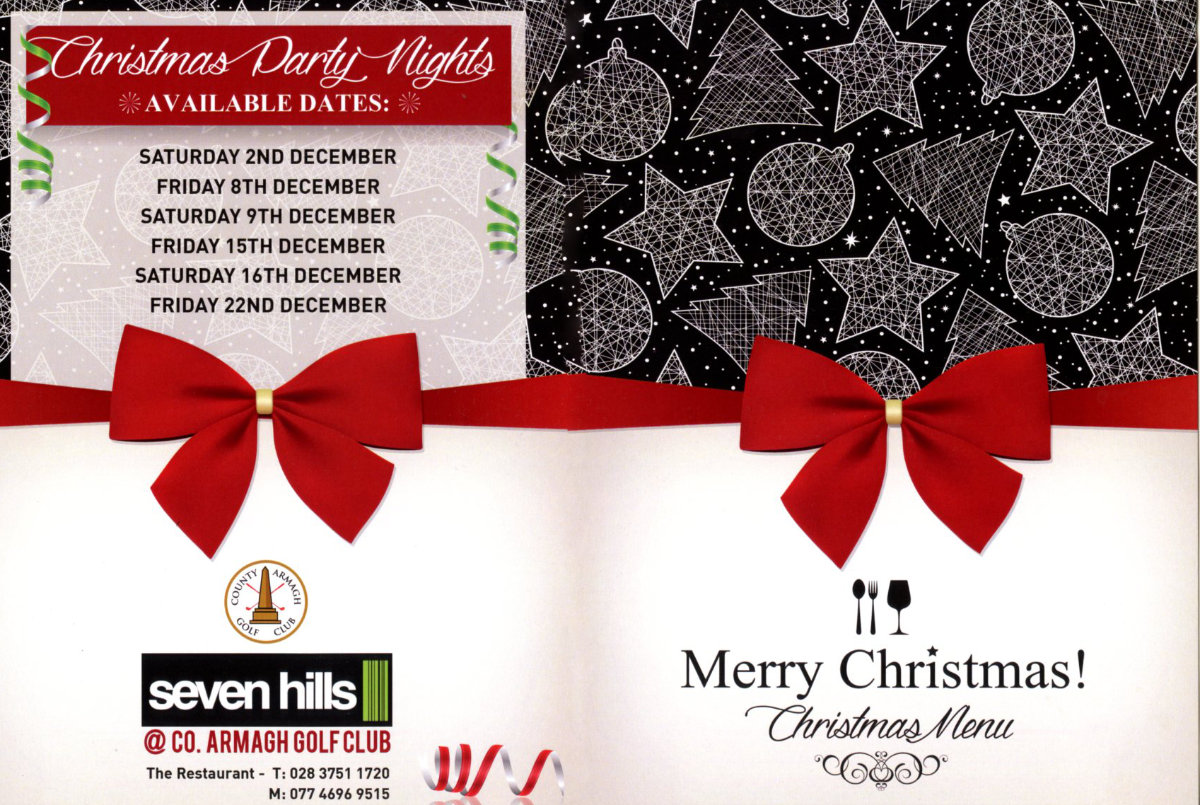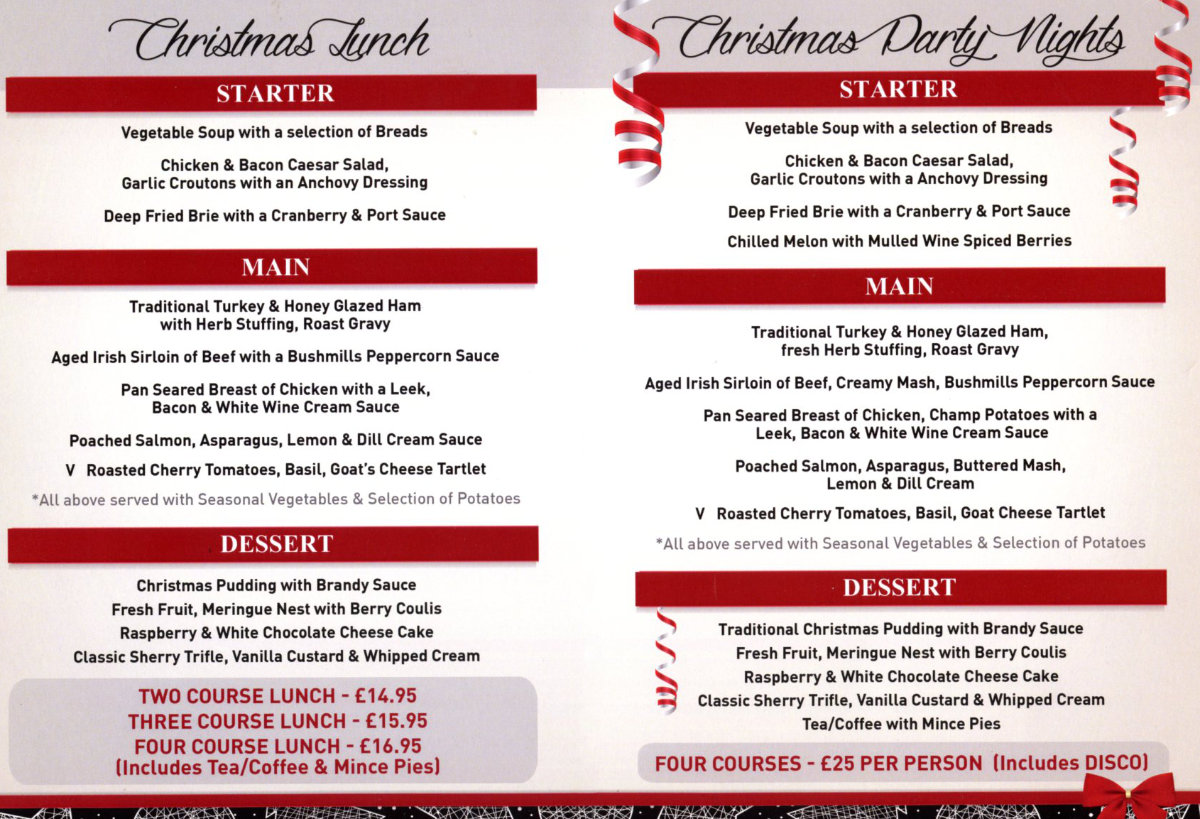 Friday STEAK NIGHT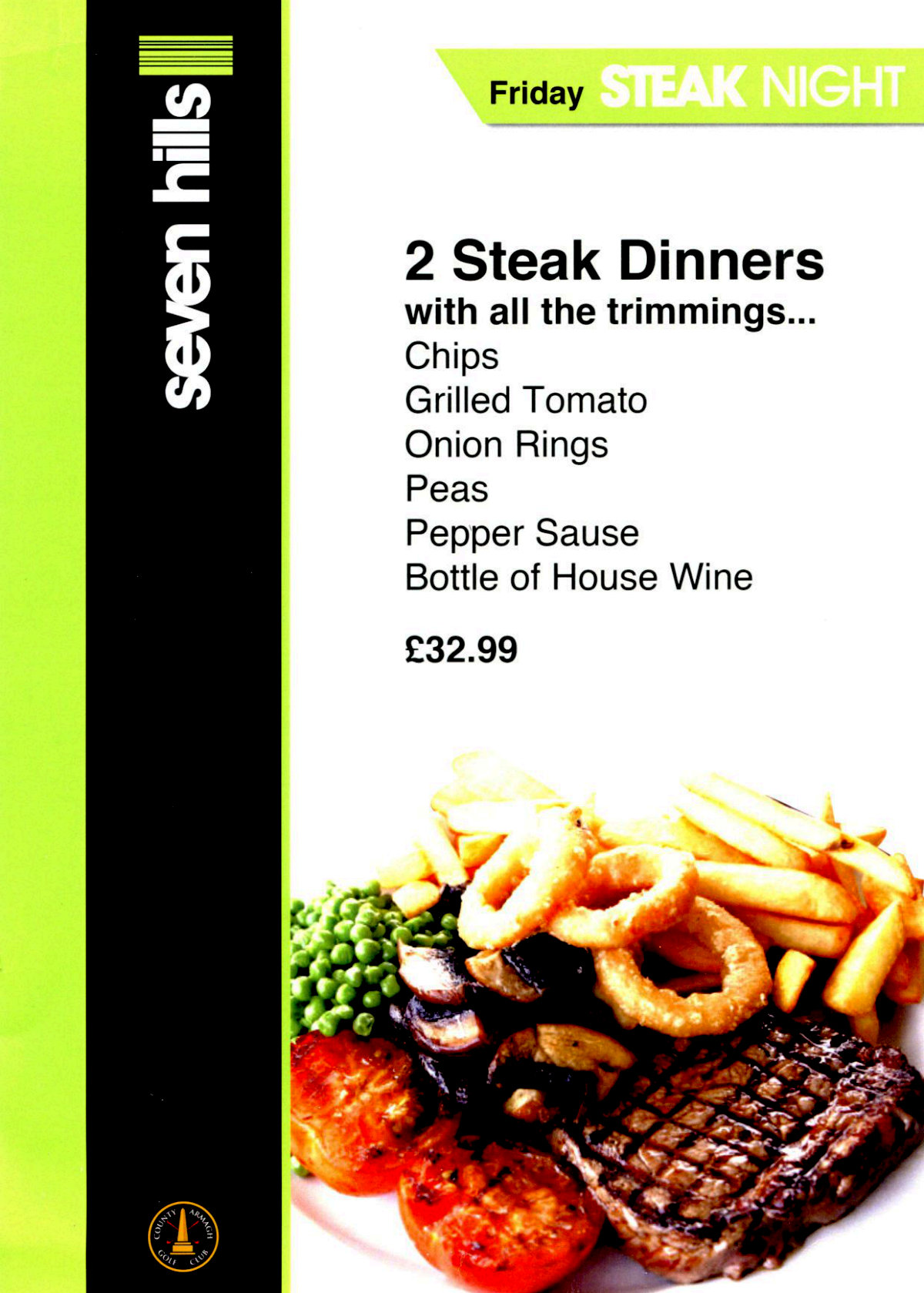 Sunday Carvery
Booking is advisable for the Sunday Carvery which has proved very popular with club members, family, friends and visitors since Seven Hills launched at County Armagh Golf Club. It is served from 12noon to 3.30pm .
3 Course - £13.95
2 Course - £12.95
1 Course - £9.95
FUNCTIONS
The Seven Hills Restaurant at County Armagh Golf Club is the perfect venue for birthdays, christenings, weddings and other private functions. Whatever your needs the Seven Hills team are happy to cater for you.
The Seven Hills Restaurant at County Armagh Golf Club was established in 2016.
Restaurateur Joey Nixon is the man behind the new partnership, growing the Seven Hills café bistro and restaurant franchise to three in the Armagh City area.
An extensive makeover of the clubhouse restaurant has created a treat for the eyes as well as the taste buds . Decorated in distinctive colours of mustard and grey, complimenting creams and dark oak, soft lighting crafts a relaxing atmosphere for fine dining.
The spacious restaurant, with intimate booths and table setting, seats up to 60, and can cater for a further 80 in the adjoining clubhouse function room.
Professional staff are both pleasant and attentive and there is something on the menu for everyone.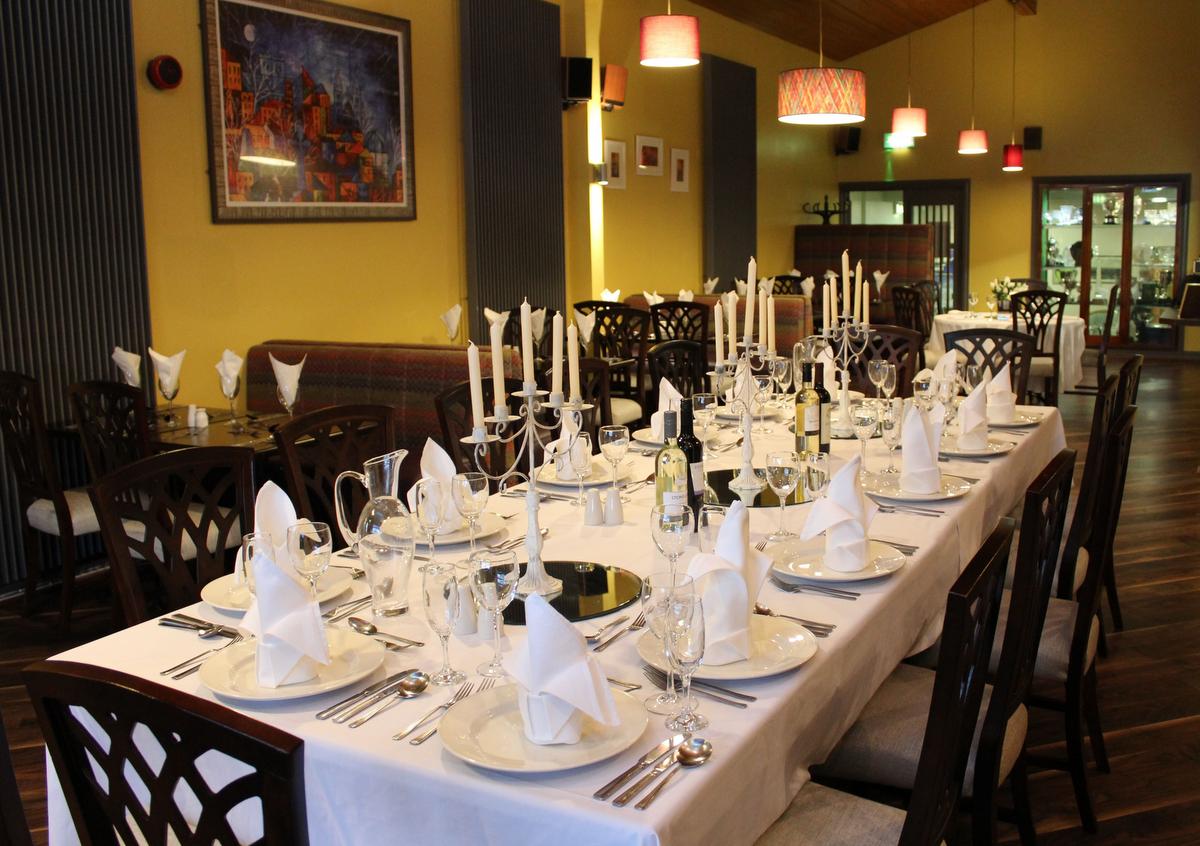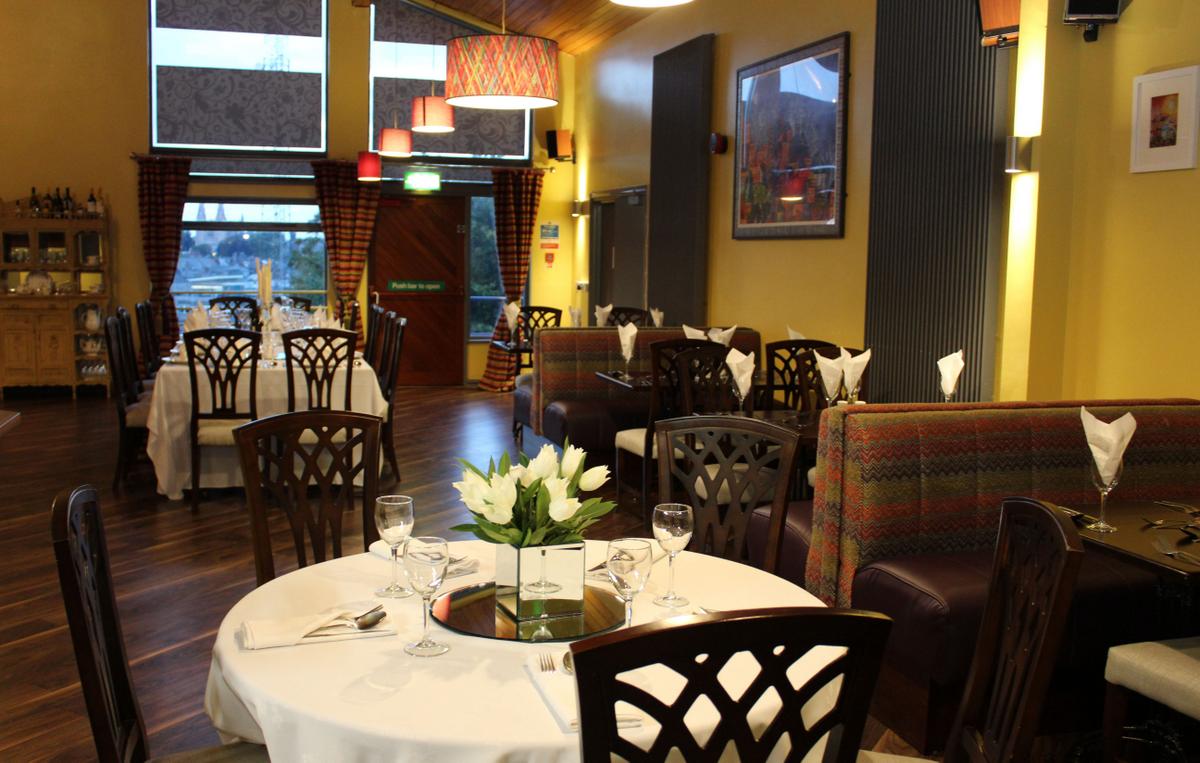 The Restauranteur
Armagh born and bred Joey Nixon brings more than 10 years of hospitality and catering experience to the Seven Hills restaurant at County Armagh Golf Club.
The 32-year-old developed his love for food and cooking at an early ag. A stduent at Armagh Technical College he successfully completed an NVQ Level 2 in Catering and Hospitality.
Beginning his working life at the Armagh City Hotel, Joey further developed his catering skills and it was no surprise that within a short period of time he had progressed his career to become a chef at Sally's Restaurant, Aughnacloy.
However, the drive to go it alone saw him return to Armagh where he launched the Seven Hills café bistro at Thomas Street in 2013.
Such was the success of this small business, Joey opened a second new coffee house and deli at English Street in May 2015.
And in 2016 he announced the partnership with County Armagh Golf Club where he now employs eight full-time and part-time staff.