The historic Hirsch Cup is the Swiss Ladies Open Championship trophy, which was won by County Armagh's most celebrated lady golfer, Maisie Hirsch, before she donated it to the club in 1938. Fast forward to the present day, specifically Saturday 29 April 2017, and each competitor in a 163-strong field stepped onto the first tee aiming to follow in Maisie's illustrious footsteps and take home the Hirsch Cup for himself.
This stroke competition, sponsored by Cormac Knott's Netstretch Ltd, witnessed relatively conservative scoring as the advantages afforded by immaculate greens and increased run on bone-dry fairways were more than nullified by blustery conditions, devilish pin positions and a quickness of the aforementioned greens that may have caught some by surprise.
One player who certainly wasn't daunted by any of these potential pitfalls was Darren Wilson, whose hard-earned nett 67 made him a worthy recipient of the Hirsch silverware and reduced his handicap by a shot.
Darren's tremendous performance peaked at the 7th, where a birdie took him back to just one over par. An uncertain spell would immediately follow, however, and Wilson reached the 13th tee on seven over and with work to do to avoid squandering the benefits of his early endeavours.
The then 13-handicapper steadied his ship admirably from that point, with four gutsy pars in the closing six holes ultimately deciding the result in his favour.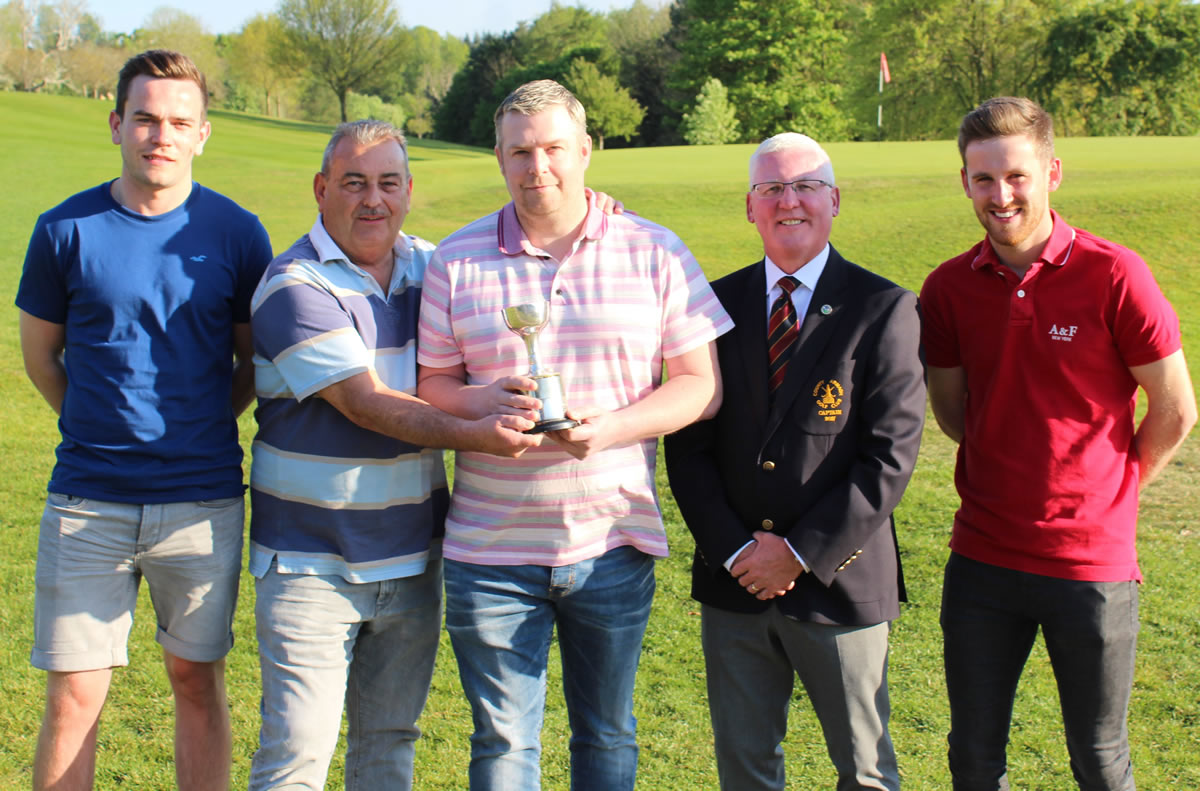 Hirsch Cup winner Darren Wilson receives the trophy from Cormac Knott of Netstretch Web Design, who sponsored the competition. Also pictured (L-R) are runner-up Mark Shannon, Club Captain Richard Stewart and Philip Kelly, best gross. 
Details

Parent Category: News & Results
Category: Men - News & Results