It was on the hoisting of the official County Armagh Golf Club flag that the showpiece fixture in the local golfing calendar got under way in earnest.
With the lady members and juvenile girls and boys already having competed in their various categories earlier in the week, 293 men filled the city fairways on Friday 23 and Saturday 24 June in the hope of grabbing glory on Richard Stewart's Captain's Day weekend.
There was no discernible difference in playing conditions between the two days so the entire field was faced with merciful dryness, a stiff and challenging wind and a golf course looking suitably resplendent. It all added up to a fair but exacting golfing examination — to the best man the spoils.
Away from the sporting action, family, friends and members joined Richard for a Saturday coffee morning that provided the perfect opportunity for all those in attendance to catch up with old pals, admire the wonderful array of prizes on offer, and wish our endlessly industrious and infectiously enthusiastic Captain all the very best.
The pristine clubhouse and environs and the refreshments enjoyed by everyone present also served as testimony to the club staff and volunteers who work so diligently to ensure that such events run smoothly.
Meanwhile, we were down to serious business back out on the golf course, where a stunning one-over-par gross 71 made Samuel Jenkins a most worthy Captain's Day champion.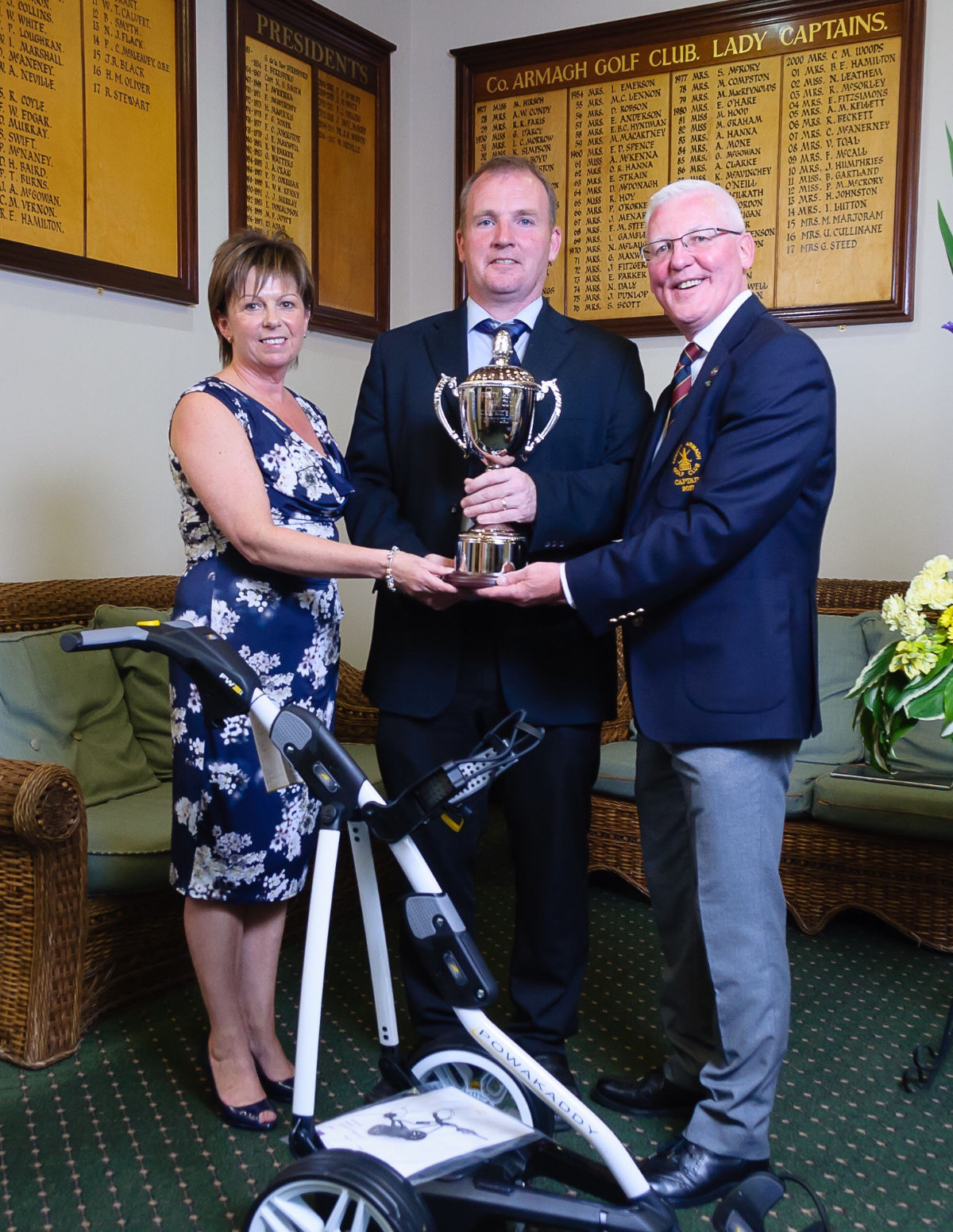 County Armagh Golf Club Captain's Day winner Sam Jenkins is presented with the new Captain's Day Perpetual Cup and his winner's prize, a Powakaddy, by Captain Richard Stewart and his wife Eileen.
Having previously plied his golfing trade in Loughgall, Samuel joined County Armagh only in March but has found the club to his immediate liking.
This was never more in evidence than on Captain's Day when the Hamiltonsbawn contender exploded out of the traps with an outward nine comprising seven pars, a solitary bogey and a bonus birdie at the 5th.
Further birdie brilliance followed at the 10th and 12th enabling the then eight-handicapper to depart the 15th green in an incredibly commanding one-under-par position.
A pulled drive at the Lakes meant Jenkins's direct route to the green was impeded by the net that guards the 7th tee box. And, when the Salamander engineer attempted to draw an 8-iron towards the target, he went long and right, his ball nestling in the flower bed beside the 17th tee. Drama and potential heartache.
However, the fortunate lie, the Seve-style recovery shot and the miraculous par that ensued had Jenkins believing that this might indeed be his red-letter day.
After an understandably jittery double bogey at the penultimate hole, Sam composed himself admirably to record a gutsy four at the 18th and put the seal on a fantastic nett 64 and richly deserved Captain's Day success.
Details

Parent Category: News & Results
Category: Men - News & Results