County Armagh Golf Club's 2017 Open Week concluded on 19 August with Gary McAleavey lifting the Gerry Lenagh Memorial Trophy after victory in a tournament often regarded as one of the 'majors' in the club's calendar.
On a blustery Saturday when a damp course yielded little run, scoring among the 202 contenders in the stableford event sponsored by Morgan McLernon Transport Distribution was slightly more conservative than usual, if no less impressive. Gary's hard-fought 40-point winning tally was aided by a useful haul of five homeward pars, which proved decisive in seeing off on a break of tie the significant challenge of his older brother Pat, who captured the runner-up award with a terrific 40-point return of his own.
Honorary Treasurer Pat can reflect with pride on a seven-par showing that clips his handicap from 17 to 16. And, while one can only guess as to the extent of this sibling rivalry, he surely couldn't have chosen a better man to lose out to! For his part, Gary's classy Gerry Lenagh success is merely the latest in a glorious season in which he has also secured both the May Medal and a massive nine-shot handicap reduction.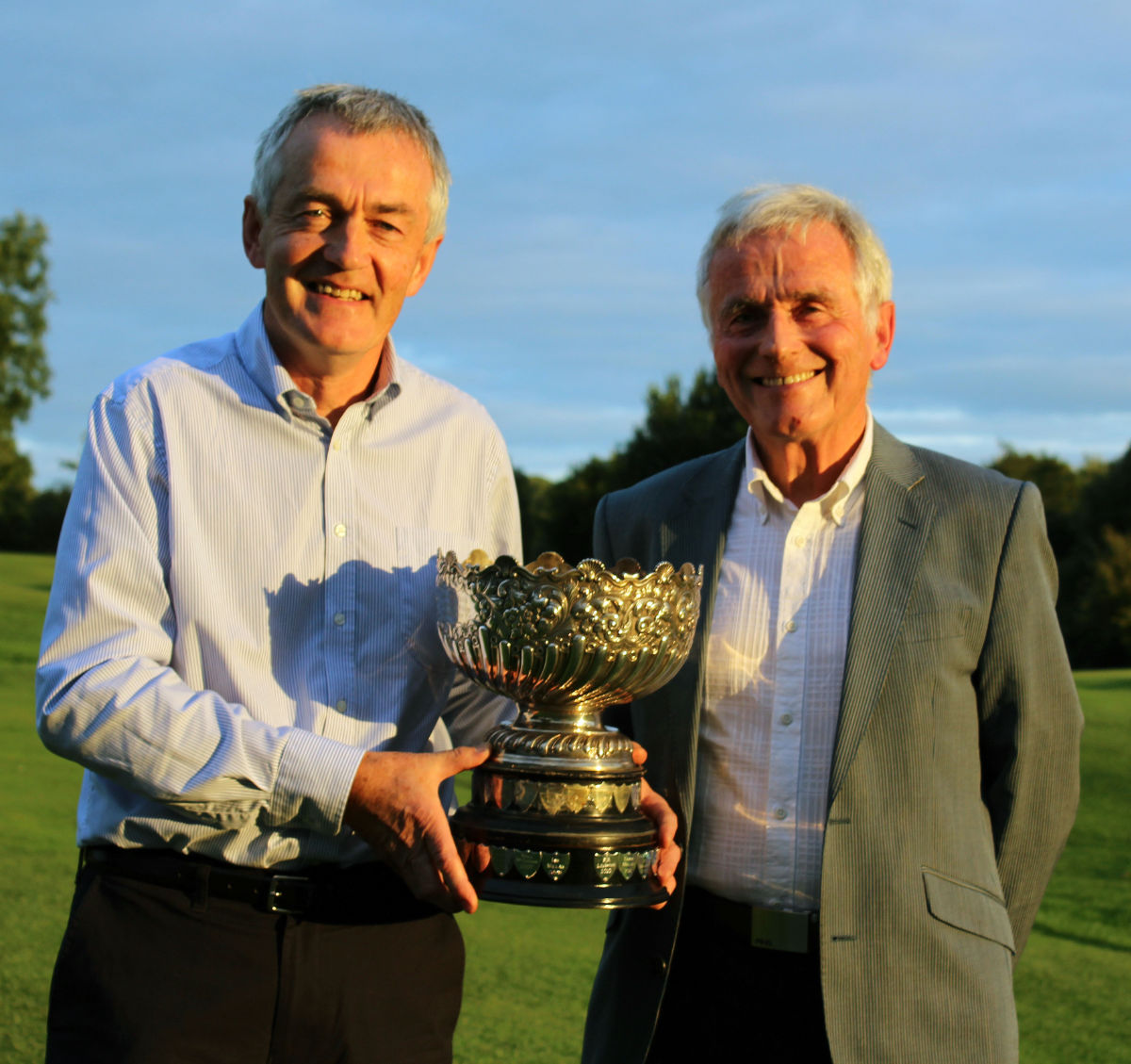 Oh brother! Gary McAleavey pipped Pat to the Gerry Lenagh top prize on a break of tie.
John Vernon tends to reserve his very best golf for Sunday competitions, but an outstanding gross 75 consisting of 13 pars and five bogeys showed that he can do it on a Saturday too; he came 3rd with 39 points. Thirty-eight points was a popular score as those in 4th, 5th, 6th and 7th places all recorded that total. Bagging 4th prize was Niall McGeown, who birdied the 17th and registered five pars elsewhere, and in-form Adam Cromwell followed up his midweek success — more of which later — with four birdies and a 5th-place finish.
An excellent outing featuring birdies at the 3rd and 6th clinched 6th position for former Club Captain Richard Black, while Lee Campbell crept into 7th with a wonderful gross 73 to match Adam's. The prolific Jarlath McReynolds particularly enjoyed the penultimate holes of each nine, eagling the 8th and birdieing the 17th in a one-over-par round that represented the day's lowest gross. Stewart Stevenson was one shot back in the gross pecking order with a characteristically assured 71.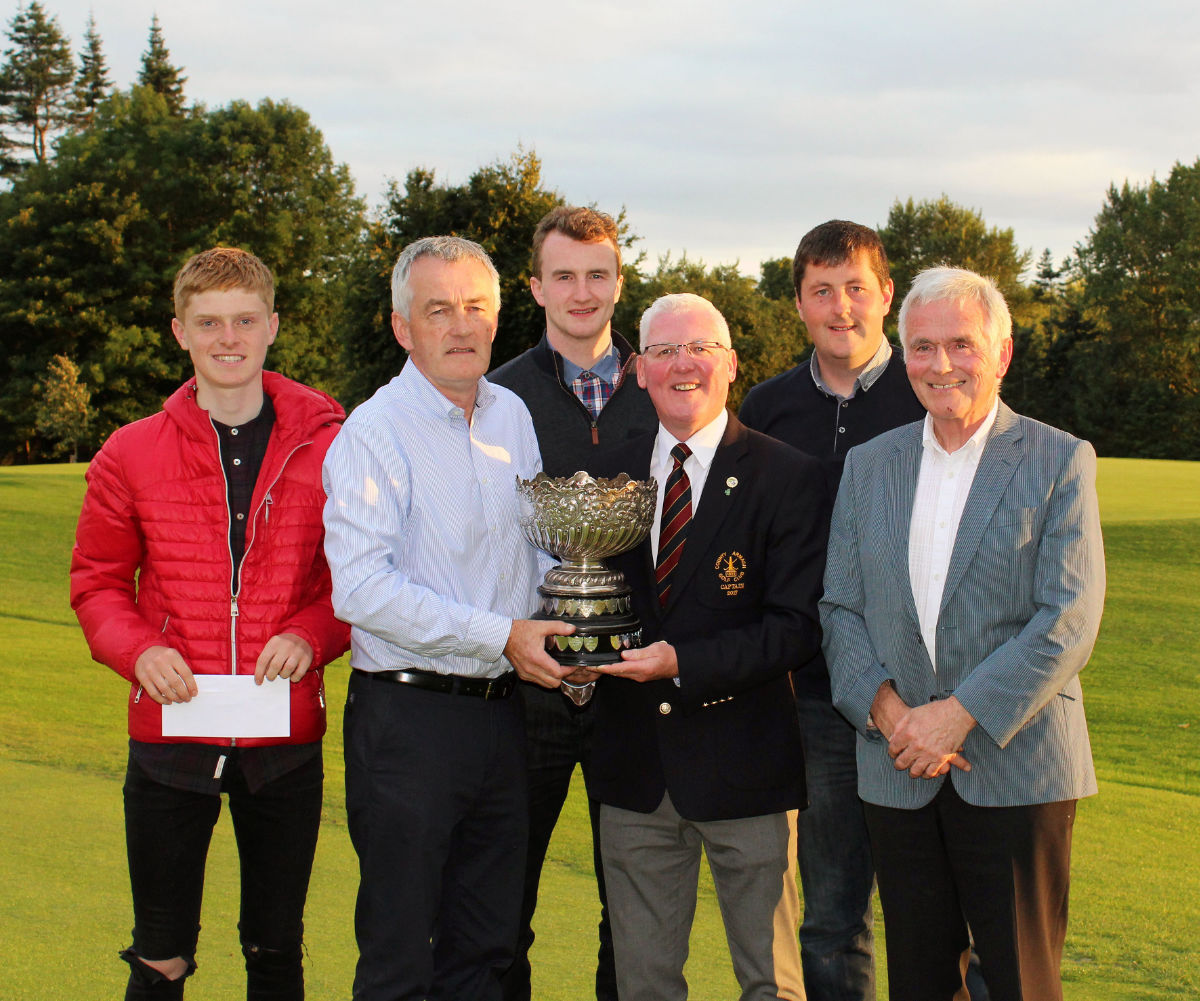 County Armagh Golf Club Captain, Richard Stewart, presents the Gerry Lenagh Memorial Trophy to Gary McAleavey, winner of the annual Open Stableford competition sponsored by Morgan McLernon Transport Ltd. Also pictured are other prizewinners (L-R) Lee Campbell, John Vernon, Jarlath McReynolds and Pat McAleavey.
Open Stroke, Daly Motor Spares Ltd, Saturday 12 August 
Details

Parent Category: News & Results
Category: Men - News & Results